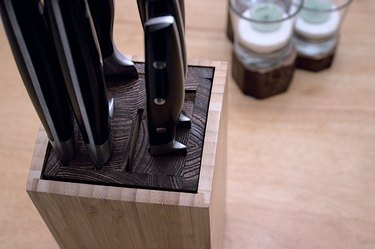 Any well-equipped kitchen has a variety of knives—anywhere from three or four basics (e.g., chef's knife, serrated knife, paring knife, boning knife) to a larger assortment of a dozen or more. And that means you have to find somewhere to put them all.
But the best knife storage solutions aren't just about finding the physical space to keep your knives. They also organize them for easy access, plus they protect the blades from wear, helping to keep them sharper longer.
What to Consider When Purchasing a Knife Storage Solution
Ultimately, you have three storage options (assuming you intend to keep your knives in the kitchen, at least). You can put them in a drawer, keep them on the counter or hang them on the wall. There are good ways to go about any of these options. Once you determine the storage location that works best for your kitchen setup and your personal preferences, pick out your preferred type of storage solution for that space.
​Drawer Storage:​ If you decide to keep your knives in a drawer, there are two basic ways to go: Just pile them in there with sheaths that protect the blades and your fingers, or use a drawer organizer designed for knives.
Sheaths are a simple, low-cost option, but you'll have to rummage around if there are a good number of knives and/or other cooking utensils in the drawer. Also, the sheaths can trap moisture and lead to rust or corrosion (even on stainless steel). In-drawer knife blocks and trays cost a bit more and require more drawer space, plus some can gradually dull the blades. But they provide better accessibility and air circulation in case a knife is still a little wet when you put it away.
​Counter Storage:​ Knife blocks are the standard way to store knives on the countertop. You can place it right by your main prep area, and they make the knives readily accessible. They take up some space though, and you're limited to the number and sizes of the slots, and they're difficult to clean—especially down in the slots, which can accumulate dust, moisture, crumbs and bacteria. Also, while knife blocks protect the blades, they can take a toll on them over time if you're not always careful about taking the knives out and putting them away, or if you jam them into slots that are too small.
A magnetic knife stand solves these problems, and most have a smaller footprint. However, this knife storage solution creates the danger of having exposed blades on your counter, also offering them less protection, plus there's the risk of knocking the knives down.
​Wall Storage:​ A wall-mounted magnetic strip can hold your knives. Mount it anywhere you have enough room on the wall so you don't have to dedicate valuable drawer or countertop space to your knife collection. Your knives are accessible and able to air-dry, and the strip itself requires basically no care. The blades aren't protected by any material, but they should be protected simply by not being up against anything or at risk of getting bumped by other objects.
However, this storage option does leave exposed blades on your wall. And, although quality magnetic strips are strong, there's always the risk of a knife falling or getting knocked off. If all your knives aren't in great shape, you also might not be too enthusiastic about displaying them.
These are the main things to think about when selecting a knife storage solution that works for your kitchen. Of course, the safety concerns that arise with various options are extra important if you have small children.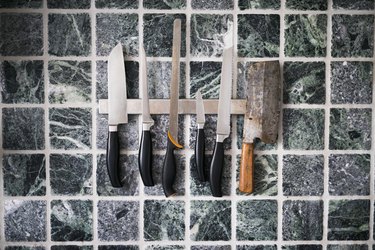 The Best Drawer Organizer for Knives
Knifedock In-Drawer Knife Storage Tray
This budget-friendly in-drawer knife organizer features an attractive bamboo exterior and an interior made of a cork and rubber composite material. This composite, which makes up the lining and the dividers, protects the blades more gently than any hard wood. With this product, you're not limited to the number and shape of pre-made slots, as with most other knife trays. Another advantage is the ability to see a good portion of the blades for quick knife identification. This slim profile fits any standard kitchen drawer, while the flexible dividers maximize the number of knives you can store in the tray. It's able to hold any knife up to 12 inches long.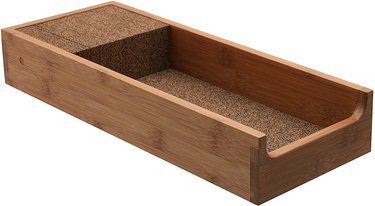 The Best Kitchen Knife Sheaths
Noble Home & Chef 8-Piece Universal Knife Edge Guards
If you just want to cover your kitchen knives and keep them in a drawer, this is a great set of sheaths to buy. They're made of a sturdy, BPA-free, nontoxic plastic that holds up to the job. And they're also lined with felt inside to protect your knives' finish and sharpness when you slide them in and out of the case. The universal design and assortment of eight sizes fits standard kitchen knives of all different shapes, sizes and styles. It's also a great price point for the quality and comprehensiveness of this knife guard set.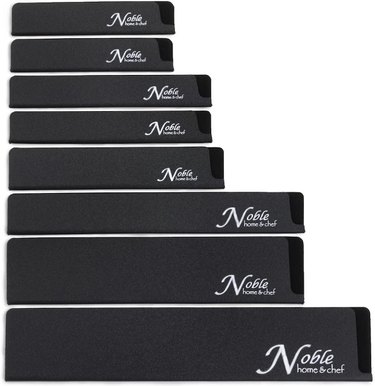 The Best Countertop Knife Block
WÜSTHOF 17-Slot Knife Storage Block
If you have the countertop space to spare for a full-size knife block, this elegant-looking, eco-friendly, bacteria-resistant beechwood model is a perfect pick. It holds up to 17 pieces of all different shapes and sizes, including six slots for a set of steak knives or other small utensils like paring knives, and slots for a sharpening rod and kitchen shears. The block is angled just right for easily inserting and removing knives, plus it has nonslip feet on the bottom to prevent sliding and to protect your countertop. Given the large storage capacity and the attractive look, this knife block is available at a good price, too.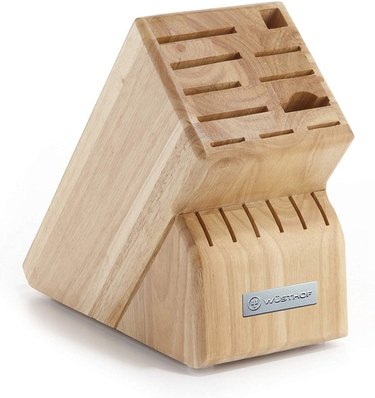 The Best Countertop Universal Knife Block
Kitchendao Deluxe Universal Knife Block
If you don't want to be limited to the size and number of pre-made slots in a traditional knife block, this universal knife block offers more flexibility. It's an eco-friendly bamboo countertop knife holder that's even lower cost than many comparable traditionally designed products. The slots accommodate 12 to 15 kitchen knives of any shape and style, fully sheathing blades up to 8.6 inches long; there are also holes for kitchen scissors and a sharpening rod. The dividers prevent the knife edges from coming into contact with each other. And the stand has nonslip feet to prevent sliding and to protect your countertop, and there are also drain holes in the bottom just in case any moisture gets in.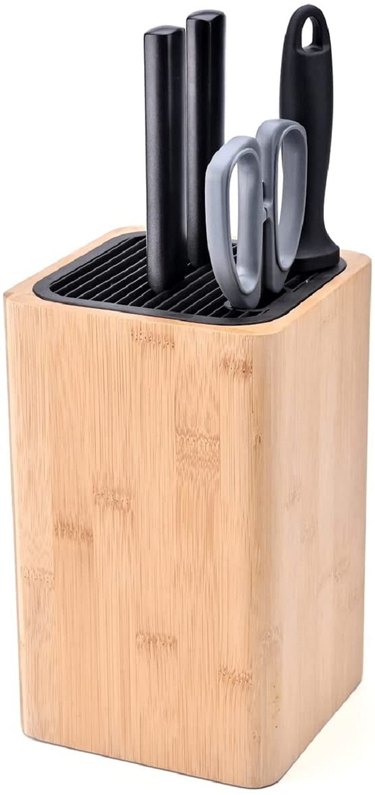 The Best Countertop Magnetic Knife Block
Böker Wood Magnetic Knife Block
For another countertop knife storage solution, a magnetic knife block like this one avoids the hygienic issues of a slotted knife block, as well as the limitations of pre-made slots. It offers many of the benefits of a wall-mounted magnetic strip, but also the ability to relocate it without the hassle. This product is a bit pricey for the general knife-block category, but these advantages and the high-end look make up for it. Choose from black, Makassar or olivewood to match your kitchen decor. The magnets are reliably strong, and the piece comfortably fits up to seven knives of varying shapes and sizes, with a center panel designed for a chef's knife or another large knife.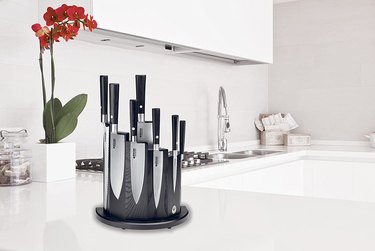 The Best Wall-Mounted Magnetic Knife Strip
wooDsom Magnetic Knife Strip (Customizable Size)
If you don't want to sacrifice drawer or counter space for your knife storage, a wall-mounted magnetic strip is an ideal solution. And there are lots of reasons to opt for this particular one. It has an aesthetically-pleasing look, which is nice since it will always be in sight in your kitchen. But beyond that, it's easy to install and affixes to the wall securely without any jiggling, and the magnet is quite strong. We've highlighted the 16-inch strip here, as that's a fairly standard size, but you can get it as short as 8 inches and as long as 36 inches, with plenty of increments in between to suit your storage needs and available wall space. It also comes in 12 different wood finishes, including walnut, maple and butcher block.
There's another knife storage solution we haven't touched on yet: a knife case. Home cooks don't generally go this route, but if you have lots of knives—including some you don't use all that often—or if you ever take your knives other places, it's certainly an option worth considering. Made from luggage-grade, water-resistant nylon, this folding case is strong enough to prevent the knives from poking through, which isn't always a given with these types of products. It closes securely on three sides with a commercial-grade zipper, too. The case has 17 pockets that accommodate all sorts of knives and other cooking utensils. And there's a handle and shoulder strap for easy portability.