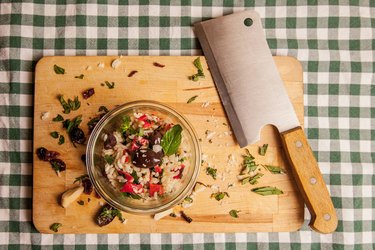 Most home cooks have at least a couple of knives on hand—usually a chef's knife and a paring knife at minimum. Eventually, as they expand their cooking repertoire, they also expand their assortment of knives, adding pieces that are particularly well suited to specific tasks. And sooner or later, most get around to owning a cleaver knife.
With their large, finely honed rectangular blades and their heft, cleavers are designed for hacking through thick cuts of meat, cartilage and bone. If you dismantle whole chickens or take on other butchering tasks, you really need a quality cleaver. But a great cleaver comes in handy for a range of food prep techniques, like chopping melons and tough tubers and veggies, removing scales from fish, tenderizing meat, crushing, slicing, dicing, mincing and more.
As with any kitchen knife, quality is important when buying a cleaver. A low-quality piece simply won't get its jobs done without undue struggle on your part. Plus, it's unlikely to last long. So, when you decide to add a cleaver to your knife collection, pay attention to the considerations below and avoid a purchase you might regret by choosing a highly recommended product.
What to Consider When Purchasing a Cleaver Knife
​Materials:​ As with other types of knives, stainless steel is the go-to material for cleaver blades. It's strong, durable, rust-resistant, easy to clean and maintain, and can be honed to a very sharp edge. If you go with any other material, make it carbon steel; it performs well, but it's a bit higher maintenance.
Then there's the handle material. Given the high-impact work you do with a cleaver, you need a strong handle material. Common, reliable options include stainless steel, sturdy woods like pakkawood or rosewood, and polypropylene. Wood handles require more care but are also less slippery when hacking with wet, oily or slimy hands.
​Size:​ Typical cleaver blades range from 6 to 9 inches in length. Generally, 6- or 7-inch blades are adequate and a little easier to use, but you might want an 8- or 9-inch blade (or possibly longer) if you're experienced using a cleaver or regularly tackle larger cuts of meat. Blade height is fairly uniform and not all that important a consideration. Look for a relatively thick blade, as a thin one might prove too flimsy for higher-impact cleaver tasks.
Because balance is important when using a cleaver, the handle should be about 1 to 1.25 inches shorter than the blade length. Also, look for an ergonomic handle that provides a comfortable, sturdy grip.
​Construction:​ There are different ways knife handles and blades are attached to each other. For cleavers, it's often a joint or a partial-tang or full-tang construction. The latter refers to when the blade extends partially or all the way to the end of two pieces of handle (sandwiched between them) and affixed with rivets; you'll see a strip of blade material in the middle of the handle. Full-tang construction is the sturdiest, so it's the way to go for a cleaver. It also adds counterbalance to the blade for a better-balanced piece.
Along with your budget considerations, these factors will help you select a cleaver knife you're happy with—and that lasts.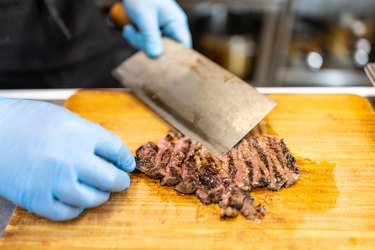 The Best Overall Cleaver Knife
WÜSTHOF Classic 6-Inch Cleaver Knife
If you're willing to spend a little more for an exceptional, versatile cleaver that can last a lifetime and that's quite user-friendly, get this one from a globally admired knife manufacturer. It's on the smaller side (though it's also available in larger sizes) and perfectly balanced, which means it's easier to use, but it's also very sturdy and durable. It's made with a secure full-tang, triple-riveted construction and a strong polypropylene handle.
While any cleaver needs to be sharpened eventually, this high-carbon German stainless steel blade retains its razor-sharp edge about twice as long as many other products. The angled blade edge reduces resistance for faster, smoother chopping. Also, the cleaver's curved profile on top is designed for batoning—placing the blade on meat and pounding it with a mallet to get through dense bone.
The Best Cleaver Knife for Amateur Cooks
J.A. Henckels 6-Inch Meat Cleaver
This item costs considerably less than the pick for the best overall cleaver, so it should be more appealing to novices. It's on the smaller side and well balanced, and it boasts a super-sharp, thick, German stainless steel blade, making it well suited to those less experienced with cleavers. It also features a satin finish on the blade, which reduces resistance as it passes through food.
The full-tang, triple-riveted construction holds up, and the ergonomic stainless steel handle is easy and comfortable to grip. Like the previous product on this list, the top of the cleaver is slightly curved to facilitate batoning. And this piece is dishwasher-safe, though hand-washing is generally recommended to better maintain any quality knife.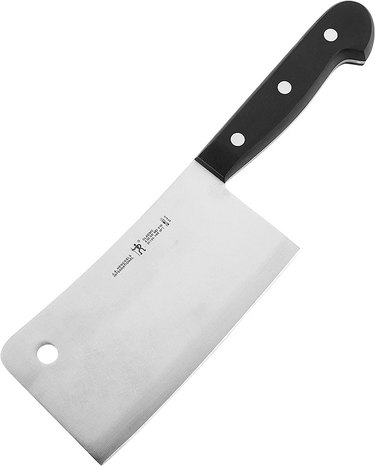 The Best Cleaver Knife for Experienced Cooks
Dalstrong 9-Inch Cleaver Knife
If you're well practiced using a cleaver, this larger, superbly balanced knife will quickly become one of your cherished kitchen tools. You won't be intimidated by the size and weight, which work in your favor for even the hardest jobs. Plus, it features a curved blade that allows for a rocking motion, making it more versatile than a traditionally shaped cleaver in skilled hands.
The high-carbon German stainless steel blade is razor-sharp and holds up well over time, while the strong pakkawood handle is nonslip, ergonomically designed and pleasant to hold. The blade's satin finish reduces resistance, gliding effortlessly through food. All in all, this cleaver is thoughtfully designed to minimize fatigue during tougher or extended use. It's an attractive piece too, but also durable with its full-tang, triple-riveted construction.
The Best Budget Cleaver Knife
Utopia Kitchen 7-Inch Cleaver Knife
For anyone who needs a quality cleaver but who isn't looking to spend much on it, this is an easy pick. It's pretty much as little as you can possibly spend on a cleaver, but it performs and lasts like a significantly costlier product.
The sharp, stainless steel, 7-inch blade gets the job done, and it has a hanging hole for convenience. It's also rust- and corrosion-resistant. The ergonomic handle is made of strong, impact-resistant acrylonitrile butadiene styrene, and it's angled in a way that reduces wrist tension during use. This piece is dishwasher-safe, but as previously mentioned, hand-washing is a smarter choice for maintaining any knife—particularly the sharpness of the blade.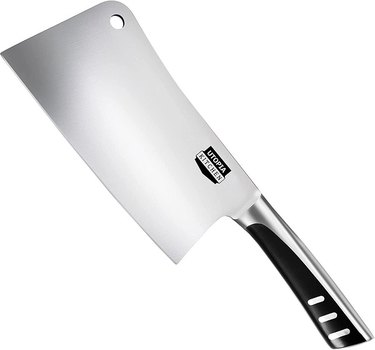 The Best High-End Cleaver Knife
Shun Classic 7-Inch Cleaver
This is the ultimate cleaver for anyone willing to spend top dollar on their kitchen tools. It's a Chinese cleaver, a style traditionally used for a wide variety of tasks, standing in for a chef's knife nearly as often as it serves as a cleaver because it handles a bit more nimbly. This helps justify the cost, but so too does the fact that this knife delivers unmatched performance and will last a lifetime—and can even be handed down—with proper care.
The blade is made with Shun's proprietary "super steel" alloy, which is exceptionally sharp, strong, smooth and durable. The ebony pakkawood handle is comfortable and strong as well, and it's thoughtfully designed to facilitate the extensive potential uses for this knife. And it should be noted that this piece has a high-end look to match the luxury price tag.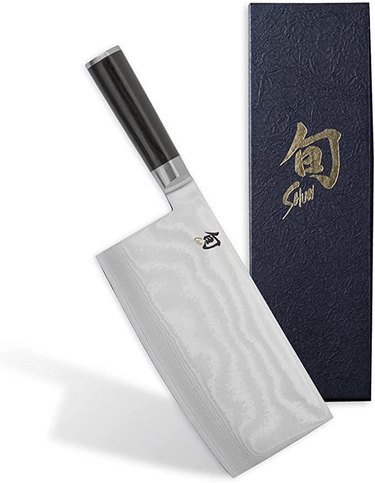 The Best Cleaver Knife With a Wood Handle
TUO 7-Inch Fiery Phoenix Series Meat Cleaver
If you prefer the aesthetics and more secure grip of a wooden handle, this cleaver is a perfect pick. It has a strong, super-sharp, hand-polished German stainless steel blade and a sturdy, beautiful, uniquely colored, ergonomically designed pakkawood handle. Overall, it's as aesthetically pleasing as it is reliable and durable, offering top-of-the-line performance and a high-end look at a very reasonable price.
This cleaver features a curved spine for easy batoning, and it has a convenient hanging hole in the blade. You'll appreciate its superb balance every time you use it—whether for the heaviest-duty cleaver jobs or for finer knife work, as this piece handles a wide variety of knife tasks well. And it's made using a full-tang construction for maximum durability.