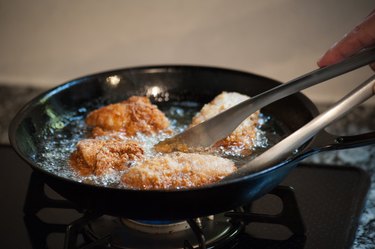 The joys of cooking are many, but hot splattering oil and sauces aren't one of them. In fact, splattering is an infamous nuisance when you're frying, sautéing, boiling or simmering. It can make a hard-to-clean mess all over your stovetop, counter, backsplash, and shirt or apron. But if you've ever had drops of hot oil fly onto your arm, you know it's a potential hazard, too.
Enter the splatter screen—otherwise knowns as a splatter guard. These simple devices do exactly what it sounds like they do: prevent splattering. You place them over (or in, depending on the style) pans and pots, and their mesh or holes allow steam to escape while containing any wayward oil or sauce.
Splatter screens are great convenience items, and every kitchen should be stocked with at least one. Even though they're such simple products, there are still some important considerations when picking out the best splatter screens for your needs.
What to Consider When Purchasing a Splatter Screen
​Size:​ Most splatter screens are one-size-fits-all solutions with a 13-inch diameter to fit over any standard-size pan or pot. Still, it can be a little cumbersome using a large one on a small frying pan or saucepan, and obviously, it's an issue if your splatter guard is too small to fit over an extra-large pan you use.
Think about which cookware you'll want to cover most often. You can always get a set with two or three sizes of splatter screens, too. Also, some—like our pick for the best overall splatter screen below—have concentric grooves that help the guard sit more securely on pots and pans of varying diameters.
​Style:​ Many splatter guards are mesh products that lay flat over the top of pots and pans. They readily let out steam while containing liquids, so they're good whenever you want to avoid a steaming effect on the food—like when you're frying or browning. Others that sit on top have slightly larger, spaced-out holes. These tend to hold in more steam and are better suited to boiling and simmering.
Then there are collapsible conical guards that go into the pan, expanding to press against the sides and protruding up and outward, creating a wall to block splatters. These are convenient when you need frequent access to stir the pan contents, like when you're sautéing. And, if you like to keep your house from smelling like whatever you're cooking, there are even odor-absorbing splatter screens.
​Material:​ Stainless steel and silicone are the two most common materials used for making splatter screens. Stainless steel is sturdy, durable, resistant to rust and corrosion, and easy to clean (often dishwasher-safe, even), but keep in mind that it can get hot during use. These splatter guards are usually a fine mesh or they're perforated with lots of tiny holes.
Silicone splatter screens usually have fewer, larger holes and hold in more steam. It's stain-resistant and easy to clean. Also, you don't have to worry about scratching nonstick cookware with it since it's soft and flexible. It's highly heat resistant, but if you cook on a gas stove, just be aware that it can burn if the flame touches it.
These are the main things to think about when selecting the best splatter screen for your needs. Read on for some product recommendations for different types of splatter guards.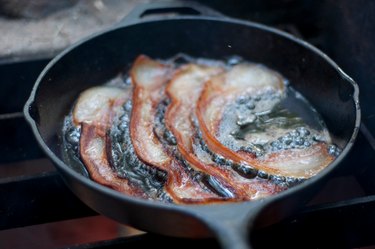 The Best Overall Splatter Screen
OXO Good Grips Stainless Steel Splatter Screen
This stainless steel splatter screen is a great pick. It lies flat over pans up to 13 inches wide, and it has concentric grooves to sit more securely on pots and pans of different sizes, preventing it from sliding off. The micro-perforated sheet surface lets steam escape easily, and it's less likely to get clogged than mesh screens, making it easier to clean—plus it's dishwasher-safe.
It features the comfortable nonslip grip OXO cooking utensils are known for, and the handle stays cool during use and folds down over the screen for more compact storage. And it's sold at a good price for such a practical, durable product.
The Best Budget Splatter Screen
PowerTRC Stainless Steel Mesh Splatter Screen
If you're looking for a functional, dependable splatter screen that sells at the low end of the price range for these products, this is a good option. It lies flat across the rim of pans and pots, and the mesh is designed just right to allow steam to escape while containing any liquids that try to fly out.
It also provides a good view of the food in the pan, so you don't have to keep lifting it up to check on the progress. And you don't sacrifice size for the cost savings with this model. It's a full-size 13-inch splatter screen that's compatible with all standard cookware.
The Best Silicone Splatter Screen
Norpro Grip-EZ Silicone Splatter Screen
Here's a recommended option for those who prefer a flat-lying silicone splatter guard over a stainless steel product. It effectively holds back any splatters, but keep in mind that it also retains more steam than many splatter screens and can accumulate condensation on the underside.
Conveniently, it can also be used as a strainer and as a trivet (it's heat resistant up to 500 degrees Fahrenheit). There's a comfortable nonslip handle that stays cool during use and that has a hanging hole for storage. This splatter screen is dishwasher-safe for easy cleanup, too.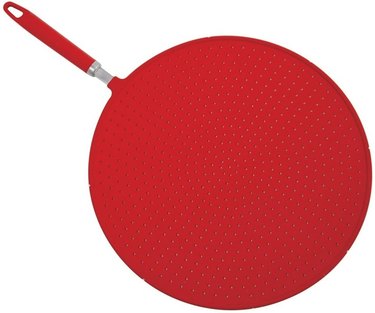 The Best Collapsible Splatter Guard
Frywall Silicone Splatter Guard
Traditional splatter screens are great for many uses. But, when you're sautéing or otherwise want frequent access to the food for stirring, flipping, adding ingredients, etc., a collapsible conical splatter guard like this is much more practical. It essentially creates a wall around your pan—this one's for medium 10-inch pans, but you can get it for smaller and larger pans, too.
You have access to the entire cooking surface, and all the steam gets right out, plus it prevents you from accidentally knocking any food out of the pan. The BPA-free silicone is heat resistant up to 450 degrees Fahrenheit and is dishwasher-safe. The product rolls up for compact storage, and you can choose from several different colors.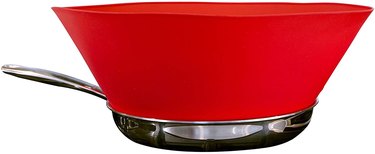 The Best Odor-Absorbing Splatter Screen
Farberware Professional Stainless Steel Odor Absorbing Splatter Screen
Sure, it's nice when your home fills with the warm aroma of baking chocolate chip cookies or apple pie. But it's less enjoyable when the smell of frying fish or onions permeates the place—especially when you're cooking for guests—and potentially lingers for hours or more. That's when you want a splatter screen like this one, which doesn't just prevent the mess, it also contains cooking food's odors.
The multiple layers of mesh do a great job holding in splatters while letting steam escape, and the activated carbon filters in the screen are very effective at absorbing odors. This 13-inch product lays flat over all standard cookware, it's dishwasher-safe and there's a convenient hanging hole in the handle.
The Best Splatter Screen Set
U.S. Kitchen Supply Stainless Steel Fine Mesh Splatter Screens, Set of 3
While large splatter screens fit over standard pots and pans, it can be a little tricky when there's lots of overhang on smaller cookware. It can make it harder to access things on other burners, and you can easily knock the guard off. And sometimes you want a splatter screen over more than one pan at a time. A budget-friendly set of stainless steel mesh splatter screens like this is a perfect solution.
You get three durable splatter guards of 13, 11.5 and 9.5 inches in diameter, providing better fits for cookware of different sizes. They do their job well and let steam readily escape, lying flat and stably over your pots and pans. Also, they have small feet for setting the screen aside without laying the surface directly on the counter—a simple but thoughtful feature you'll appreciate.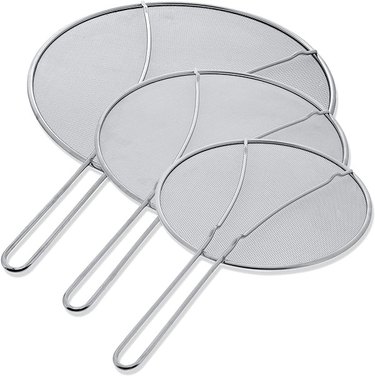 The Best Microwave Splatter Screen
Smartwares Microwave Spatter Screen
Splatter guards aren't just for use on the stove! If you've ever had something splatter all over the inside of your microwave—and who hasn't?—this product is for you. Prevent the six-sided, cooked-on messes with this microwave-safe, BPA-free splatter screen. It's much more effective than placing a paper towel over a dish, and it's a reusable alternative to cut down on paper waste.
This microwavable splatter screen has a mesh surface that holds in messes while letting the steam out. It's weighted so it remains in place when draped over a dish or container. With a 13-inch diameter, it fits over most vessels you'd put in the microwave, and you can drape it right over a plate or bowl of food. Also, it's stain-resistant and easily rinses clean.