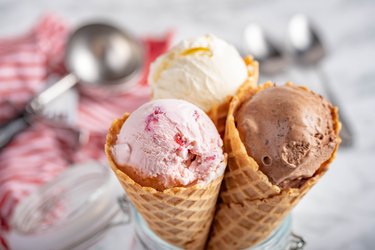 On a hot day, few things are more refreshing than indulging in some ice cream! Whether you're barbecuing in the backyard, watching a game in the pavilions or just chilling at the closest swimming hole, ice cream really hits the spot. But normal spoons just don't do the job. They can't dig into the frozen goodness properly, so you're either left with scrapings in your cone, or else you have to melt the ice cream—neither of which is a good option. What you really need is an ice cream scoop.
Ice cream scoops have been specially designed for dishing the perfect amount—and even shape—of ice cream. Plus, they're good for more than just scooping ice cream. You can use ice cream scoops to form chocolate truffles, scoop batter and cookie dough, and even shape meatballs. Don't have a melon scooper? Well, if you have an ice cream scoop with a trigger handle, you won't need one! We've laid out what factors to consider when shopping for this oft-overlooked kitchen serving utensil and selected the best ice cream scoops in 2022.
What to Consider When Purchasing an Ice Cream Scoop
​Scoop Shape​: The first factor you want to examine is the scoop and handle shape. There are multiple scoop designs, which all perform certain jobs better than others. A scoop with a sharp lip is perfect for reaching that last bit of ice cream at the bottom of the tub. On the other hand, scoops with a more rounded edge are great for full tubs and create that classic ball-like scoop—perfect for stacking scoops on a cone.
​Scoop Size​: Another factor to consider is the size of the scoop bowl, which, on a typical ice cream scoop, refers to the basin at the end of the handle. On average, a scoop of ice cream is roughly 1/2 cup or 4 ounces. However, depending on who's doing the scooping and the shape of the bowl, you can easily get more than 1/2 cup in one scoop, so it's not the end of the world if you purchase a scoop that's on the smaller side.
​Handle Design​: The biggest difference in handle designs is whether or not the scoop is one single piece or a multi-piece mechanical scoop. Basic, single-piece scoops will be made of the same material throughout. However, some ice cream scoops may have a rubber coating on the handle for a more comfortable, ergonomic grip. Mechanical scoops, on the other hand, will include a release on the handle, normally in the form of a small lever or trigger. These types of handles make it much easier and more sanitary to get the ice cream out of the scoop bowl—so there's no need to use your fingers to dig out ice cream that clings to the scoop.
​Materials​: The majority of ice cream scoops are made from some type of metal—usually stainless steel or aluminum. Many will feature a rubberized coating on the handle for a more comfortable grip. Some cheaper, single-piece scoops may be entirely made of plastic. Plastic scoops aren't as durable as scoops made from metal, and they're also not as good at cutting through hard ice cream. While a plastic handle may hold up all right, you're better off avoiding ice cream scoops made entirely of plastic.
​Additional Features​: Some scoops have a heat-conducting or defrosting fluid sealed inside the handle that, in theory, transfers heat from your hand up to the scoop bowl, warming it ever so slightly so that it's easier to both scoop the ice cream and release it from the scoop bowl. One minor caveat is that scoops that contain this type of fluid aren't dishwasher-safe, so you must wash them by hand. Still, it's a handy feature if you're not using a trigger release mechanical ice cream scoop.
Now that we've highlighted the factors that will determine which ice cream scoop you'll pick, let's get into reviewing some of the best options.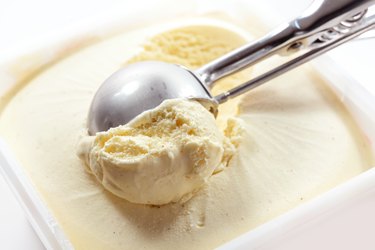 The Best Classic Ice Cream Scoop
Zeroll 1020 Original Ice Cream Scoop
Since 1935, this American ice cream icon has been the scoop of choice for families and parlors. Little has changed about the Zeroll Original Ice Cream Scoop because it simply works so well, scooping up dreams for decades! The scoop promises to deliver up to 20% more scoops per gallon of ice cream by avoiding compression. It features a one-piece design that has no springs to replace, so it's plenty durable.
However, the aluminum alloy used has been improved over time, helping this scoop resist oxidation and corrosion. For an item made from a single casting, this is important—but there's a secret inside! Its timeless design also has a chamber that holds a unique heat-conductive fluid inside the handle. This allows for perfect heat transfer from the user's hand, which means this scoop glides perfectly through ice cream, serving a classic-looking scoop every time.
This scoop is suitable for both right- and left-handed users. There are timeless design details on this scoop, like the gold color end cap and intricately embossed brand name on the handle. The only minor drawback is that it's not dishwasher-safe, owing to the heat-conductive fluid housed inside the handle.
​Product Dimensions:​ 7.4 x 2.2 x 1.9 inches (L x W x H)
​Scoop Size:​ 2 oz.
​Item Weight:​ 4 oz.
​Dishwasher-Safe:​ No; hand-wash only
​Color Options:​ 1
The Ice Cream Scoop With the Best Grip
SUMO Easy Grip Stainless Steel Ice Cream Scoop
The SUMO ice cream scoop is the most comfortable scoop to grip on this list. Made from 100% stainless steel that won't bend, the handle features a BPA-free, thick, rubberized grip coating that makes it pleasant to hold. Plus, the scoop's chiseled tip readily slices through even the hardest of ice cream. The handle comes in five vibrant colors so it'll be easy to spot in your crowded kitchen drawer.
Plus, when you buy a SUMO ice cream scoop and a matching SUMO 1.5-Quart Ice Cream Container, you can save $2 by applying the coupon code SUMOICECREAM at checkout. It's an especially good combination if you plan on making homemade ice cream.
​Product Dimensions:​ 8.07 x 1.22 x 1.14 inches (L x W x H)
​Scoop Size:​ 6 oz.
​Item Weight:​ 8.1 oz.
​Dishwasher-Safe:​ Yes
​Color Options:​ 5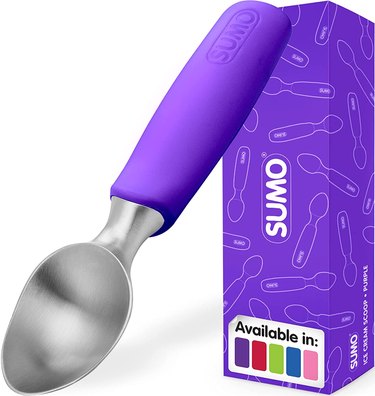 The Best Trigger Ice Cream Scoop
OXO Good Grips Classic Ice Cream Scoop
For those who struggle to get ice cream out of their scoops, it's best to invest in a scoop with a trigger release system. While these trigger ice cream scoops aren't as durable as their solid, single-piece counterparts, all you really have to do to keep them in good condition is avoid forcing them into frozen-solid blocks of ice cream.
That being said, the OXO Good Grips Classic Ice Cream Scoop is a modern take on some old-school designs that incorporate the innovations of the 21st century into the best design elements of the 20th century. And at this price point, there's much to love about this scoop. The top half of the scoop—including the trigger—is made from solid stainless steel, which means it won't rust or experience pitting. The trigger is easy to use, as the user's thumb snuggly fits into its slot. The BPA-free handle is made from soft, comfortable plastic that is nonslip. Another plus is that the scoop is dishwasher-safe.
For those who like perfectly round balls of ice cream that fall easily out of the scoop, the OXO Good Grips Classic Ice Cream Scoop is the way to go.
​Product Dimensions:​ 8.13 x 3.13 x 0.75 inches (L x W x H)
​Scoop Size:​ 4 oz.
​Item Weight:​ 6.4 oz.
​Dishwasher-Safe:​ Yes
​Color Options:​ 1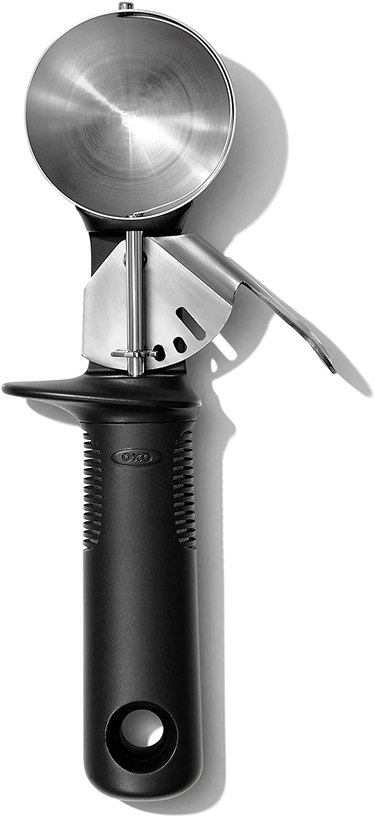 The Best Splurge-Worthy Ice Cream Scoop
Stainless Steel Ice Cream Scoop by Midnight Scoop
At nearly $40, this ice cream scoop from Midnight Scoop is priced on the high end, but the honest truth is, it's worth it. It's not the easiest to find, either, so we recommend seizing the opportunity when it's available.
What's so special about it? Well, it's one of the most ergonomically-designed ice cream scoops in the world. In fact, its creator, Michael Chu, the founder and president of the company, just so happens to be an aerospace engineer, and he designed the scoop to tackle every ice cream problem with ease. The result is a space-grade, ergonomic ice cream scoop that reduces wrist strain and will last forever.
Made from a single piece of 18/8 stainless steel, its curved handle gives the user more leverage to push harder into the most solid of ice cream. Its scoop bowl is also uniquely pointed to allow the user to anchor into hard ice cream and push. In addition, the aerospace engineer designed it so gravity is on your side, making it easier than ever to dig into super frozen ice cream. And it comes with a lifetime guarantee.
​Product Dimensions​: 8.5 x 2.5 x 2 inches (L x W x H)
​Scoop Size​: 3 oz.
​Item Weight​: 10.9 oz.
​Dishwasher-Safe:​ Yes
​Color Options​: 1
The Most Unique Ice Cream Scoop
Good Cook Smart Scoop Ice Cream Scoop
This ice cream scoop from Good Cook may more closely resemble a pair of pliers than a traditional ice cream scoop, but don't be fooled by the strange design; it's perfect for releasing a scoop of ice cream in one clean motion. All you have to do is gently squeeze the handle while you scoop. When you're ready to serve, simply relax your grip on the handle and the scoop bowl will split apart to neatly plop down a nice, round ball of ice cream.
The scoop is made from durable cast aluminum that's been coated with a nonstick finish so ice cream easily slides out. However, the nonstick coating isn't dishwasher-safe, so you should wash it gently by hand. Because there's no side trigger on the handle, it's suitable for both right- and left-handed users.
​Product Dimensions​: 11.75 x 1.6 x 4.6 inches (L x W x H)
​Scoop Size​: 1.5 oz.
​Item Weight​: 5.6 oz.
​Dishwasher-Safe:​ No; hand-wash only
​Color Options​: 1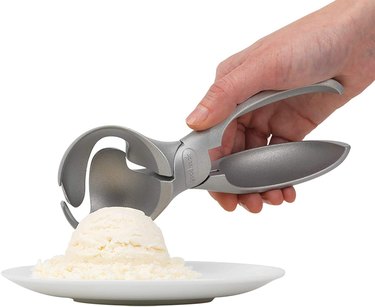 OXO Good Grips Stainless Steel Ice Cream Spade
While not technically a scoop, some people may prefer using an ice cream spade instead. Often used in ice cream parlors, ice cream spades feature a square head that is pushed through ice cream, instead of scooped to the side or upward toward the scooper. The OXO Good Grips Stainless Steel Ice Cream Spade represents the best in its category with its soft, easy-to-grip handle that doesn't get cold, and its wide head that's not only perfect for pushing through densely-packed ice cream, but also for mixing in tasty toppings, similarly to how it's done at Cold Stone Creamery®.
This ice cream spade is dishwasher-safe, so cleanup is super easy. The only potential downside is that it's heavier than most ice cream scoops—but it needs to be in order to power through dense ice cream. If you'd like to emulate the servers at a classic ice cream parlor, the OXO Good Grips Ice Cream Spade is a great, affordable option.
​Product Dimensions​: 9.1 x 2.75 x 1 inches (L x W x H)
​Scoop Size​: N/A
​Item Weight​: 5.6 oz.
​Dishwasher-Safe:​ Yes
​Color Options​: 1