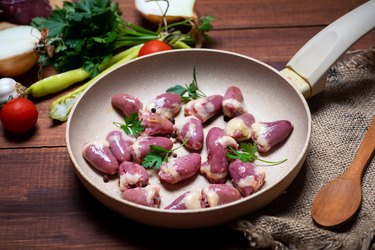 Ceramics are among the most versatile of manufactured materials. They're used in both delicate, nearly-translucent teacups and the turbines of powerful jet engines, and a surprising range of products in between. One of those products is cookware, where ceramic coatings have become a popular option for nonstick pans. Not only are ceramics more durable than conventional nonstick coatings, but they also lack the potentially harmful chemicals used in those coatings (that's why they're often marketed as a "green" alternative).
Ceramic cookware sets tick all the right boxes for a lot of cooks. They're lightweight and easy to use, require little in the line of special care or handling, and they're available in any color a manufacturer cares to make. Better yet, they're more affordable than many of the competing options. Here are some of our current favorites.
What to Consider When Purchasing Ceramic Cookware
Typically ceramic sets aren't intended to be something you'll own for a lifetime. They're the utilitarian cookware you'll buy for your first home, or give to your kids when they graduate from college. That being said, you'll still want to get the best (and most suitable) set that fits within your budget. A few things to consider include:
​Materials:​ A ceramic pan isn't (usually) made entirely of ceramics, any more than a Teflon pan is made entirely of Teflon. The ceramic part is the nonstick coating, while the pan itself is made of metal. Typically that's aluminum, with lower-priced sets being relatively thin and lightweight, and better-quality sets offering thicker, sturdier (but heavier) pots. Some brands also manufacture ceramic-lined stainless steel cookware, which is more durable but comes at a higher price tag.
​Design and Construction Quality:​ With ceramic sets typically occupying a lower tier in the cookware hierarchy, the differences in quality and workmanship can be significant. Look for securely-riveted handles that will stay cool in use, lids that ensure a snug fit, knobs and handles that are oven-safe, and—in general—any less-common touches that show some thought went into the design. Solidly-built sets will generally demonstrate a bit more heft, but there are also well-made, lightweight options if weight is a significant consideration for you.
​Aesthetics:​ The kitchen is definitely a place where you don't want to prioritize form over function, but ideally you should still find your cookware to be attractive (you'll be living with it for years, after all). Ceramics offer manufacturers a lot of freedom to bring visual appeal to their cookware, and some have used that freedom with great verve. As long as you're still getting the price and performance you want, there's nothing wrong with choosing a set that looks beautiful as well.
​Types of Pieces:​ Any set is a compromise, an attempt at "one size fits all." Getting a full set of matched pieces usually costs less than buying them separately, and it means all of your pots and pans will cook the same way, but it can mean getting pieces you don't especially want. Take the time to think about how you cook and which pieces you'll use, and buy a set that gives you the most of what you need and the least of what you don't.
The Best Overall Ceramic Cookware Set
Scanpan CTX 10-Piece Deluxe Set
Remember what we said about ceramic cookware sets not being built to last? Well, this is the exception that proves the rule. Scanpan's CTX series boasts the same kind of 5-ply construction you'd see in All-Clad and other stainless steel sets, but with the added benefit of a durable, ceramic nonstick coating. These pots and pans are induction-compatible, dishwasher- and oven-safe, and you can even use metal utensils with them. If you need any other reason to invest in this top-of-the-line set, its sleek, brushed-steel beauty—a masterpiece of minimalist Scandinavian design—provides it.
​Materials:​ 5-ply construction (aluminum/stainless steel) with stainless steel handles

​Induction Compatible:​ Yes

​Dishwasher Safe:​ Yes, but handwashing is recommended to maintain exterior finish

​Oven Safe:​ Up to 500° F

​Warranty:​ Limited lifetime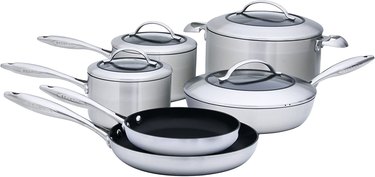 The Best Value Ceramic Cookware Set
GreenPan Valencia Pro 11-pc Set
GreenPan was the company that launched ceramic nonstick cookware as a category, and they're still among the very best in the game. This 11-piece set has everything you need: 8-, 9.5- and 11-inch frying pans, 2- and 3-quart saucepans, a 5-quart dutch oven and a 3-quart skillet; compete with glass-and-steel lids for all of the pots. GreenPan makes higher- and lower-end pans, but this is the "sweet spot" in their lineup. The ceramic coating cleans up easily and is safe for metal utensils, the hard-anodized aluminum gives the pots excellent heat transfer, and the pieces all have induction-compatible bases. Pro tip: If you prefer stainless steel, GreenPan's Venice Pro is the equivalent set and sells for just slightly more.
​Materials:​ Hard-anodized aluminum, steel handles, glass lids
​Induction Compatible:​ Yes
​Dishwasher Safe:​ Yes
​Oven Safe:​ Pans up to 600° F, lids up to 425° F
​Warranty:​ Two years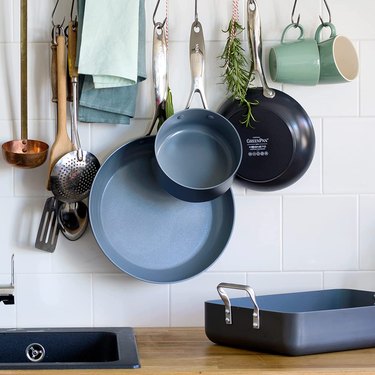 The Best Budget Ceramic Cookware Set
Cuisinart Advantage Ceramica XT 11-Piece Set
If your priority is to keep the price low while still getting a comprehensive, reasonably well-made set of cookware, this set from kitchen giants Cuisinart is a strong contender. The 11-piece set includes the usual frying pans, covered saute pan, two saucepans and a Dutch oven, but adds a steamer insert (which can double as a pasta strainer), increasing the set's versatility. The cool-grip silicone handles are riveted to the pots (not screwed on, as they are in bargain sets), and the tempered-glass lids make a good, snug fit on the pans. It's everything you need, little you don't, and the price is quite aggressive for a major-brand product.
​Materials:​ Aluminum core, silicone handles, glass lids
​Induction Compatible:​ No
​Dishwasher Safe:​ No
​Oven Safe:​ Up to 350° F
​Warranty:​ Limited lifetime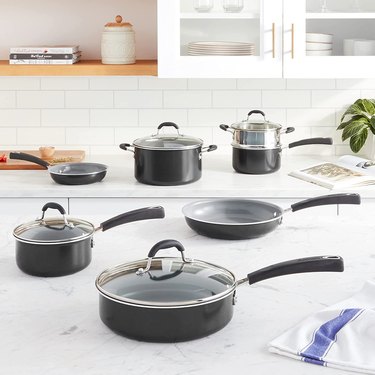 The Best Design-Forward Ceramic Cookware Set
Caraway Nonstick Aluminum 12-Piece Set
If you want the non-toxic, non-stick convenience of ceramic cookware but ​also​ want to have an Instagram-worthy, designer-look kitchen, Caraway has you covered. This 12-piece set of solidly-constructed pots and pans has all the performance you could want - aluminum construction for responsive heat distribution, stainless-steel base for induction compatibility, riveted, stay-cool steel handles for durability - but just as importantly, it brings high style and a designer sensibility. These pans look like nothing else on the market, with their clean lines and range of designer colors (from understated grey and cream to bold blues and yellows), and the company even makes color-matched linens to accessorize your kitchen.
​Materials:​ Aluminum construction, stainless steel base and handles
​Induction Compatible:​ Yes
​Dishwasher Safe:​ No
​Oven Safe:​ Up to 550° F
​Warranty:​ One year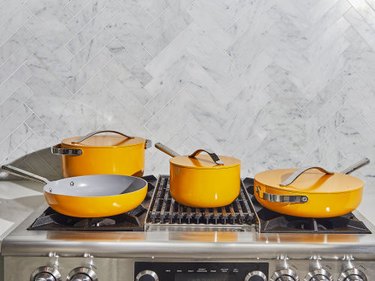 The Best "Kitchen Sink" Ceramic Cookware Set
GreenLife Soft Grip 16-Piece Cookware Set
The advice to "choose what you'll use" is perfectly sound, but it can be problematic when you're just starting out. How can you know which pots and pans you'll use most if you're new to cooking or independent living? One way to find out is to just buy a set that has everything. This set from GreenLife fits the bill: Aside from the usual full suite of skillets, pots and lids, you'll also get the always-useful steamer insert, and set of four kitchen utensils to make it a complete starter kit.
More importantly, this isn't a low-quality, disposable set despite the price point. They've got comfy soft-grip handles, reinforced bases to prevent warping, and smooth interiors for easy cleanup. The set comes in nine bold colors to match your style and personality, and the company's "green cred" extends to using renewable energy and recycled aluminum in its manufacturing process.
​Materials:​ Recycled aluminum, soft-grip plastic handles, glass lids
​Induction Compatible:​ No, but an induction-compatible Soft Grip set is available
​Dishwasher Safe:​ Yes, but handwashing is recommended
​Oven Safe:​ Up to 350° F
​Warranty:​ Two years