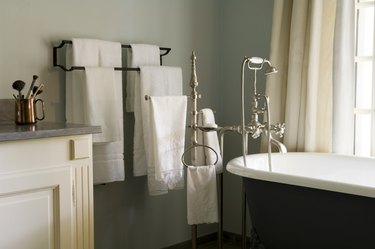 A towel rack probably isn't something you think about much, but it's definitely something you use every day if you have one. It's a multi-purpose bathroom accessory that gives you a convenient place to hang your towel, store extra towels and save space. Most importantly, it holds your towel after the shower or bath and allows it to thoroughly air dry, helping it last longer between washes. While a towel rack's main purpose is to hold towels, it also might be important to you to find one that matches the decor of your bathroom. Some towel racks can be purchased as a collection with other bathroom accessories like toilet paper holders and hand towel holders if you want things matchy-matchy, or you can stick to buying just the towel rack.
What to Consider When Purchasing a Towel Rack
​Type:​ There are several types of towel racks to consider before deciding on the best one for your bathroom, including single bar, wall-mounted, freestanding, over-the-door, swivel and a cabinet door rack.
​Single Bar:​ The most basic towel rack, this one mounts to the wall and can hold one or two towels. It's generally wall-mounted.
​Wall-Mounted:​ Wall-mounted encompasses any towel rack that mounts to the wall using screws, suction cups or adhesive. This can include single bar racks that hold multiple towels.
​Freestanding:​ A freestanding towel rack sits on the ground and can be placed anywhere in the bathroom as long as there's room for it. It can hold multiple towels.
​Over-the-Door:​ This one simply slides over the door and doesn't need hardware to be installed.
​Cabinet Door:​ A cabinet door rack is similar to an over-the-door rack but it slides over a cabinet door.
​Swivel:​ A swivel towel rack is one with multiple bars that rotate when you want to hang up or grab your towel.
​Towel Capacity:​ If you need your towel rack to hold one or two towels, a basic towel rack with a single arm or loop should be good. If you have multiple people in your family who share one bathroom, or if you prefer a rack that holds several towels as storage or for decorative purposes, you'll need a larger rack with plenty of hooks or arms.
​Bathroom Size:​ Towel racks come in various sizes and shapes, so it's important to take the size of your bathroom into consideration before making your purchase. Small bathrooms will require a more compact towel rack—either a single-bar mounted rack or an over-the-door model. If the size of your bathroom is on the medium side, you can likely get away with a towel rack that has more than one arm for multiple towels and even some shelves where you can place hand towels, bathroom essentials like lotions, or more decorative items like candles, photos and small plants. If your bathroom has more than enough room, you could consider a freestanding towel rack that sits on the floor and holds multiple towels. Freestanding racks tend to add to the aesthetics of your bathroom, but they're generally more expensive.
​Special Features:​ When it comes to the special features of a towel rack, you have some choices. Some have multiple color or finish options, some come with shelves and some have hooks to hang more towels. Towel racks are usually made of metal, such as stainless steel, chrome or alloy, but you can find ones that are more eco-friendly and made of wood or bamboo.
Read on for our list of the best towel racks of 2022.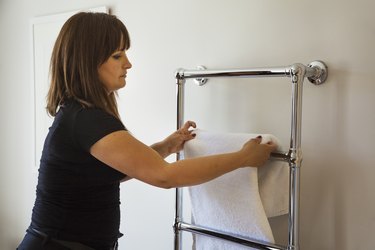 The Best Wall-Mounted Towel Bar
This classic wall-mounted, stainless steel single towel bar will fit with any decor. It's incredibly versatile with its five sizes and five color options. The number of towels it can hold will depend on the size you order. Its seamless design hides the screws, which adds to its elegance. In addition to the towel rack, you'll also receive four S-shaped hooks to hang other items like loofahs or washcloths.
Dimensions: 12" x 3" x 1.97"; 16" x 3" x 1.97"; 20" x 3" x 1.97"; 24' x 3" x 1.97"; 30" x 3" x 1.97"
Finishes: Black, black and gold, brushed nickel, chrome, gold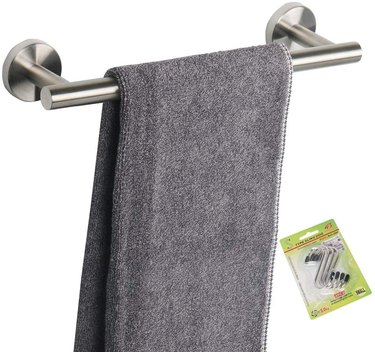 The Best Wall-Mounted Towel Rack
Novafashion Stainless Steel Towel Rack
You can't go wrong with this stainless steel double-bar in a chrome finish. It has a modern look and provides plenty of space for two bath towels or multiple hand towels. The rack helps you save space and keeps your towels clean and dry. It's easy to install and comes with a screw set.
Dimensions: 20" long
Finish: Chrome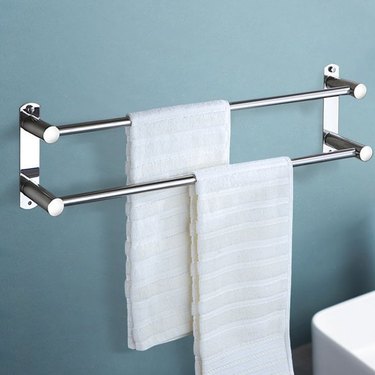 The Best Freestanding Towel Rack
Kingston Brass Pedestal 2-Tier Towel Rack
Who knew a towel rack could be somewhat of a statement piece in the bathroom? You can place this freestanding contemporary pedestal towel rack wherever it's most convenient. Of course, there has to be room for it. It's made of solid steel and is rust-resistant and tarnish-resistant. It has two tiers that can hold at least two bath towels and look good while doing it. The rack comes in three finish options: brushed nickel, oil-rubbed bronze and polished chrome.
Dimensions: 33.63" x 17.31" x 7.81"
Finishes: Brushed nickel, oil-rubbed bronze, polished chrome
The Best Storage-Maximizing Towel Rack
mDesign Steel Wall Mount Towel Rack
Perfect for large families or guest rooms, this wall-mounted alloy steel towel rack can hold six towels. The rack makes good use of wall space and lets you store your towels vertically. It's an ideal solution for small spaces with multiple towel storage needs. Choose from seven finishes, and if it doesn't work out for a towel rack, you can always use it as a wine rack. Just sayin'.
Dimensions: 6.9" x 4.63" x 31"
Finishes: Bronze, chrome, graphite gray, light gray, satin, soft brass, white
The Best Over-the-Door Towel Rack
Bhavya Over-the-Door Towel Rack
If you want your towel rack to be out of the way, this space-saving option will hang over the door so you won't even know it's there when the door is open. It's made of durable steel and has a soft, neutral finish with a modern, angular frame. Its three bars can fit three large bath towels or several hand towels. It fits over doors that are under 2.25 inches thick.
Dimensions: 26'' x 17.5'' x 5.5"
Finish: Gray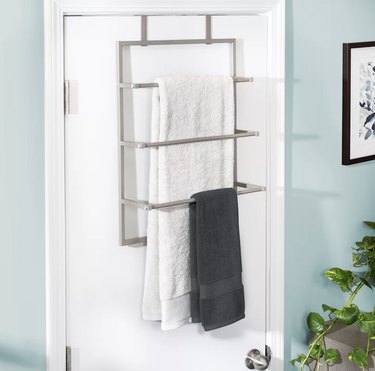 The Best Shower Towel Bar
DGYB Shower Suction Cup Towel Bar
This versatile towel bar sticks to the shower glass or wall via suction cups, so you don't have to worry about any drilling. Made of durable stainless steel, it comes in two sizes that can accommodate one or two bath towels or a few hand towels. It's easy to install and remove, but it must be fixed to a smooth, clean, flat and non-porous surface. The towel bar comes in two finish options and three sizes.
Dimensions: 17" x 3" x 3"; 21.3" x 3.4" x 2.8"; 24" x 2.5" x 3"
Finishes: Matte black, brushed nickel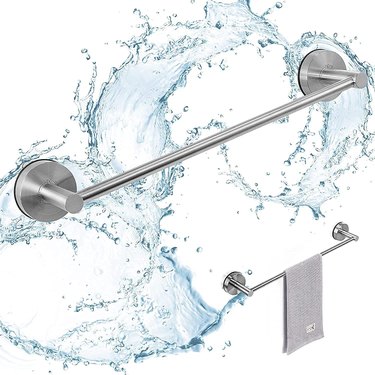 The Best Swiveling Towel Rack
If you're looking to add some style to your bathroom, this wall-mounted swivel towel rack will do it. Made of stainless steel, this space-saving rack has four arms and is durable enough to hold four bath towels. It has the option for a 180-degree rotation, so the bars can be separated on the wall as you prefer them. This one comes in two finishes: brushed gray or matte black.
Dimensions: 13.78" x 1.18" x 9.65"
Finishes: Brushed gray, matte black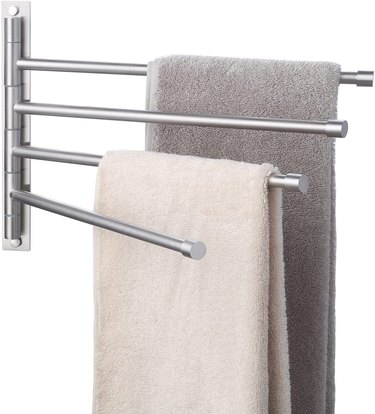 The Best Towel Rack With Shelves
West Elm Deco Curve Metal Wall Shelves
While this gorgeous wall-mounted towel rack is a bit of a splurge, it doubles as a functional shelving unit and a pretty display in your bathroom. In fact, the towel rack part is sort of secondary to everything else it offers. It has a simple design with modern convenience and it's easy to install with the included hardware. There are four stunning finishes to choose from: antique brass, chrome, dark bronze and polished nickel.
Dimensions: 20" x 8" x 22"
Finishes: Antique brass, chrome, dark bronze, polished nickel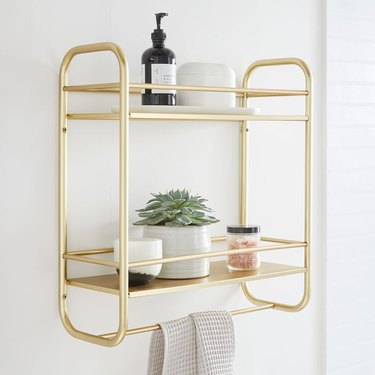 The Best Cabinet Door Towel Rack
iDesign Forma Over-the-Cabinet Towel Bar
You probably won't be able to hang a bath towel on this over-the-cabinet towel bar since it'll be too low to the ground, but it's great for hanging hand towels in small bathrooms. There isn't any hardware to install, all you need to do is slide it over the cabinet door. Made of durable steel with a rust-resistant coating, a non-absorbent foam backing protects the cabinets from getting scratched. It also works well in the kitchen for dish towels.
Dimensions: 9.5" x 2.5" x 2.75"
Finish: Stainless steel