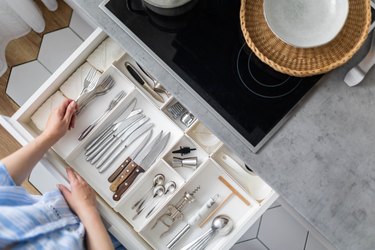 This might be too bold of a statement, but drawer organizers are one of our best achievements as humans. Sure, we landed on the moon and developed vaccines, but drawer organizers help maximize drawer space and allow you to easily access your things. Plus, they can provide you with immense pleasure just knowing that when you open your drawer, your odds and ends and everyday items actually have a place. The best drawer organizers are functional, well-made and stylish. There are drawer organizers for all types of drawers, including kitchen utensils, bathroom essentials, underwear, clothes, office supplies and junk. Since drawer organizers come in various shapes and sizes, there are a few things to consider first.
What to Consider When Purchasing a Drawer Organizer
​Drawer Size:​ To make sure you're buying the right size organizer for the space, measure the dimensions of your drawer. Most organizers fit in any standard-size drawer, but not all, so taking precise measurements before buying will save you the headache of making a return. The measurements of the drawer organizer will need to be slightly smaller than the drawer itself so it'll fit inside. You also want to make sure the organizer isn't too much smaller than the drawer, otherwise it will slide around. To ensure the drawer is able to close, confirm that the organizer isn't taller than the walls of your drawer.
​Contents:​ One of the beauties of drawer organizers is that there are different types for different needs. Before you make your purchase, determine what you'll need to store in the organizer to make sure it has appropriately sized compartments for your essentials. For example, if you want to organize your desk drawer, you're probably going to want an organizer with both large and small compartments for longer items like pens and pencils as well as small things like paperclips. If you're storing sweaters, you'll need an organizer that allows for bulky items.
​Style:​ It isn't always possible (or necessary) to perfectly match a drawer organizer to the color and style of your existing drawer, but you can certainly get close if that's something that's important to you. Organizers are available in plastic, wood, fabric and rubber materials and come in various colors. Adjustable organizers exist to accommodate drawers of all sizes, making good use of every inch, and dividers are ideal for bulkier clothes like sweatshirts.
Now that you have a better idea of what to look for in a drawer organizer, check out our list of the best ones available in 2022 below.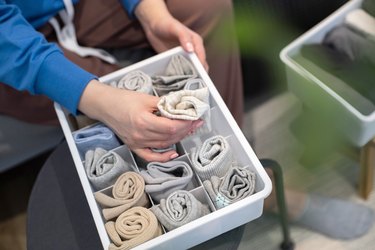 The Best Drawer Organizer for the Kitchen
Better Homes & Gardens Natural Bamboo Expandable Cutlery Tray
This modern and eco-friendly bamboo cutlery tray has five main compartments for forks, spoons, knives, serving utensils and other miscellaneous kitchen tools. It's durable, water-resistant, insect-resistant and it's designed to last for many years. The size fits perfectly in most standard-sized drawers and its natural wood color blends in nicely with most home decor styles.
​Dimensions (LxWxH):​ 13.98" x 10.04" - 15.35" x 1.97"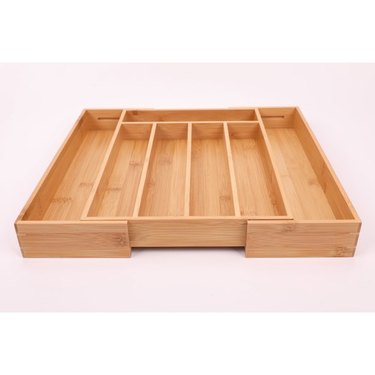 The Best Drawer Organizer for the Bathroom
Kootek 9-Piece Drawer Organizer
The benefit of using a drawer organizer that comes with standalone compartments is having the freedom to mix and match the sizes you need. This 9-piece plastic bathroom organizer set is fully customizable so you can use all the pieces in one drawer or put some of them in a different bathroom or drawer. The set is great for the small drawers typically found in bathroom vanities, as well as under the sink storage for lotion bottles, hairspray, extra shampoo, etc. Choose from three colors: clear, brown and gray.
​Dimensions (LxWxH):​ 9.6" x 6.4" x 1.9" (1), 6.4" x 6.4" x 1.9" (1), 9.6" x 3.2" x 1.9" (3), 6.4" x 3.2" x 1.9" (4)
The Best Underwear Drawer Organizer
SimpleHouseware 4-Piece Underwear Drawer Organizer
Undergarments deserve organization, too. This 4-piece fabric underwear drawer organizer has plenty of compartments for bras, underwear, socks, tights, ties, boxers, lingerie and anything else you might keep in your underwear drawer. There are four bins, and each can hold several items. One bin has six slots, one has eight slots, one has seven, and one has 24. You're just going to need to get used to folding your underwear Marie Kondo-style. Color options include light gray, dark gray, beige, black, brown, pink and turquoise.
​Dimensions (LxWxH):​ 12" x 6" x 4.25" (2), 12" x 12" x 4" (2)
The Best Drawer Organizer for Office Supples
Rolodex Deep Desk Drawer Organizer
You'll find that this desk drawer organizer is the perfect place for your writing utensils, scissors, paperclips and other random office trinkets—you know, instead of leaving those things all over your desk. Made of metal mesh, this deep organizer will aid in improving your efficiency while working or doing schoolwork. It's simple, it's practical, and it's designed to keep you organized.
​Dimensions (LxWxH):​ 15.3" x 12" x 2.7"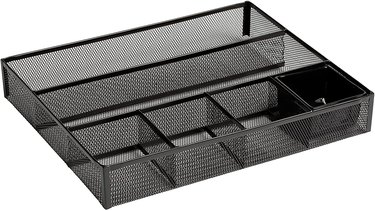 The Best Expandable Drawer Dividers for Clothes
OXO 2-Pack Good Grips Expandable Dresser Drawer Dividers
Dividers offer more of a flexible storage situation for items like sweatshirts, t-shirts and sweaters that are bulky and don't require compartments. This 2-pack of plastic expandable dividers features a lever on top of each divider that creates tension for a secure fit. The dividers expand to 17 inches and foam pads hold them in place by gripping the drawer walls. It's a clean-looking way to have some more organization in your dresser, and it even feels a little more permanent than a removable drawer organizer.
​Dimensions (LxWxH):​ 4.4" x 3.6" x 11.3" - 17.25"
The Best Vanity Drawer Organizer
Amazon Basics Acrylic 8-Compartment Makeup Organizer
If your makeup drawer is a jumbled mess of brushes, mascaras, eye shadows, lipsticks and everything in between, this organizer will help your makeup routine become a little less stressful. There's a 6-compartment option and an 8-compartment option depending on your needs. It's made of acrylic plastic, which has the fancy look of glass, but it's more durable and weighs less.
​Dimensions (LxWxH):​ 7.13" x 7.13" x 4.75" (6-compartment), 13" x 8.13" x 2.25" (8-compartment)
The Best Junk Drawer Organizer
Madesmart Junk Drawer Organizer
More often than not, junk drawers are a complete disaster, but it doesn't have to be that way. This junk drawer organizer will keep your most important junk in order, like 15 different hand sanitizers, dead batteries, old receipts, and all the matches and pens you stole from who knows where. It's made from BPA-free plastic, which means it's built to last a long time, and it has compartments for items small and large.
​Dimensions (LxWxH):​ 14.8" x 12.3" x 1.9"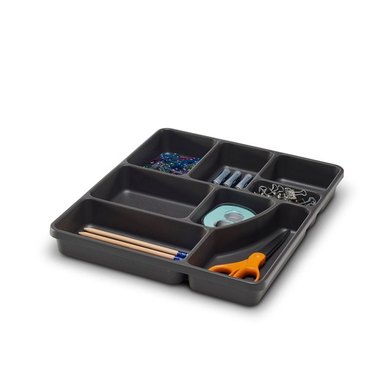 The Best Two-Tier Junk Drawer Organizer
Madesmart Original Junk Drawer Organizer
Here's a bonus junk drawer option from Madesmart, because it's never a bad time to get your junk drawer under control. This one gives you plenty of storage space as it's a two-tier organizer with a removable top tray and compartments of various shapes and sizes. The top tray slides back and forth so you can see and easily access what's underneath. It's made from BPA-free plastic for long-lasting organization.
​Dimensions (LxWxH):​ 15" x 11-1/2" x 3"