It's become a habit around the world—waking up to a freshly brewed cup of coffee. For those who can't stand the idea of getting a cup of instant coffee, there are numerous options. You could choose the French press method, or just enjoy a pure moment of flavor awakening with a pour-over brewer. But on busy mornings when you don't have the time or energy for a coffee shop-quality brew, a drip coffee maker provides ultimate convenience.
Before we get into the best models on the market, let's talk about what criteria a drip coffee maker needs to meet in advance of loading it into your online shopping cart.
What To Consider When Purchasing a Drip Coffee Maker
​Location:​ It's important to select a drip coffee maker for the environment it'll be living in. Most of us will be purchasing this machine for our own kitchens, others for their office space or dorm room. If you're purchasing a coffee maker for your professional space, efficiency, brewing capacity and speed all matter. For those placing it in a dorm room, the coffee maker needs to be robust, operate without a paper filter and be budget-friendly.
​Consistency:​ A major factor when reviewing drip coffee makers is the consistency in brewing temperature. You also want to have a maker with a wide range of temperature control, so you can fine-tune the brewing process for the type of beans you're using.
​Ease of Use:​ Another element to consider is the ease of use—you want a machine that helps you get your daily fix without causing a headache. Consider how easy it is to clean, how user-friendly the control panel is, and how long the coffee takes to brew. The coffee pot should also pour easily without splashing or spilling.
​Warming Capabilities:​ Some drip coffee makers use a warming tray to keep the brew warm, while others feature an insulated carafe to maintain the desired temperature. An automatic shutoff feature is also important if you're running late and forget to turn off the coffee maker before you head out the door.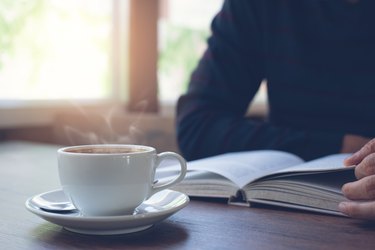 The Best Small Batch Drip Coffee Maker
Black+Decker 5-Cup Coffeemaker
The Black+Decker 5-Cup Coffeemaker is a small, compact and easy-to-use machine. It comes with the "Sneak-a-Cup" feature, which pauses the brewing process to allow the user to fill up their cup. It also boasts a permanent ground filter, meaning there's no need for paper filters (although you could still add one if you wish). There's also an on/off switch with a light, which for coffee machines, is not always a given.
This Black+Decker model brews 5 cups, approximately 5 ounces each. The glass carafe has an ergonomic handle and a keep-hot plate helps maintain your coffee's temperature. Measuring 7.25 inches long, 8.2 inches wide and 10.75 inches high, it's suitable for small spaces like a studio apartment or RV.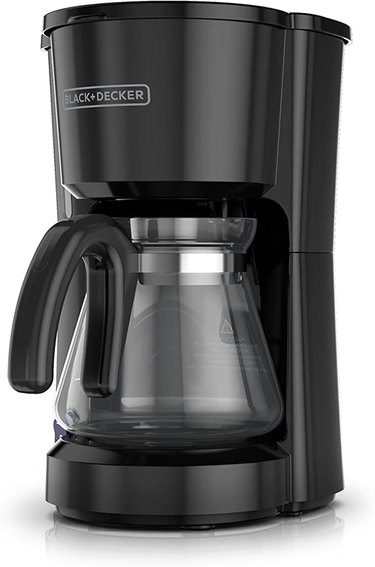 The Best Large Batch Drip Coffee Maker
Mr. Coffee 12-Cup Coffee Maker
If you're looking at brewing a big pot of coffee for an entire office, the Mr. Coffee 12-Cup Coffee Maker is exactly what you need. It also boasts the "grab a cup auto-pause" function for those who can't wait until the end of the brewing cycle. Unfortunately, this model doesn't allow for direct brewing from its basket and requires paper filters. That being said, it's easy to clean and straightforward to operate.
To ensure you don't overfill the tank, there are two transparent windows that allow you to monitor the water level. It also has a light-up on/off switch light. The warming tray maintains a consistent temperature for around two hours and the glass carafe has clear markings so you know exactly how many cups of joe are left. This drip coffee maker yields four to 12 cups or 20 to 60 ounces.
The Best High-End Drip Coffee Maker
Breville Precision Brewer
With its 60-ounce (12-cup) thermal carafe, numerous presets and ability to adjust the temperature, the Breville Precision Brewer is well worth the splurge. It offers six presets, some of which are even customizable. These presets include Gold Cup, Fast, Strong, Iced, Cold Brew and My Brew. The latter option allows you to set your preferred bloom time, brew temperature and flow rate, while Gold Cup automatically adjusts the machine to meet the standards set out by the Specialty Coffee Association (SCA).
You can adjust the temperature using the digital display, select between three flow rates (this determines the contact time with the grounds), and reap the benefits of the Thermo Coil Heating System, which delivers purer boiled water. Then, there's the auto steep and release technology that "controls water and coffee contact time" to deliver fantastic flavor when you're brewing a single cup of coffee. The machine also comes with a dual filter basket, thermal carafe and coffee spoon. Although pricy, the Breville Precision Brewer is the best machine for the coffee connoisseur who craves both convenience and customization.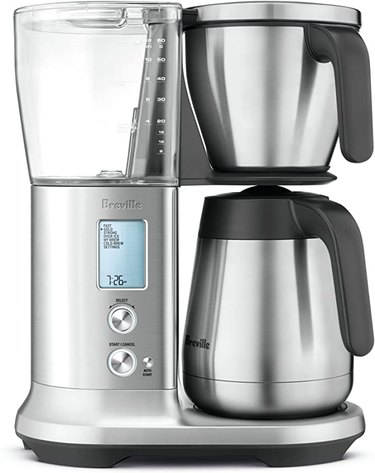 The Best Design-Forward Drip Coffee Maker
Moccamaster KBGV Select 10 Cup Coffee Maker
This might not be the "most 2022" machine on the market, but it's a timeless, luxurious classic that promises to deliver only the best flavors. Available in 21 colors (nine of which are sold on Amazon), it makes for a cheerful addition to any kitchen. With the flip of a switch, it can brew up to 10 cups (40 ounces) in just four to six minutes.
Using only the best materials, it has that quality feel that many of us search for. The Moccamaster doesn't use pumps, but rather a copper boiling element that rapidly heats the water in the reservoir to its desired temperature, which is then slowly released into the cone-shaped brew basket. The flavor-extracting basket also has a drip-stopper that pauses the flow of coffee when the carafe is taken away for a pour.
A new feature on the Moccamaster is the option to select between a full or half-full carafe. The on/off switch has a light, and most importantly, the hotplate automatically shuts off after 100 minutes. Handmade in the Netherlands, this well-designed drip coffee maker is approved by the Specialty Coffee Association and the European Coffee Brewing Centre.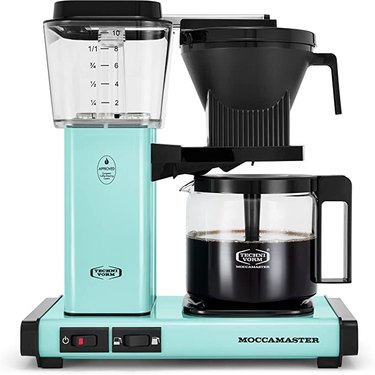 The Best Single-Serve and Carafe Coffee Maker
Hamilton Beach 2-Way Brewer Coffee Maker
If you're looking for a machine that will brew a full 12-cup pot for a long morning, or a single cup because you're heading out the door, this brewer is for you. Unlike other single-serve coffee makers that only take pods, the Hamilton Beach 2-Way Brewer can utilize ground coffee or pre-packaged soft pods. It also has a 2-hour automatic shutoff function, so if you're in a real hurry, there's no need to panic when you realize it's still on at home.
The single-serve function lets you choose between a standard-size cup or a travel mug-size cup. The machine is also programmable up to 24 hours in advance so you can wake up to a fresh pot every morning. Another great feature is that you can control how strong you want your cup of joe—there's an option for regular or bold on either side of the coffee maker.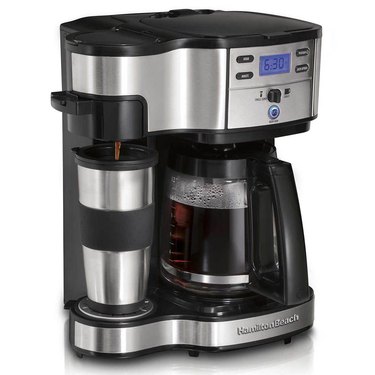 The Most Versatile Drip Coffee Maker
Ninja Specialty Coffee Maker
The Ninja Specialty Coffee Maker is a drip coffee maker with all the bells and whistles. You can brew six different sizes, four different brew types, and it has a built-in frother for making a delicious café au lait. On hot days, you can even brew your coffee over ice and add cold froth.
There's no heating plate with the Ninja Specialty Coffee Maker, but it comes with a well-insulated, thermal carafe that will keep your drinks hot or cold for hours. It also has a removable water reserve, a self-cleaning cycle and many of the components are dishwasher-safe. And finally, with its Thermal Flavor Extraction technology, which "controls the bloom time, the level of saturation, and the water temperature," you can be sure that every cup is brewed to perfection.