Pottery is one of humankind's oldest crafts, dating back at least 10,000 years. Originally invented for its functional purpose of holding and carrying food and water, it became an art form as artisans painted on the clay, making the pottery decorative objects as well. Archaeological excavations have unearthed well-preserved examples of ancient pottery, giving us a glimpse of a civilization's culture through the designs painted on them.
When we paint on pottery pieces, we not only carry on this millennia-old tradition but we get to express our creativity in a fun way on a decorative piece we can keep and treasure. Thanks to these pottery painting kits, we can do so in the comfort of our home without having to go to an art studio.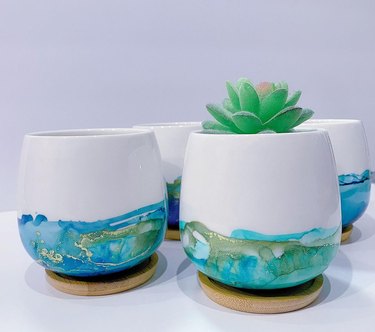 Just as the ancient potters made urns, a great place to start your pottery journey is with a planter. These geometric planters will add a modern touch to your home, and here's a creative bonus: Because the sides of the planter are straight planes rather than curves, it's actually easier to paint on it. This Etsy merchant has numerous ceramic painting kits available if this planter kit whets your appetite.
• Ceramic planter
• Bisque stain (acrylic paint)
• Paintbrushes
• Glossy sealant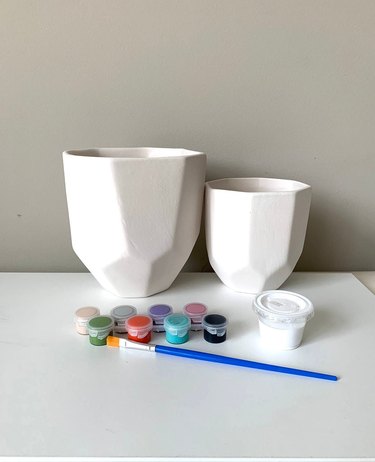 Bring some magic into your home with this kit featuring a fairy sitting on a crescent moon. Place a tea light inside the moon and the light glows through the star-shaped openings. This is a great way to enjoy the day painting and relax in the evening with your newly painted light.
• Ceramic fairy on moon
• Acrylic paints
• Two brushes
• Clear top coat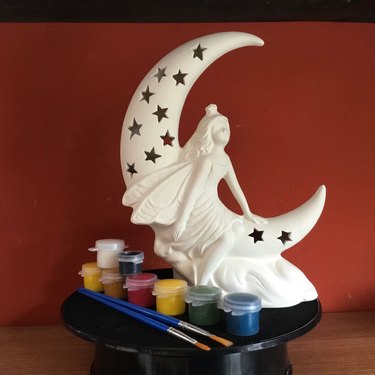 You'll have a home sweet home when you paint this gnome sweet gnome. Gnomes are a perennial favorite as a decorating motif, as these adorable characters add so much charm to our homes, both inside and out. With its tall hat, bulbous nose and long beard, you can let your imagination fly as to how you want to paint your gnome and give him a unique personality. There's no word on whether this one comes to life while you're sleeping.
• Gnome ceramic figurine
• 8 acrylic paint colors
• Glitter paint for extra sparkle
• 1 paintbrush
• Small cup to rinse brushes
• Paper plate to mix paint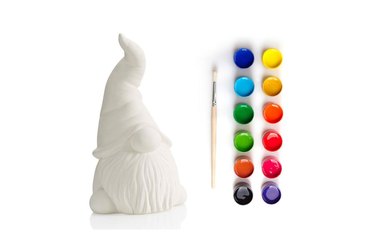 4. Alcohol Ink Planter or Mug Kit
Here's a different way to paint a ceramic piece — with alcohol inks. Alcohol inks create intense, freeform designs that look like waves or geodes. The results look professional, but with the step-by-step video tutorial that comes with the kit, you'll see how easy it really is.
• Mini planter or small mug
• Paint palette
• Paintbrush
• Pair of nitrile gloves
• Needle tip bottle of blue alcohol ink
• Needle tip bottle of gold alcohol ink
• Needle tip bottle of 99 percent alcohol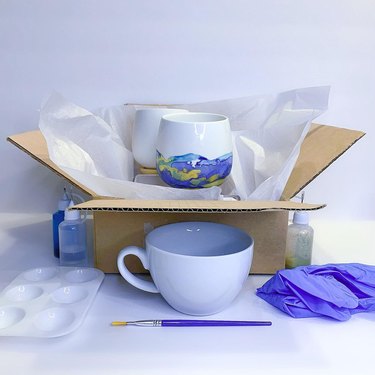 The force is strong in this one. This is the ultimate pottery kit for Star Wars fans. (And who isn't?) You'll have your choice of R2D2, the Millennium Falcon and Han Solo frozen in carbonite. Choose all three and have a Star Wars cantina party.
• 1 ceramic Star Wars shape
• 3 primary colors — red, yellow, blue
• Brushes
• 1 muslin bag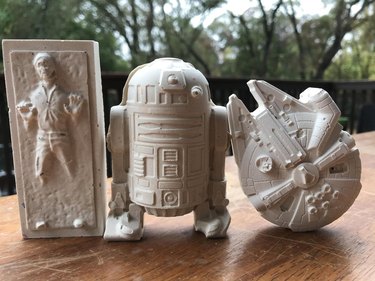 This unique kit comes in pieces that are assembled as a jigsaw puzzle. First, put the puzzle together. Then, paint your design on the top side, let it dry, take it apart and it's ready as a jigsaw puzzle. You can also glue the ceramic pieces together to create a piece of wall art or place magnets on the back of each piece for a refrigerator puzzle. Another fun way to enjoy the kit is to divide the puzzle pieces among different people and have them paint their design on that one piece. Then, when all the pieces are put together, they become one unified work of art.
• Ceramic handmade and hand-cut puzzle
• 6 nontoxic paints
• Paintbrush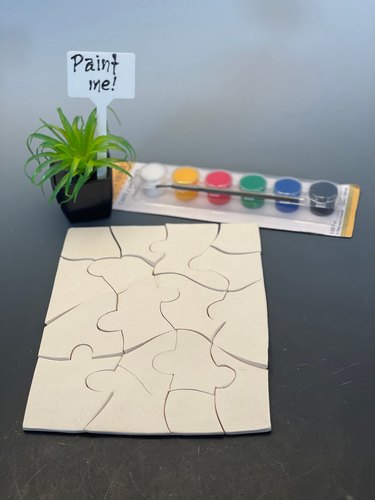 7. Paint Your Own Name Kit
If you love personalization, this painting kit has your name all over it. Just request whatever word or name you'd like and custom plaster of Paris letters will be created for you. This would make a perfect gift, or you can have a painting party with each person getting his or her own name to decorate.
• Your requested letters
• 6 acrylic paint colors
• Paintbrush
• Package of glitter
8. Hand-Thrown Pottery Kit
There is nothing like the look of hand-thrown pottery. It has an authenticity that can't be duplicated in ceramics made from molds. However, throwing pottery takes a lot of mastery, and it can be difficult to make even one small bowl with a good shape and symmetry. This merchant does the pottery throwing for you, so all you have to do is paint. Of course, you get to take all the credit.
• An original hand-thrown piece of pottery
• 8 acrylic paints
• Paintbrush
9. Ceramic Dinosaur Bank Kit
You'll definitely hear a roar with this pottery kit — a roar of excitement. This adorable ceramic dinosaur is waiting to be painted in an infinite number of ways. Because we only have dinosaur bones to give us an idea of what they looked like, we actually don't know what color they were or if they had stripes or polka dots. So, you can decorate your dinosaur any way you wish because who knows — maybe you're right.
• Ceramic dinosaur bank
• 10 paint colors
• Finishing gloss
• Assortment of paintbrushes
• Instructions and suggested designs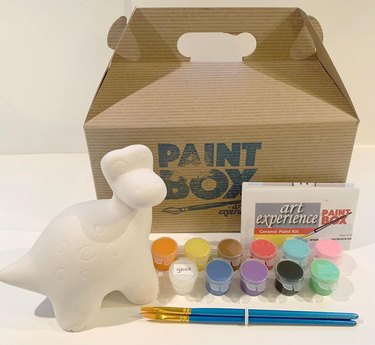 10. Ceramic Heart Painting Kit
Let loved ones know you're thinking of them with this precious ceramic heart. With a hook and a ribbon for hanging, it makes a beautiful ornament or a statement pendant. The paint selection for this kit is quite lovely, and you can even customize your own palette. This sure beats an emoji heart any day.
• Ceramic heart with hook
• 4 acrylic paints
• Pot of PVA glue for sealing or to add embellishments
• Paintbrush
• Ribbon
• Gift tag
Painting adds so much beauty and personality to plain pottery. It expresses your personality and creativity and makes the pottery uniquely yours. With any of these kits, you'll have a finished piece that you'll be proud to show off.