If the on-the-ground compile pile is the most basic system of composting available, open bin composting is just behind it in terms of simplicity. In fact, you can consider open bins as a tidier variation of the compost pile, easy to access but contained inside some type of bin. If you aren't up for making a DIY open composting bin from wood or wire fencing, there are many interesting bins and bin kits available in commerce.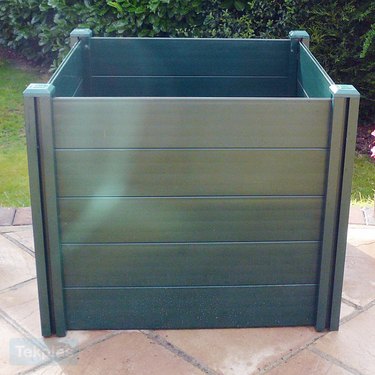 Open bin composting contains the compost pile, keeping your backyard neater. It's also easier to turn the composting material - a necessary step to hasten the composting process. Usually compost from an open bin is ready to use in between three and 12 months, depending on weather conditions, no matter which bin you select.
1. ​ Compost Bin by GEOBIN
​When you consider the weight of wooden fencing and/or heavy metal wire, Geobin's plastic bin is a real innovation. We think this is one of the coolest open bins you can buy. It looks like a roll of plastic fencing material, weighing in at only 7 pounds. The fencing is 3 feet tall and the idea is to form it into a barrel of whatever diameter you desire, then use the clasping mechanisms to attach the ends. The maximum diameter for expansion is 4 feet, but you can start with a narrower bin if you prefer. At maximum expansion, it holds 246 gallons of compost.
This bin is lightweight and easy to set up.

It comes with "quick closure keys" that are fast to use, and you won't need any tools to get the GEOBIN compost bin operational.

It shouldn't take more than 10 minutes if you know where you are going to put it.

Since the bin is perforated, you get both maximum air ventilation and great drainage, both of which speed up the compost process.

Upkeep is easy.

The cost is extremely reasonable at under $40.

The bin is expandable, but even at maximum expansion it won't hold the amount of detritus a 5 foot square compost pile does.
Turning the compost can be a challenge if you want to get to the bottom of the pile.

No open bin on the market will get you into composting cheaper and faster.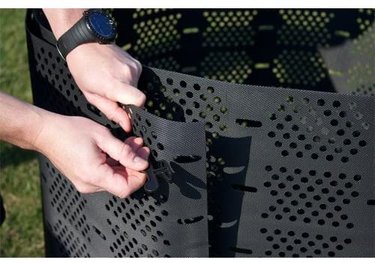 2. Greenes Fence Cedar Wood Composter
The Cedar Wood Composter by Greenes Fence looks squat and sturdy, and it is. This product comes in pre-cut easy-to-assemble pieces to form a wooden bin 36 x 36 inches, holding 172 gallons of compost. A kit includes four posts, 28 boards, and 48 spacers.
The cedar bin is just plain attractive, giving a "cottage garden" atmosphere to the compost area.
Cedar is naturally rot- and insect-resistant.
The bin assembles without need for tools other than possibly a rubber hammer.

This bin is made of untreated cedar boards and stays in place when you set it up.
The weight and open design makes it easy to turn the compost pile with a shovel or pitchfork.

Airflow between the boards is excellent and the spaces also offer good drainage.
Additional kits make it simple to expand the one bin into a set of two or three to allow graduated composting.

Assembly is easy but you still have to do it.
This product costs over $100.
A two- or three-bin compost bin system really makes composting efficient, since you can put new compost in one bin as the contents of the other two are allowed to decompose. With the Cedar Wood Composter, adding a second/third bin is a snap.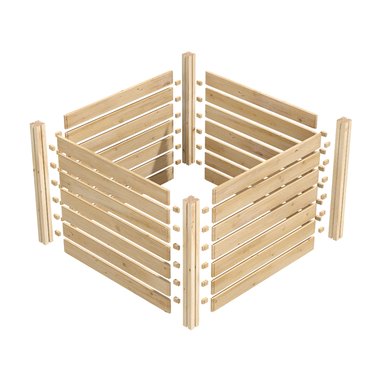 3. Bosmere 100 Gallon Steel Wire Compost Bin
The Bosmere 100-Gallon Steel Wire Compost Bin looks like a crate for a rabbit without the top or bottom. It is 37 inches tall and 31 inches wide and weighs in at only 13 pounds. Made of plastic coated sturdy steel, the bin assembles in minutes without tools. It is durable, yet allows air and water to pass readily in and out of the compost area. It holds up to 100 gallons of compost, with a door on the front that opens for easy access.
Even a child could put this bin together in minutes.
It is constructed of coated steel wire that will hold its own against rain and wind.

There's no trick to using it, you just toss the detritus into the top.

If this is to be a seasonal bin, it can be stored efficiently in the garden shed or garage by folding flat.
Quite inexpensive at under $60.

Depending on what you are composting, some may fall out through the wide spaces between the steel rungs.
The front door on this bin will make a big difference in easy of access.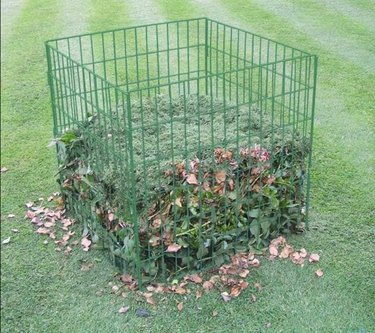 If you have a lot of room and a lot of kitchen and yard trimmings, you'll want to consider that three bins are better than one. Gardener's Supply Company's 3-Bin Wire Composter provides ample room for all the dead leaves you rake up at the end of summer. You can either fill this wire composter bin with 48 cubic feet of leaves and other garden trimmings, or else use the bins to separate compost into categories, like kitchen waste, yard waste and finished compost.The trio is 85 inches long, 28 inches wide and 35 inches tall, made up of10 separate panels connected by plastic clips that wrap around the wire frame. They connect the pieces securely.
Lots of room for lots of compost.

The wire allows air to enter and water to drain.

Made of heavy-gauge, powder-coated steel, this is a sturdy system; the frame pieces are 4-gauge steel while the mesh panels are 11-gauge.

There are 10 panels but the system for attaching them is not complex.
It's not cheap. You can expect to pay over $100 but under $150 for this system so that may be out of some people's price range.

It takes up quite a large area so only for bigger yards.

A three-bin system is really efficient, and, for a three-bin system, this one is not very expensive.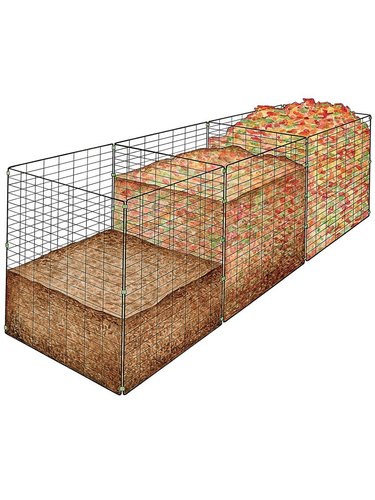 5. MTB Garden Wire Compost Bin
The MTB Garden Wire compost bin is extremely versatile. It makes a great beginners compost bin, setting up in the snap of a finger since there is minimal assembly. The four mesh panels are each 30 high by 36 inches wide deep and come jointed together by anchor spikes at the corners providing storage for 140 gallons of compost. But the wire square can also be used as fencing to prevent rabbits and other garden pests from munching a garden crop.
This bin can be assembled quickly without any required tools.


The openings in the wire panels provide maximum aeration and exceptional drainage.


This sturdy bin is made of heavy gauge steel and the coating of plastic means durability against the elements.


It weighs under 10 pounds for easy carrying and placement.

Pick your color, green or black.

The price is slightly higher than $60 if you pick black, slightly lower than $60 with green.

You can get it in smaller sizes if you want to start smaller.

You can remove one of the corner stakes and open a side like a door to get compost out.

The holes between wires in the upper part of the bin are larger and may allow material to leak out of the bin.
The four corner stakes push into the ground to anchor the bin, but they only work if the ground beneath the bin is flat.

It is really nice to be able to remove one of the side panels. This makes it easy to turn the decomposing compost and also lets you shovel out the compost when it is ready to use.