Few gardeners doubt the benefits of home composting, which is a process that transforms kitchen and yard scraps into an organic soil additive. There are more than a few ways to compost: some big for the backyard, some small for the kitchen counter. The best type of compost bin system is always going to be the one that works best for your situation, so read about the benefits of each to find your perfect bin.
The basic composting system is the outdoor compost pile, where green material (like veggie peelings) are layered with brown material (like dried leaves) and are allowed to decompose. An open bin composting system is quite similar except it all takes place inside an open bin, keeping the debris contained and making it easier to turn the material.
Take a look at the Compost Bin by GEOBIN, one of the coolest open bins you can buy. Here's what we love about it:
It's inexpensive at less than $40, which makes two of them perfectly affordable.
It's made of lightweight plastic, weighing in at only 7 pounds.

At just over 36 inches tall, it expands from a narrow bin to 4 feet in diameter.
At maximum expansion, it holds 246 gallons.

The drainage it provides can't be beat.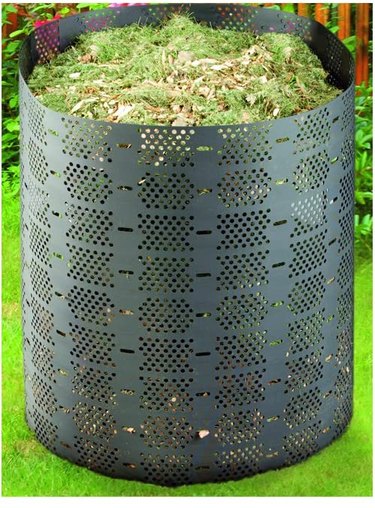 As a second option, consider the MTB Garden Wire Compost Bin, another inexpensive option with terrific drainage. It's appealing because:
It costs less than $46.
It's made of wire, is very lightweight and provides great drainage.

MTB home composting bins are ready to use with a very fast setup, and no tools are required.

Each bin is a square container formed by four mesh panels (24 inches tall by 30 inches wide) linked at the corners by anchor spikes. It collapses easily for storage.
The wire is heavy-gauge steel and black-powder coated, making this bin very sturdy.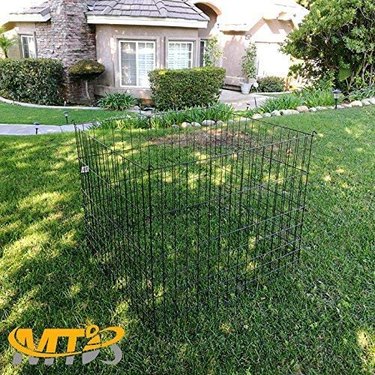 A closed compost bin is essentially an open compost bin with a lid. It may or may not have a floor. You build a compost pile inside the bin and then let time turn that detritus into fabulous compost. Closed bins are great even in small yards and keep out mice and pests while the compost is "cooking."
There are lots of closed compost bins available in commerce, but we are totally taken with D.F. Omer's Garden Composter Bin. The 110-gallon model costs $77 on Amazon and has some great features:
No setup at all; it's ready to roll.
Fits in small yards.
Easy to use.
It's made of BPA-free recycled plastic that maintains heat and regulates moisture for a shorter composting time.

The bin top is a two-door lid that keeps away critters when it's closed.
There's a slot at the bottom to remove the finished compost.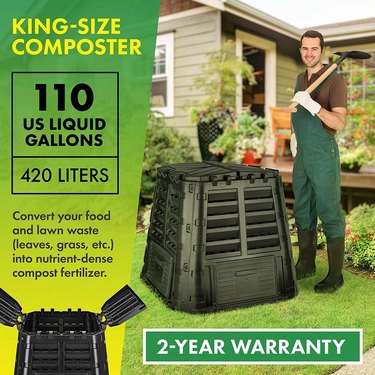 Another great closed bin is the Algreen Products Soil Saver Classic Compost Bin. It costs more at just under $140, but over 2,000 customers gave it good ratings. Weighing in at 28 pounds, it measures 28 by 28 by 32 inches and can hold 94 gallons. Other great features include:
It speeds up the process, producing rich organic compost in two months or less.
It's made from BPA-free, 100 percent recycled, environmentally friendly material.
The cool locking lid keeps out wildlife but allows in air and rainwater.
With two sliding doors, there's no problem getting access to remove finished compost.

The robust construction makes this bin heavier than others but also helps produce and insulate heat for speedy decomposition.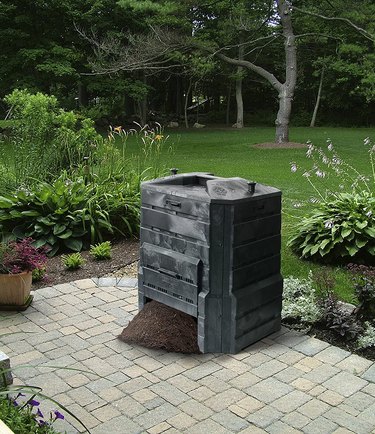 Turning compost is necessary to raise the internal heat, allow in oxygen and speed the decomposition process, but few gardeners enjoy this. You can avoid getting your hands dirty by selecting a compost tumbler. The great thing about a tumbler is that you tumble the entire bin by cranking a handle.
Tumblers tend to be large – too large for patios and porches. However, the Miracle-Gro Small Composter will fit anywhere you have a little space, even a balcony. It is available in 18.5 gallons or 27.7 gallons for under $70. We also like it because:
It hides the mess in an enclosed container.
The handle is a snap to turn.

It has a unique aeration system that speeds up the process.

It works fast, producing ready-to-use compost in four to six weeks.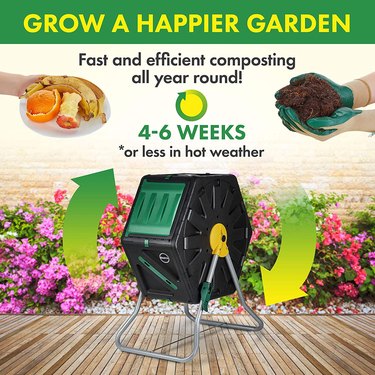 If you need a tumbler compost bin that is somewhat bigger and you have more space, we recommend the IM4000 Dual Chamber Tumbling Composter by FCMP Outdoor, currently priced at under $88 on Amazon. It holds up to 37 gallons and weighs 28 pounds. It's a good choice for these reasons:
Tumbling is accomplished with an easy-to-use handle that makes mixing easy and efficient.

The bin works fast. In good weather conditions, the compost can finish in as little as two weeks.
It's a cinch to use, with large openings and a removable door making access easy.
It offers two composter chambers that allow one side to finish while leaving the second side open for fresh scraps.

The galvanized steel frame is tough and resists corrosion.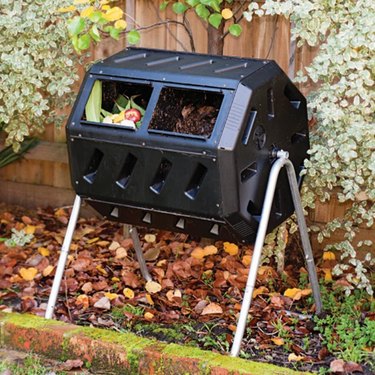 Vermicomposting lets the worms do the work of decomposing the food products. You feed your organic detritus to red wiggler worms (in closed bins) that break it down quickly into a very high-quality compost. You can use worm tea (the water draining from the castings) as a liquid fertilizer.
​We like the VermiHut 5-Tray Worm Compost Bin by VermiTek. It's 16.5 by 16.5 by 12.5 inches, which is small enough for indoor locations, and costs about $120. In addition, it offers:
Five separate trays to let the worms eat their way up.
An appealing forest-green color.

Great airflow control, high compost efficiency and a small footprint.

A separate area to collect worm tea.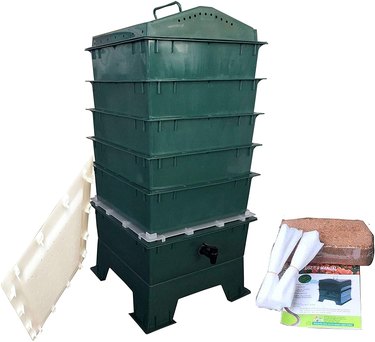 Alternatively, look at the Worm Factory 360. It comes in a standard four-tray size, but this is expandable up to six trays. That gives it the largest volume of any home composter. It costs about $132, but that includes everything you need to get going, including an instruction booklet.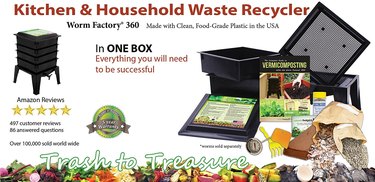 A bokashi bucket system doesn't create compost, but it ferments your food waste, reducing compost time. The bins have spigots and airtight lids. In goes the green material and bokashi bran. You drain off the liquid repeatedly, and then, when the material is pickled, you bury it outside. The whole process takes four weeks.
​The Bokashi Bucket Food Waste Fermenter by TeraGanix is an easy way to test the bokashi waters. It costs $72 and is designed to take the fuss out of fermenting food. Here's how:
It's very durable and made to last.
The tight-fitting lid keeps in odors.

It's easy to carry thanks to the comfy handle.
The bucket is 5 gallons, which is great for one family's kitchen waste.
It has a spigot for easy removal of liquid.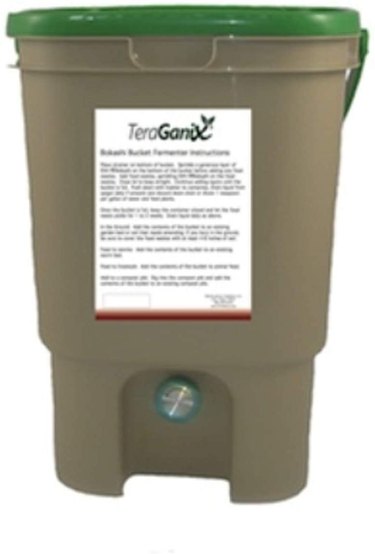 Another bokashi kit we like is the SCD Probiotics All Seasons Indoor Composter. This is a kitchen countertop bin with bokashi. At a price under $50, this bin allows you to ferment your kitchen scraps before tossing them into the compost pile. It comes with an easy-use spigot to remove the liquid as well as a sack of bokashi bran.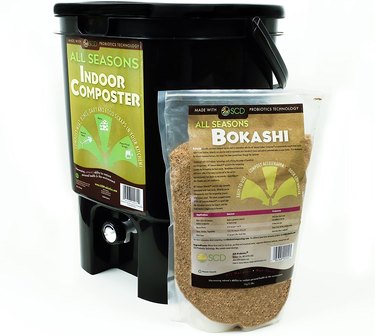 This "composter" doesn't really compost anything, but it holds kitchen scraps until they can get moved into the compost.
We like the Utopia Kitchen Compost Bin for Kitchen Countertop. With this "compost bin," you can let the scraps build up during the week without worrying about bad smells in your home thanks to the charcoal filters. They trap and control odors naturally. This bin is sturdy, stylish, easily washable and under $20.