If you're looking for an easy side dish with a charming twist, make these heart-shaped roasted potatoes. They're crispy, flavorful and perfect for turning any meal into a Valentine's-Day-worthy dish, but why stop there? You can also serve these adorable bites of goodness on Mother's Day, birthdays or just because. Kids and adults alike will love these roasted potato hearts.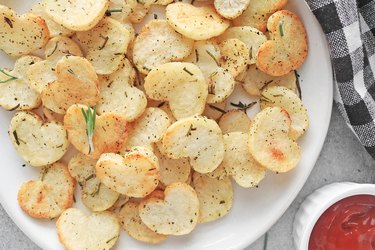 Things You'll Need
4 russet potatoes, scrubbed and washed

2 tablespoons avocado oil

1 teaspoon salt

1/2 teaspoon ground black pepper

1 teaspoon garlic powder

1/4 teaspoon ground paprika

1 sprig fresh rosemary, roughly chopped

Mini heart-shaped cookie cutter
Tip
Mini heart-shaped cookie cutters may be sold individually or in sets with larger cookie cutters.
Step 1
Preheat the oven to 400°F. Line a large baking sheet with aluminum foil or a silicone baking mat. Peel the potatoes.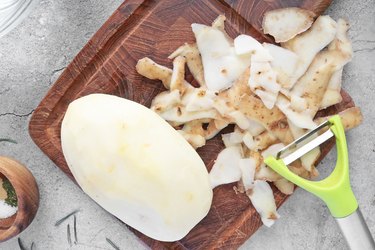 Step 2
Cut each potato into slices about 1/4 inch thick.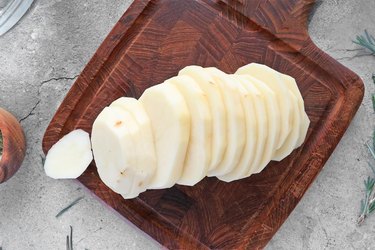 Step 3
Press the heart-shaped cookie cutter into each slice. Cut as many hearts as you can from each potato.
Tip
To get the most out of each slice, cut each heart along or close to the edge.
Step 4
As you cut out the hearts, place them in a bowl of water to prevent discoloration. Peeled potatoes become gray-brown when they're exposed to oxygen, so this step is important.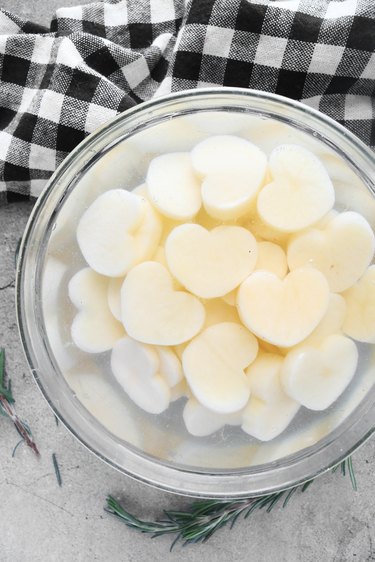 Tip
Save the scraps for mashed potatoes or hash browns. Again, store them in water.
Step 5
Fill a large pot with 6 to 8 cups of water. Add a dash of salt, bring the water to a boil and reduce the heat. Add the potatoes. Cook for 3 minutes to parboil and then drain well.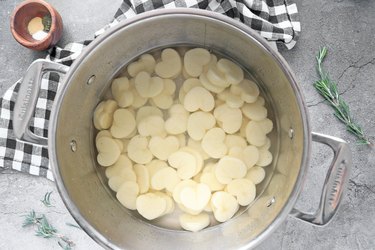 Tip
By parboiling the potatoes, you'll reduce the overall roasting time.
Step 6
Transfer the potatoes to a large bowl. Add the avocado oil, salt, ground black pepper, garlic powder, paprika and rosemary. Toss to coat.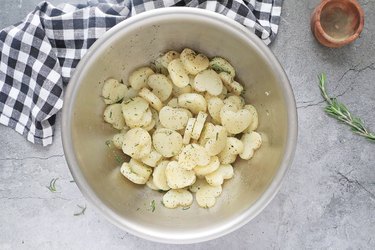 Step 7
Place the potatoes on the baking sheet in an even, single layer. Roast for 15 to 18 minutes or until crispy and golden brown.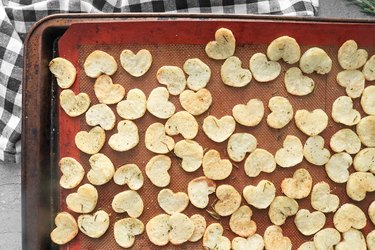 Taste and season with additional salt or spices if needed. Top with rosemary and serve with ketchup or your favorite dip.