Baked Parmesan turkey meatballs make for a mouthwatering weeknight dinner. They're perfect if you're craving meatballs, but want something leaner than the usual ground beef. This dish, after all, calls for ground turkey and is baked instead of fried. But don't worry — these meatballs are full of flavor! It's all thanks to the medley of spices, Parmesan cheese and marinara sauce. Here's how to make baked Parmesan turkey meatballs in just five easy steps.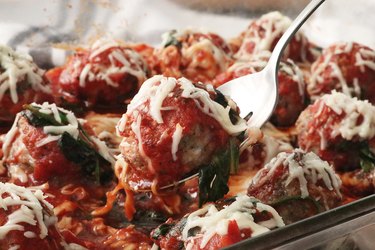 Things You'll Need
1 pound ground turkey

1/2 medium yellow onion, diced

2 garlic cloves, minced (or 1 teaspoon jarred minced garlic)

1 egg, beaten

1/2 cup breadcrumbs

1 cup Parmesan cheese, divided in half

1 teaspoon dried basil

1 teaspoon dried oregano

1 teaspoon dried parsley

1/2 teaspoon salt

1/4 teaspoon ground black pepper

2 cups pasta or marinara sauce

1 cup mozzarella cheese, shredded

Butter or olive oil

3 to 4 cups baby spinach (optional)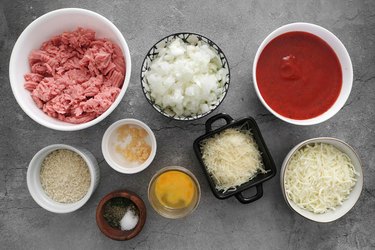 Tip
For richer meatballs, add 2 tablespoons melted butter. For a gluten-free version, replace the breadcrumbs with cassava flour or gluten-free breadcrumbs.
Step 1
Preheat the oven to 350° Fahrenheit. In a large bowl, combine the ground turkey, onions, garlic, egg, breadcrumbs, spices and 1/2 cup Parmesan cheese.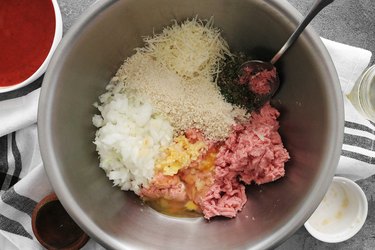 Stir until fully combined. Take care to avoid overmixing, which can dry out the meatballs.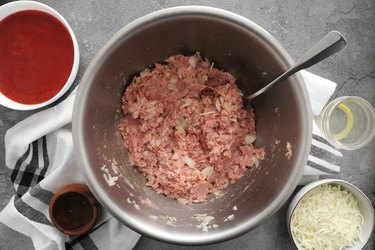 Step 2
Form the mixture into meatballs, about 1 1/2-inches wide. Place in a large casserole dish greased with butter or oil. Bake for 25 to 30 minutes or until no longer pink, and the internal temperature reaches 165° Fahrenheit.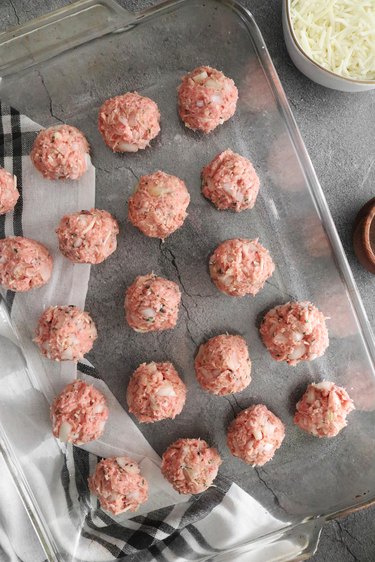 Step 3
Optional: In a skillet over medium heat, warm 1 tablespoon butter or olive oil. Cook the spinach until wilted, about 3 to 5 minutes.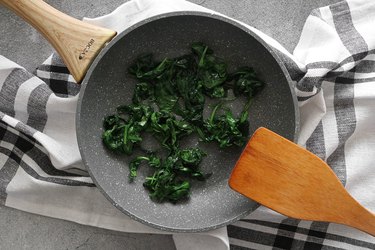 Step 4
Once the turkey meatballs are done baking, top with the sauce and spinach. Make sure all the meatballs are completely covered.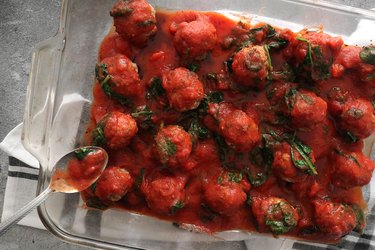 Step 5
Top with mozzarella cheese and remaining 1/2 cup of Parmesan. Return to the oven and bake for another 10 minutes, or until the cheese is melted and bubbly.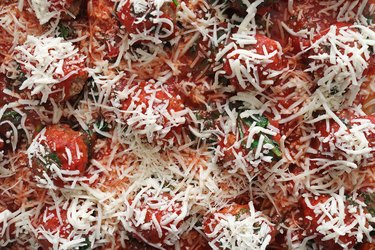 Garnish with dried or fresh parsley, basil and/or oregano, if desired. Serve with your favorite pasta or bread, or enjoy them as is.