When I was in college I worked a stint as a waitress at BJ's Brewhouse. Of all the items on the menu, none stayed with me like the Pizzokie. It's a pizza-cookie hybrid! It's so overly indulgent in the best way, perfect to share with a group of friends, and absolutely divine with a cold beer. As a somewhat expert in Pizzokies, I can tell you that —without question—this version is even better. Just as gooey and soft as ever, but with a nice slight crisp of caramelized edges that are oh-so-addictive. Sure, you're supposed to share one of these, but you don't have to.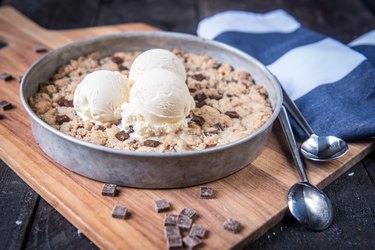 Things You'll Need
5 tablespoons unsalted butter, melted

½ cup brown sugar, packed


¼ cup granulated sugar

3 tablespoons olive oil

1 ¼ cups all purpose flour

½ baking soda

1 cup chocolate chips

2 teaspoons vanilla extract

1 teaspoon salt

3 large scoops vanilla ice cream (try this 3-ingredient homemade recipe!)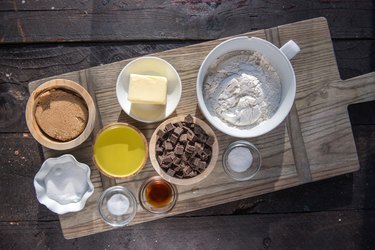 Step 1
Melt the butter and add it to a large mixing bowl.
Step 2
Add the brown sugar and granulated sugar, whisking until well combined.
Step 3
Whisk in the vanilla and the salt.
Step 4
Add the remaining ingredients (except the ice cream), and stir until combined.
Step 5
Add the dough to a cake pan that has been sprayed with cooking spray, press into an even layer.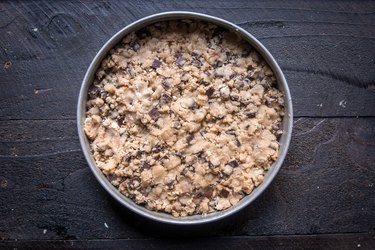 Step 6
Bake at 375° F for 12 to 15 minutes or until the edges are starting to turn golden brown.
Tip
Don't over bake! Because this recipe doesn't have eggs, there is no risk when eating the dough raw. Slightly under baking the Pizzokie will give you the gooey, soft results you need.
Step 7
While the Pizzokie is still warm, add the ice cream to the top. Serve immediately.