If you're looking for an easy, all-natural, fume-free wood stain, look no further than your supermarket's coffee aisle. Though there are several ways to "stain" wood with coffee, we've found this instant-coffee method to be the quickest and easiest, and it's perfect for decorative craft projects for indoor display. Note that this method is unlike commercial wood stains in that the coffee coats rather than deeply penetrates the wood, but you can still achieve a natural-looking and protected finish by following these simple steps.
Things You'll Need
Instant coffee granules (dark roast recommended)

Paint sponge (we recommend one with a handle)

Acrylic spray finish (your choice of matte, satin, or gloss)

Blow dryer (optional)

Pre-sanded, bare wood for staining (We used pine. Results will vary depending on the species of wood used.)
Step 1
Mix one part instant coffee granules with one part hot water.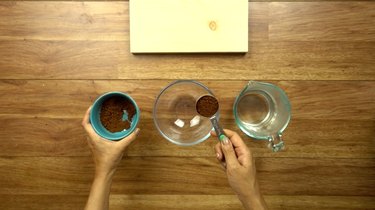 The amount you mix depends on the size of the wood to stain as well as how many coats you'd like to apply. For a 12 x 12-inch piece of wood, 1/8 cup of coffee granules to 1/8 cup water is enough for three coats.
Step 2
Next, you'll use a small paint sponge, to apply a thin, even coat of coffee to the wood. We recommend you use a handled sponge to avoid staining your hands. Also, you'll find that instant coffee mixed at a 1:1 ratio can get a bit sticky.
For even coloring, ensure that no excess coffee pools in any single spot. You don't want to soak the wood. Instead, allow the sponge to absorb any excess coffee that pools on the surface in order to spread it around to dry, unstained areas. A little coffee should go a long way.
Step 3
Once finished with the first coat, allow the wood to air dry, or speed up the process using a blow dryer.
Step 4
Once dry, apply a second thin coat. We recommend that you apply at least two coats to obtain a natural-looking finish.
As before, blow dry or allow to blow dry. Add a third or fourth coat, depending on the color you'd like to achieve.
Tip
To avoid sticky build up (and an unnatural-looking appearance), we recommend that you apply no more than 4 coats.
Step 5
Once you've applied your desired number of coats and have allowed the wood to dry completely, it's time to protect your newly "stained" surface. Since this process coats rather than penetrates the wood (similar to paint), we've found that an acrylic finish typically used for protecting paintings and drawings, works better in this case than standard wood sealers such as polyurethane or oil.
It's important to use a spray finish, as a brush on finish will remove and/or displace the coffee wood "stain" you've applied. Two or more coats are recommended for a fully protected surface -- and make sure to spray outdoors or in a well-ventilated area.
Here are our final results using a pine board, two coats of instant coffee, and two coats of acrylic finish in satin.
Tip
Different species' of wood will yield different results. Before staining your final project, we highly recommend you perform a preliminary test using a scrap piece.
Finally, here's a comparison of the finishes we achieved by using two, three, and four coats of coffee.
Best of all, our workspace was permeated by the inviting aroma of roasted coffee rather than smelling like a toxic waste dump. Gotta love that!