Move over guacamole. From breakfast through dinner and even dessert, we've got eight fresh ideas for adding more avocados to your day.
Avocado Tuna Melt
Instead of mayonnaise, use a mashed avocado for the creamiest tuna melts. Try this combination to make two no-mayo tuna melts: Mix 1/2 mashed avocado, 1 can tuna, 1 tablespoon mustard, and a pinch of salt and pepper. Place a scoop of your tuna mixture between 2 pieces of buttered bread plus a slice of cheese, spinach and sliced tomatoes. Toast in a skillet until the cheese is melted, flipping once.
Citrus Avocado Dip for Roasted Vegetables
Any roasted vegetable becomes even more tasty when you add dip. In a food processor, combine: 1 ripe avocado, 1/2 cup plain yogurt, 1/2 cup olive oil, juice of 3 lemons, 1 teaspoon salt, 1/2 teaspoon pepper and fresh cilantro.
Want to turn it into a salad dressing? Add another 1/2 cup of oil plus the juice of one more lemon for a thick and creamy dressing.
Tip
Veggies like these sweet potatoes cook in about 25 minutes at 425 degrees Fahrenheit, slathered with olive oil and a sprinkle of salt. Finish by broiling for 2 minutes.
Avocado Cucumber Salad
Ditch the greens in your next salad and replace them with the rich texture of a ripe avocado. This salad is made from: 1 ripe avocado, 1 English cucumber, 1 pint of cherry tomatoes, 1/3 red onion tossed with a lime vinaigrette (lime juice, olive oil, salt and pepper).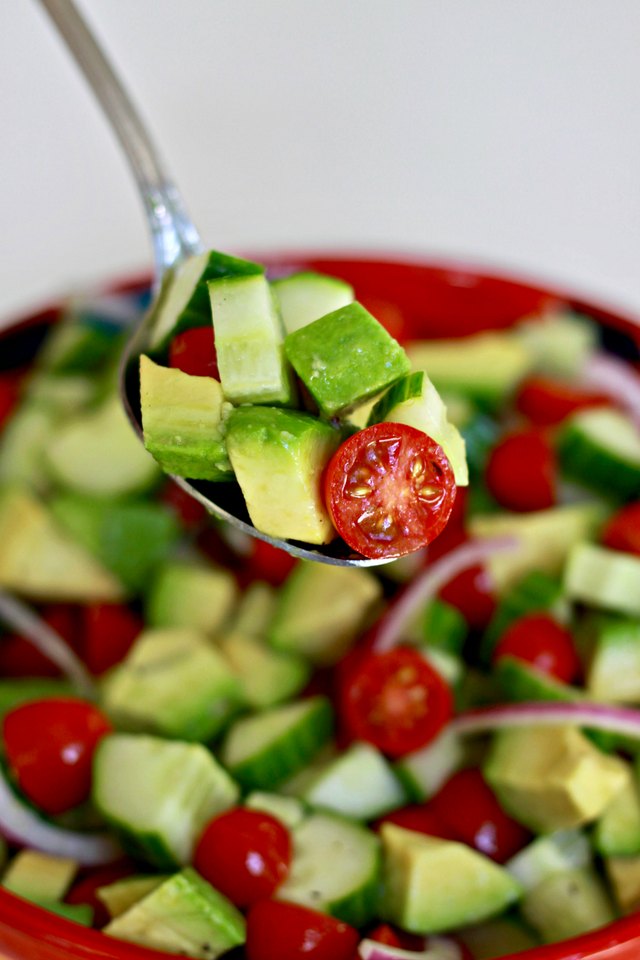 Baked Eggs in Avocado
Double up on your omega acids at breakfast by scooping out an avocado. Crack an egg into each half, sprinkle shredded cheese, salt and pepper on top and bake for 15 minutes at 425 degrees Fahrenheit.
Tip
A muffin pan will stabilize your avocado halves in the oven, and use non-stick spray on any areas where egg may spill for easy cleanup.
Double Chocolate Avocado Cookies
These soft and fudgy cookies come together with only a handful of ingredients--and none of them is flour: 1 mashed avocado, 1/2 cup cocoa powder, 1/2 cup sugar, 1 egg, 1/2 teaspoon baking soda and 1/2 cup chocolate chips. Combine everything and drop onto a lined baking sheet. Bake for 8 to 10 minutes at 350 degrees Fahrenheit.
Tip
These cookies won't spread out in the oven, so flatten them with a spoon before baking.
Avocado Hummus
Take your homemade hummus to the next flavor level by adding a ripe avocado. Try this mixture in a food processor: 1 can chick peas, 1 garlic clove, 1 teaspoon salt, 1/2 teaspoon pepper, 1/4 cup olive oil.
Avocado Smoothie
Your morning smoothie will only get creamier (and possibly healthier) by adding even half an avocado. This combination is a delicious way to start the day: 1 cup baby spinach, 1/2 banana, 1/2 avocado, 1/2 cup frozen pineapple and enough coconut water to liquify, about 1/2 cup.
Tip
This smoothie also makes a delicious popsicle. Just pour into popsicle molds and freeze for 4 hours.
Basil Avocado Pesto
Homemade pesto gets a flavor boost by adding avocado. In a food processor combine 1 1/2 cups fresh basil (packed tightly), 1/2 avocado, 1/2 cup olive oil, 3 tablespoons pine nuts, juice of 1 lemon, 1/2 teaspoon salt, 1/2 teaspoon pepper and 1/3 cup shredded parmesan cheese. Serve over pasta with freshly cut tomatoes.
Tip
No pine nuts? Walnuts work perfectly as a substitute.