Yom Kippur, or the Day of Atonement, is one of the most sacred holidays on the Jewish calendar. For many, it is a day of praying and fasting, introspection and amends. But when the day is through, there is something truly spectacular about getting together with friends and family to "break the fast." Whether you've had your menu in the works for months, or you're planning your event late in the game, these recipes are perfect for filling up an empty belly. From blitzes to babka, classic smoked salmon to a cheesy potato casserole, these are recipes that'll make everyone feel satisfied.
Serve Smoked Salmon (and Bagels, of Course!)
Smoked salmon is a quintessential American Jewish staple — and it doesn't need much to be delicious. Serve smoked salmon the classic way: on a warm bagel topped with silky cream cheese, a little red onion and a pinch of capers.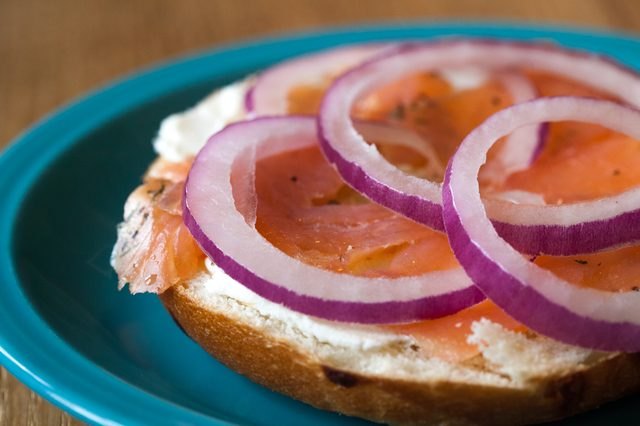 Make a Strata in Advance
There is nothing worse than fasting when the aroma of fresh food is wafting through the house, so this overnight strata is a phenomenal solution. Cook and assemble the ingredients in a casserole in advance and throw it in the oven to finish it off before your guests arrive. That way, you can enjoy the layers of cheesy mushroom and spinach goodness without having to suffer while you cook it.
Go Bonkers for Blintzes
Blintzes are another must-have, so why not include a warm, melt-in-your-mouth cheese blintz dish this year? The crepe-like exterior and fruit compote topping is well worth the wait, and maybe even seconds.
Bake Cinnamon Babka, Baby!
Although this babka can't decide if it's a cake or a bread, it's delightful either way. With its streusel topping and delectable cinnamon swirls, this recipe satisfies your sweet tooth and captures the flavors of fall.
Cut Into a Crustless Quiche
Feel free to get creative with a crustless quiche recipe that tastes so good, you won't even notice that it's gluten free. Use cheese and eggs as a base and mix in broccoli, spinach or even some diced turkey bacon for a smokey flavor. The sky's the limit, but whatever you do, make two.
Add in Color With a Tomato Tart
Tangy feta cheese and bright tomatoes make this dish as beautiful as it is delicious. What better way to enjoy those end-of-the-season heirloom tomatoes than with a tomato feta egg tart? Your guests will be so impressed with how gorgeous it is, they will never know how simple it was to make.
Drool Over Cinnamon Crunch Bagels
Why serve the same boring bagels that everyone will be expecting when you can make homemade cinnamon crunch bagels instead? Each fluffy ring is topped with a crunchy cinnamon crust, and filled with white chocolate chips for an extra sugary kick. Watch your guests closely, because these beauties may find themselves tucked into purses to take home!
Go Easy With a Broccoli Cheddar Frittata
For another egg-centric breakfast dish that will feed a crowd, this broccoli cheddar frittata is a savory entree that you can make with ease. With vivid colors and robust flavor, this dish will fill you and your loved ones up in less than an hour.
Complete Your Meal With Noodle Kugel
Noodle kugel might be one of the stranger Jewish dishes, since the idea of a sweet noodle casserole that's packed with cottage cheese, apples and raisins — then topped with crunchy corn flakes — is somewhat unique. While your bubbe might have a recipe that's been passed down for generations, use this year's break-the-fast feast as an opportunity to break the mold.