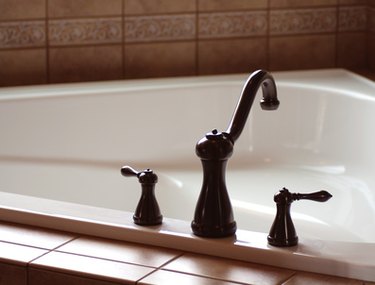 Tub sealant, or caulk, is applied as a barrier to create a watertight and airtight seal to help keep water from getting onto walls or behind tiles. Tub sealants come in different formulations and qualities. Some types of sealant for your tub are silicone caulk, acrylic latex caulk and siliconized acrylic caulk. It's important that the sealant you choose is made for tubs and fits your specific needs as you complete your tub project.
Silicone Caulk
Silicone caulk is used to seal tubs and many non-porous surfaces, but it won't bond if you use it on top of old silicone. Silicone caulk is usually clear and flexible when dry and comes in a mildew-resistant type for the bath and kitchen.
Silicone caulk that's 100-percent silicone is made from silica sand that's reduced into silicone oil with mica and clay added. It's very smooth, which makes it easy to use. It adheres well to a tub surface. Though you can't paint over 100-percent silicone, it comes it many choice of colors. Some silicone caulks that are mildew-resistant may contain toxins. Check the label, and follow application instructions.
Acrylic Latex Caulk
Acrylic latex caulk is made of acrylic polymers, latex, water and fillers. It adheres well as a sealant for any kind of tub, and it's mildew resistant. Acrylic latex sealant is durable, but it dries a little harder then silicone, making it harder to remove. Sometimes a rubber called butyl is added to acrylic latex to make it stronger. You can't paint over acrylic latex caulk, but you may be able to buy it with for cleanup.
Siliconized Acrylic Caulk
Siliconized acrylic caulk for the tub is a combination of silicone and acrylic latex formulas. This is a water-based acrylic caulk that sticks well to wet surfaces. The added silicone makes it more water resistant and flexible, which makes it easy to work with.
You can buy clear siliconized acrylic caulk or choose from one of the variety of colors. It's non-flammable, and you can paint it. It also is resistant to dirt and mildew.