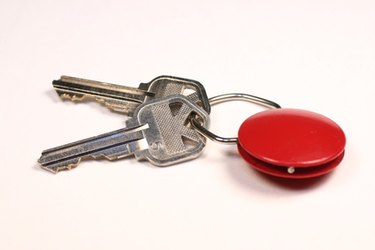 It's maddening to lose your car keys, but when you lose the keys to a rental the race to find them becomes more urgent. Additional costs are typically associated with losing rental car keys. If you are convinced your Enterprise Rent-A-Car keys are lost, contact Enterprise's roadside assistance hotline or your local agent for instructions on how to replace missing keys.
Call Enterprise
Enterprise recommends that you contact the toll free roadside assistance number in the event you've lost the rental car keys. Although the phone number is located on your contract, many drivers leave their contracts in the car, which may now be locked. If you cannot access your contract, contact your local Enterprise office. The agent can direct you to the roadside assistance number and possibly advise you on specifics, such as cost for replacement keys and a tow truck if needed. If you require transportation immediately, ask your agent about renting a secondary vehicle, associated costs and how long it will take to obtain the car.
Stay with the car until the roadside assistance representative arrives. The roadside assistance representative also may ask for proof of identification and a copy of your contract or rental identification number.
Ask for a Cost Estimate
Unfortunately, you'll have to pay for a new key to be made. Optional insurance coverage purchased through Enterprise does not cover the cost of missing keys. Depending on the type of key, replacement fees can range from $20 to $350. You also may be charged for having roadside assistance pick you up or tow the vehicle back to the Enterprise shop.
Ask your agent or the roadside assistance representative to provide you with a cost estimate and ask how Enterprise would like to be paid. Some branches will add the fee to your credit card on file or you can provide your agent with a new credit card.
Ask for Spare Keys
In the event you still need to use your car for the duration of your trip, ask for a spare key.
Your Enterprise agent can provide you with an additional set of keys that you can keep in a safe, accessible place. Don't forget to turn in spare keys when you return the vehicle or you could be liable for another missing key charge.