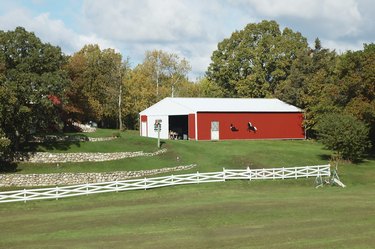 Modern pole barns often include concrete flooring, but traditionally these simple barn structures were constructed without a foundation on poles set in the ground and paneled in tin or wood. Today sides may be steel or aluminum or fiberglass sheets. Regardless of a pole barn's materials, its rather plain design can pose problems when attempting to heat the space.
Insulation
Without changing the overall building structure, it is possible to contain heat within a dirt floor pole barn. Adding gravel at the perimeter closes in the open spaces between the bottom of the walls and the ground. Installing some form of installation within the walls and along roof seams helps fill gaps and maintain heat. If possible, depending on the height of machinery being stored inside the building, adding a ceiling reduces the amount of open space in the lower part of the building to increase heat effectiveness in the working area.
Heat Sources
Once the pole barn is sealed enough for maintaining heat, you can determine the most effective heat source. Options include forced air, geothermal, wood, corn pellet, kerosene, propane and electric. Your decision rests on the size, location and design of the building, and on availability and cost of fuel supply. If a concrete floor has not been poured but is a possibility, radiant floor heating is an option for consideration. If a ceiling has been installed in the pole barn, ceiling fans on low speed -- with the fan blades pushing air upward -- will keep the heated air circulating throughout the space below the ceiling.