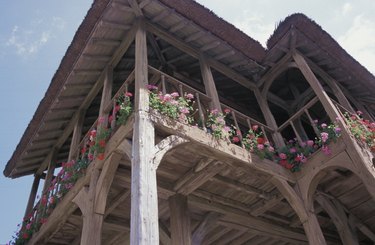 Although a beautiful natural building material, wood is susceptible to a number of problems which can cause it to deteriorate. Sunlight, water, fungus and insects all can damage wood over time. Modern methods of treating wood can involve toxic chemicals, metals or pesticides, but from at least Roman times oils have been used to treat and preserve woods.
Linseed, Sunflower and Rapeseed Oil
Linseed, sunflower and rapeseed oil have been used for years as wood preservatives. Fences, logs and furniture are typical wood surfaces appropriate for linseed oil treatment. These oils work as preservatives by repelling water and are usually applied directly to the wood surface. They do not prevent insect infestation or mildew. "Boiled" linseed oil (i.e., linseed oil with certain solvents) dries quickly and is usually used in place of the slow-drying regular variety, which can remain sticky for months after application.
Tung Oil
For centuries, tung oil was used by the Chinese as a preservative for wooden ships. Tung oil penetrates wood to a depth of about 1/4" and forms a water-repellent layer. Generally, tung oil is applied in successive applications, allowing time for each application to penetrate. It gives a beautiful "wet wood" finish to natural woods. Tung oil is sometimes used as a finish for kitchen items like cutting boards and wood bowls, but since it is derived from a nut it can cause a severe allergic reaction in some individuals.
Watco Danish Oil
Watco Danish Oil is a brand-name oil treatment for wood favored by many woodcarving artists and woodworkers. Danish oil comes in various shades (stains) and can be wet-sanded to a high-gloss finish. The oil is applied in multiple coats over time, with sanding in between, and the final gloss finish is achieved by an application of a paste wax. Danish oil is typically used to close pores on open-pored wood, where other natural oils would not be practical.