These sweet corn muffins are tender, delicious and oh-so simple to make! They come together in less than an hour and contain a whole lot of natural sweetness, making them the most perfect breakfast, morning or afternoon tea treat. Serve them warm, drizzled with extra honey and a slather of melted butter for something really delicious.
Things You'll Need
4.6 ounces(130 grams) all-purpose flour

4.6 ounces (130 grams) cornmeal

2 1/2 teaspoons baking powder

1 teaspoon salt

5 ounces (140 grams) unsalted butter, at room temperature

4.6 ounces (130 grams) granulated sugar

2 large eggs, at room temperature

1.4 ounces (40 grams) honey, golden syrup or molasses

1 teaspoon vanilla bean extract

1 teaspoon cinnamon, optional

10 ounces (280 grams) Greek yogurt

4.2 ounces (120 grams) sweet corn puree

1.7 ounces (50 grams) raw sugar
Step 1: Prepare and Preheat
Preheat the oven to 350 Fahrenheit / 180 Celsius. Line a 12-cup muffin pan with paper liners, or grease the cups well with either melted butter or a neutral oil.
Step 2: Whisk the Dry Ingredients
In a large bowl, whisk together the flour, cornmeal, baking powder and salt. Set the bowl aside.
Step 3: Cream the Butter, Sugar and Eggs
In a stand mixer set on medium speed and fitted with the paddle attachment, or with handheld electric beaters, cream the butter and sugar together until light and fluffy, 4 minutes. Then, add in the eggs, one at a time, beating well after each addition. Pause mixing as needed to scrape down the bottom and sides of the bowl.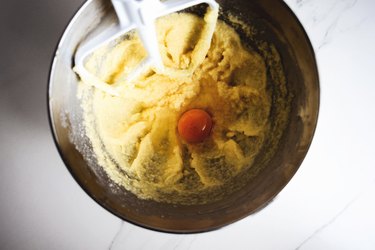 Step 4: Add the Flavorings
Beat the honey, vanilla bean extract and cinnamon (if using) into the beating butter mixture. Continue to beat until well combined.
Step 5: Whisk the Liquid Ingredients
Meanwhile, whisk the yogurt and sweet corn puree together in a medium-sized bowl.
Step 6: Add in the Liquid and Dry Ingredients
Lower the mixer speed and add in all of the liquid ingredients. Then, add in all of the dry ingredients. Mix until all of the ingredients have just combined throughout the batter. Remove the bowl from the stand mixer and finish mixing by hand with a rubber spatula to form a smooth and uniform batter.
Step 7: Divide the Batter Between the Liners
Divide the batter between the prepared muffin liners. Make sure to fill them no more than 2/3 of the way full. Sprinkle each of the muffin tops with about a teaspoon of raw sugar.
Step 8: Bake
Bake until the muffins are golden and spring back to the touch, about 25 to 30 minutes. Let them cool in the pan for 15 minutes before turning out onto a wire rack to let cool completely.
Step 9: Serve and Store
Serve the sweet corn muffins warm with a pat of butter, a drizzle of honey and a sprinkling of flaked sea salt, if desired.
The muffins are best eaten warm and fresh the day of making but can be stored at room temperature for up to three days. You can also freeze the muffins in an airtight container for up to two months. Reheat when needed!