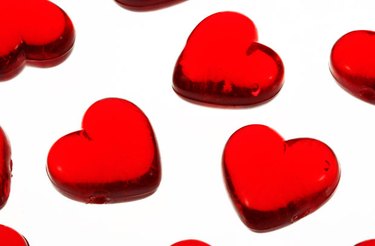 "I love you" means the same thing in every language, so this year don't be afraid to wish loved ones a Happy Valentine's Day in Spanish. Creating bilingual cards is a great way to help Spanish-speaking people feel welcome and included in the festivities. This card can be used in school, at work or with your Spanish-speaking friends. All you need to make these adorable valentines is a few supplies from a craft store and a bit of creativity.
Popular Valentine's Day Phrases in Spanish
This Valentine's Day do not limit yourself to the rare Spanish valentines sold in stores. Go to a free translation website (http://ets.freetranslation.com/) to translate any phrase for a special valentine. Popular phrases you can use:
I love you (te amo). Happy Valentine's Day (Feliz dia de San Valentin). I love you with all my heart (Te amo con todo mi corazon). Love and kisses (Con amor). I miss you (Te extrano).
Creative Valentines: Picture Frame
To make a unique valentine this year, consider creating a picture frame instead of a traditional card. To make a picture frame, buy a plain wooden frame at a craft store for about $1. Paint the frame red, white or pink. When the coat of paint has dried, use a thin brush to paint on a Valentine's Day phrase in Spanish. Paint the message on the top or bottom of the frame. Decorate the rest of the frame with foam heart stickers. Print a picture of you and your sweetheart and put it in the frame.
Creative Valentines: Mystery Balloon Message
This valentine is perfect for a secret admirer or a fun-loving person. Buy a blank card. Cut out a small heart and glue it to the front of the card. Next, blow up a balloon and ask a friend to hold the open end so no air escapes. While the balloon is inflated, use a permanent marker to write a special Valentine's Day message in Spanish across the balloon. Allow the message to dry for about a minute before deflating the balloon. Rinse off the end of the balloon with water and soap, avoiding the marker message. Once the balloon is dry, place it in the card and slide the valentine into an envelope. When the recipient opens the card, have her blow up the balloon to read the Valentine's Day message!