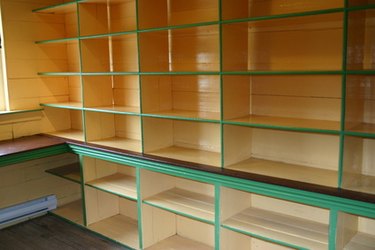 Shelving supports everything from novels and knickknacks to business manuals and boxed records. Storage ledges range from bookshelves by the fireplace to wire racks in the garage for tools and fertilizer bags. Requirements for weight limits on shelves depend on the shelving materials used during construction, as well as the items that will be placed upon those veneers. Overloading a shelving unit is an invitation to sagging surfaces.
Books
Bookcases offer flexibility because they fit into many locations throughout a household, such as along a wall, surrounding a door or window, or under stairs, according to This Old House. Cases also act as room dividers. Hard woods are stronger but more expensive than plywood or medium-density fiberboard (MDF). Likewise, MDF shelves are more affordable and less prone to splinter or warp, although do-it-yourself builders need specific brackets designed to anchor MDF materials. A standard shelf measurement of 3-foot by-1-inch-by-12-inch should bear the following weights: 313 pounds for oak shelving, 200 pounds for pine, 129 pounds for plywood, and 87 pounds for MDF, This Old House advises. Normal sagging is 1/4 inch, which increases by another 1/8 inch over time.
Garage
Shelving systems solve the common clutter of tools, sporting gear, holiday ornaments and other items stashed in most garages. A 4-by-6-foot plywood shelf mounted to ceiling framing supports about 160 pounds, according to The Family Handyman. These shelves fit above garage doors and typically require 16 inches of clearance. Standard 12.5-inch plastic storage bins easily slide into this space. This design also fits elsewhere in the garage and away from the garage door without the height restrictions, The Family Handyman advises. Metal shelves provide sturdier support, especially when using vertical standards with two rows of holes, according to Home Tips, which also advises that attaching standards to wall studs increases the garage shelves' weight tolerance up to 600 pounds per standard.
Records
Wooden shelves provide inadequate support for paper records because wood retains moisture and deteriorates over time, according to the New York State Archives that stores governmental records. Also, wood and particle board release gases that cause paper to decay. Steel shelves work best, especially surfaces that are 42 inches wide by 16 or 32 inches deep. With a typical box weighing 35 pounds, a records management official maximizes the available space by placing up to 12 boxes for a combined heaviness of 420 pounds. The danger with stacking boxes is that an employee experiences more difficulty pulling bulky containers off the shelves. Steel gauge greater than 18 is too weak and caves in from the weight. Instead, records management teams need 12-, 16- or 18-gauge, State Archives suggests.