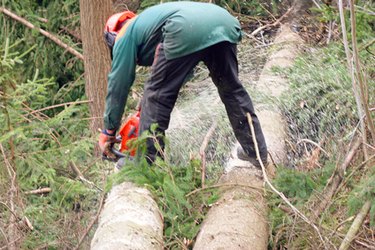 The 455 Rancher is a type of chain saw manufactured by Husqvarna, as of 2010 the world's most popular maker of outdoor power machines. The 455 comes with a number of features, including X-Torq, which makes the chain saw produce low emission levels. It's a 13.2 lb chain saw that is geared toward those of you who own land or would use the chain saw on a part-time basis.
Engine Specifications
The 455 Rancher engine has a cylinder displacement of 3.4 cubic inches and a power output of 3.5 horsepower. The idling speed is 2,700 rpm, while its maximum power speed is 9,000 rpm. It's made with a fuel tank volume of 0.9 US pint and an oil-tank volume of 0.7 U.S. pint that uses an adjustable-flow oil pump. It's a 1.3 inch cylinder stroke engine with an SEM AM50 ignition system.
Cutting Specifications
The size of the chain, or chain pitch, is a measurement taken of how many inches there are between three rivets that are in a row divided by two. The Husqvarna 455 Rancher has a chain pitch of .325 inches or 3/8 inch. It also has a recommended bar length of a minimum of 13 inches and a maximum of 20 inches. The speed of the chain when it's maxed out is 65.2 feet per second.
Emission, Vibration, and Noise Specifications
The equivalent vibration level on the rear handle of the 455 Rancher is 4.5 seconds squared and 3.4 seconds squared on the front of the chain saw. When you're using it close to your ear, the sound pressure is 104 decibels. It has a guaranteed sound power level of 113 decibels.