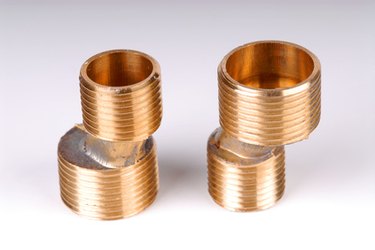 Red brass is a copper zinc alloy with nominal composition of 85 percent copper, 15 percent zinc, with some traces of iron and lead. Unlike other brasses which are yellow in color, red brass has a warm, rich tone. It may come in bars, fittings, pipes, sheets, strips, tubes and wires and can be coined, etched, formed, pierced, punched, knurled, spun and stamped. Typical uses for red brass include architectural trim and weather strip, dials, lipstick containers, fire extinguisher cases, costume jewelry, plaques, medallions and zippers.
Fabrication Properties
Red brass exhibits excellent soldering and brazing capabilities as well as excellent handling when cold worked. It is good for oxyacetylene welding and gas shielded arc welding and handles well when hot-formed. It is not recommended for coated metal arc welding and seam welding.
Thermal Properties
Red brass' thermal properties include annealing minimum and maximum temperatures of 800 degrees F and 1350 degrees F, in addition to hot works minimum and maximum temperatures of 1450 degrees F and 1650 degrees F. Thermal conductivity for red brass is 92 Btu · ft/(hr · ft2·oF) at 68 degrees F. Coefficient of thermal expansion in red brass is 10.40 ·10-6 per oF (68 to 572 degrees F) and specific heat capacity is 0.090 Btu/lb/oF at 68 degrees F.
Mechanical Properties
The mechanical properties of red brass at room temperature vary considerably, depending on the temper and form of red brass, whether flat products or wire or tubes. For H02 Temper wire red brass, mechanical properties include: Ultimate Tensile Strength of 71800 psi, Elongation at Break of 8 percent, Izod Impact of 31.7 ft-lb, Machinability of 30 percent, Shear Modulus of 6380 ksi and Shear Strength of 42800 psi.
Physical Properties
The liquid melting point of red brass is 1880 degrees F. Density of red brass is 0.316 lb/in3 at 68 degrees F, while its specific gravity is 8.750, electrical conductivity is 37 percent IACS at 68 degrees F, Modulus of Elasticity in Tension is 17000 ksi and Modulus of Rigidity is 6400 ksi.