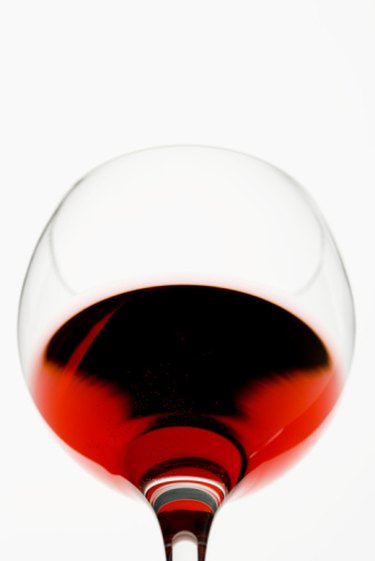 A nice bottle of red wine doesn't have to break the bank; "inexpensive" doesn't necessarily mean "cheap." Red wine can be sipped on its own or paired with food, which often changes and enhances the flavor of both the food and the wine. Red wines contain tannins, an astringent compound found in grapes and other plants. Tannins are what make you "pucker" when drinking some red wines, and they are also what some scientists think provide heart-healthy benefits; combined with low residual sugar levels, tannins are what makes a wine "dry." Wine ratings vary between magazines and reviewers. Wine Spectator uses a 100 point scale, which you can find in the Resources section, in which wines rated 80-84 are "good; a solid made wine" and those scored from 85-89 are considered "very good; a wine with special qualities."
Pepperwood Grove Cabernet Sauvignon Central Valley 2009
This Pepperwood Grove Cabernet Sauvignon got a respectable score of 84, and its $7 price tag makes it a true bargain. Wine Spectator describes it as "light and forward" with vanilla and cherry flavors. Lighter reds are usually easy to drink on their own, without food. Cabernet Sauvignon pairs well with red meat or even chocolate. Cabernet Sauvignon contains tannins which puts them in the dry category of wine.
J.M. Da Fonseca Periquita Red 2007
Another good value, this bottle from J.M. Da Fonseca comes in at $9. Good Housekeeping recommends the "light spiciness" of the Periquita for the Thanksgiving dinner table because it pairs well with traditional Thanksgiving dishes, from the turkey to the cranberry jelly. Periquita is a grape that makes wines with very strong tannins creating a "puckery" dry wine.
La Calonica Sangiovese Cortona Calcinaio 2009
The Sangiovese grape originates in Italy and is most often associated with Chianti. This La Calonica varietal was given an 87 by Wine Spectator; factor in the $11 price tag and this bottle is a steal. The La Colonica is a true example of a Sangiovese: medium in body with high acidity and exhibiting fruit flavor.
Columbia Crest Two Vines Merlot, Washington
This Merlot-Syrah blend is a product of the Columbia Crest "Two Vines" line of wines. Rated a "Best Wine Under $12" by Good Housekeeping, the magazine described Columbia Crest Two Vines Merlot as "smooth" and "fruity." Aged in both American and French oak barrels, the Columbia Crest's tasting notes recommend pairing this wine with richer foods such as hamburgers or macaroni and cheese. A little smoother than Cabernet Sauvignon, Merlot still exhibits the tannins that make red wines dry.
Maison Badet Clement Corbières Château Lamy 2008
Don't shy away from the French wine section at your local wine shop; you can find bottles for under $15. This 2008 offering from Maison Badet Clement winery was given an 87 rating by Wine Spectator making the $11 investment an inexpensive risk. Like other dry, red wines that contain tannins, this wine can be paired with red meat or grilled vegetables. Wine Spectator describes this bottle as "medium bodied" with flavors of "berry and red plum."