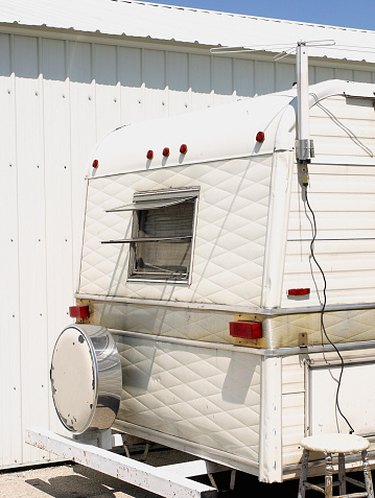 It isn't necessary to have a gas guzzling 8-cylinder vehicle to tow your travel trailer. Many of the newer 6-cylinder vehicles have stronger towing capacities. These 6-cylinders, both front and rear wheel drive, can tow successfully as long as the manufacturer's recommendations are followed. Match the weight and size of the travel trailer you plan to tow to your towing vehicle. Check these out.
Teardrops
Teardrop trailers are extremely small and lightweight. Providing a bed for two inside the trailer and cooking facilities under the back hatch, the teardrop is easily transported by a 6-cylinder vehicle. While not suitable for extended travel, they are great for weekend getaways or small trips. The downside is that, in inclement weather, there is not much room inside and there is no room for a port-a-potty. They have very little storage.
Pop-up Trailer
The pop-up trailer is another light-weight travel trailer that is easily pulled by a 6-cylinder car, van or truck. More comfortable to sleep in than a tent, pop-up trailers often have heaters and air conditioners to offer better protection from the elements. The are 8-feet to 18-feet long and can accommodate extra sleepers with slide-outs. The downside is that you have to set it up and break it down every time you set up camp and it does not offer much protection in windy weather.
Pop-up campers can also have soft sides. The tent camper does not have as many amenities, like an air conditioner, as other pop-up trailers, but they are easy to pull.
Light-weight travel trailers
Lightweight travel trailers, like the Scamp, range in weight form 2,000 to 4,000 pounds. Even though light-weight trailers can be up to 30 feet long, they can be pulled by 6-cylinder vehicles. Most of the newer models have full bathrooms and appliances that are comparable to larger recreation vehicles. They have enough space and convenience to make a comfortable, temporary home away from home. Their aerodynamic design helps save on fuel.
Telescoping trailers
Telescoping trailers, like the 15-foot long Hi-Lo travel trailer, which has a traveling height of 5 feet, 9 inches and a camping height of 6 feet, 3 inches. These campers tow easily and set up with the flip of a switch. They include a galley, storage and sleeping arrangements for up to six people. It is a comfortable little home away from home that can be used during any season.