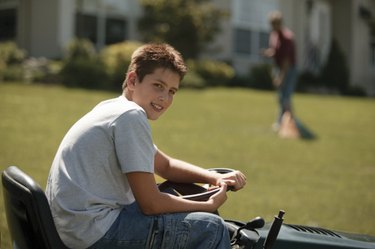 The Craftsman DYT 4000 is a riding lawn tractor. Made by the tool giant Craftsman, this riding tractor features a wide cutting path as well as some added extras for convenience. With impressive specifications, this mower will help get your job done fast.
Drive-Train
The DYT 4000 features a hydrostatic transmission with a pedal shifter. The motor is a 24 horsepower Briggs & Stratton. The motor features an electronic ignition, two cast iron-lined cylinders and a full-pressure lubrication system. The tractor also features a 3-gallon gas tank.
Operation
The tractor has a 42-inch cut width with an adjustable cutting height ranging from 1 1/2 to 4 inches. The tractor also has a 16-inch turning radius with disc brakes.
Design
The 518-pound red and black tractor also features a cup holder and adjustable seat. The turf saver wheels will help save your lawn from deep ruts.