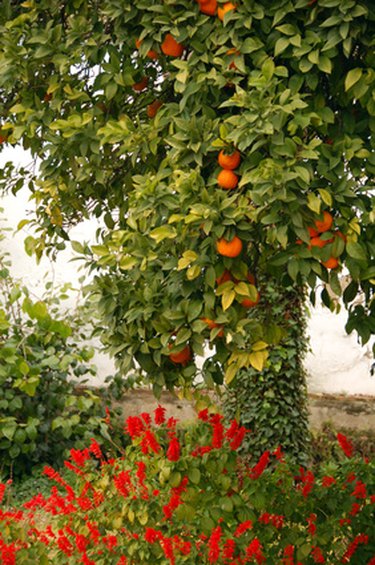 Citrus trees require warm, almost sub-tropical climates to flourish, so it should come as no surprise that America's largest citrus-producing states lie in the southern latitudes. Major citrus producers like Florida, California and Arizona have a blend of fertile soil and year-round warm temperatures that help cultivate a healthy citrus crop each year.
Florida
The Florida citrus industry, according to the United States Department of Agriculture (USDA) is the largest in the country. Citrus plants first arrived in the state when Spanish explorers like Ponce De Leon planted citrus trees on Florida's east coast in the mid-1500s, and commercial farmers began growing the trees for profit around the middle of the 19th century. Today, Florida boasts more than 74 million citrus trees spread over more than 569,000 acres of official citrus groves, according to the state's citrus website. Growers in the state most commonly grow grapefruit and oranges, but some also produce limes and Temple oranges. In addition, the USDA notes that specialty fruits like tangelos grow only in the Sunshine State. Each year, Florida's citrus crop and byproducts like the famed Florida Orange Juice bring in more than $9 billion, and almost 76,000 Florida residents work in some aspect of the industry, as of 2010.
California
Second only to Florida, the massive California citrus industry churns out more than 3.2 million tons of fruit in an average year. The USDA notes that California produces mostly oranges and lemons, as the two fruits combined represent more than 90 percent of California citrus production. The remaining 9 percent of citrus crop consists of grapefruits, tangerines and clementines. About three quarters of California's oranges are of the sweet navel variety, and most of those oranges arrive in the store for sale as fresh fruit, rather than in a processed product like orange juice or concentrate. Although the value of California's citrus crop pales in comparison to Florida's numbers, the state still earns a respectable $578 million from an average year's crop, as of 2010. California produces most -- about 87 percent according to the USDA -- of the lemons shipped to American states, and an active shipping industry allows citrus farmers to meet to a growing international demand.
Arizona
Like Florida and California, Arizona enjoys a warm climate well suited for citrus growth. The USDA's center for Integrated Pest Management, commonly known as the IPM, notes that Arizona produces the second most lemons in the United States and fills 18 percent of American demand. Orange and grapefruit production ranks fourth -- behind Florida, California and Texas -- and Arizona produces about 13 percent of America's tangerines. A typical annual crop of Arizona citrus commands a value of between $39.2 and $92.8 million, as of 2010. The state's climate, which features northern areas that endure cold winters and occasional water shortages, contributes to the low citrus output, as production remains largely limited to the southern counties of Yuma, Maricopa, Mohave and Pinal.