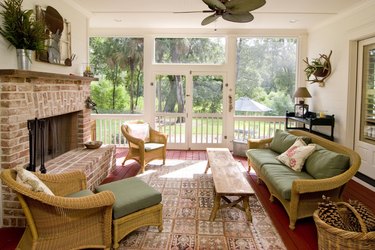 A sunroom -- also referred to as a solarium, conservatory, garden room or just an enclosed porch -- is a windowed room attached to the house, exposed to light and views but protected from the weather. It's typically adjacent to one of the living areas of the house, but may be closed off by a door to conserve energy when the room is not is use. This makes a sunroom a hybrid porch and parlor, and the colors you choose for it help create a lively, relaxed or sophisticated ambiance.
Rose Garden
Touches of rose petal colors warm an eclectic space that has a wall of square-framed windows curving up to form the roof, unstained wood plank floors, and exterior house walls of part-brick and part-stucco. The add-on space forms a bridge with the rose arbors in the yard, with its meld of industrial and construction materials, flat pink paint on the stucco walls and a ruby-red velvet loveseat as lush as any heritage bloom. Add touches of color to a neutral sunroom to echo the hues of the garden just outside the glass. Hydrangea-blue carpets and faded denim upholstery, a leaf-green sectional and mint wall paint, or an overdyed lavender oriental rug topped by lilac, plum and purple-iris chairs and chaises will keep your sunroom blooming in the depths of winter.
Cool and Collected
White is a default color for sunrooms, and neutrals like linen, white, cream and soft gray welcome the sun and visually expand the space. But a hint of a cooler color adds life without cluttering the view. Soft sage on upholstery or the lower walls beneath tall windows evokes nature's serenity. A robin's egg-blue ceiling in a white room with light stone-paved floors gives your enclosed space its own sky. A white-painted room with floors paved in stone the green-gray of Spanish moss whispers like a breeze through the trees. A long rectangle of a room with a gabled roof seems less barn-like and cavernous with matte olive paint on the gabled walls over its large mullioned windows and pale striped cushions in muted Tuscan greens on the sofa and chairs.
Circus Tent
Mix it up and make it bright in a sunroom that's part octagonal folly, part enclosed patio and part of the house. Give the floor its own low-maintenance mosaic "rug" with a pattern of terra-cotta and hand-painted tiles. Paint walls the brilliant yellow-gold of a midsummer sun; add a serving hutch or potting table painted cinnabar and a cupboard for serving dishes and glassware, distressed with "chipped" teal milk paint. Rattan furniture gets covered in variegated stripes of scarlet, terra-cotta and gold canvas. Sheer floor-length curtains that can be pulled back from the polygon windows with braided ties are floats of translucent artichoke, asparagus and pistachio-green. A framed circus poster or an antique pinball machine contribute a playful vibe, and more color, to the casual space.
Some Like It Hot
Your fancy runs to Cinderella's coach after it turned back into a pumpkin, so your sunroom decor is warm to sizzling. Saltillo tile floors and hand-hewn Mexican furniture establish a south-of-the-border rustic character in the space. Lots of bright colors keep it fun and festive year-round, with the help of seasonal ceiling fans, thermal-insulated windows that open wide and under-floor heating. Tangerine, pumpkin and apple-green on walls and upholstery are habanero-fiery in summer and cozy as a blazing fire in winter. Hibiscus and poppy giant stenciled blooms on whitewashed walls are both frivolous and fabulous when chair covers are hot pink and a reclaimed wood coffee table is painted glossy flamingo. Capture the sun, even on gloomy days, with honey-gold walls and upholstery. Strings of colored lights and Mexican papel picados -- cut-out paper banners -- burst across the ceiling like a fireworks display.