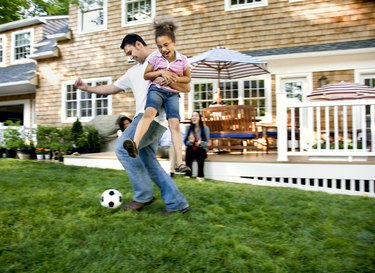 Lawn tractors, also known as riding mowers, are used to quickly and conveniently cover a lot of ground. Typically used for yards a half-acre or more in size, many lawn tractors, including the Craftsman DLT 2000, have hydrostatic transmissions, which offer greater control and maneuverability than other types of transmissions and are easier to operate. The Craftsman DLT 2000 lawn tractor was manufactured in the years 2000 to 2002 and sold new for around $2,000.
The transmission manufacturer for the Craftsman DLT 2000 is Hydro Gear. This company designs and manufactures drive systems, transmissions and other equipment parts for the lawn and garden industry. The hydrostatic transaxle for this lawn tractor has input speeds of 1800 to 3000 rpm. The diameter of the axle shaft is .075 to 1 inch.
This lawn tractor has a Briggs and Stratton 25 HP OHV Platinum Intek engine, with overhead valve design and vertical mounting orientation. It utilizes a 16 AMP I/C alternator. The engine is electric start and uses a fuel pump. The oil capacity is 60 oz. with a filter and 64 oz. without a filter. The shaft size is 1 by 4 3/8 inches. It has a cast iron sleeve and low oil shutdown.
The Craftsman DLT 2000 includes a standard 48-inch mower deck and a two-pedal transmission. The seats and steering wheel are padded. This model is equipped with hour and amp meters, Halogen headlights and galvanized steel frames. Snow blades and mulching kits can be attached to the lawn tractor. The front tire sizes are 15 by 6 by 6 inches. Rear tires are 20 by 10 by 8 inches. The maximum weight that the tires hold is 500 to 620 pounds.