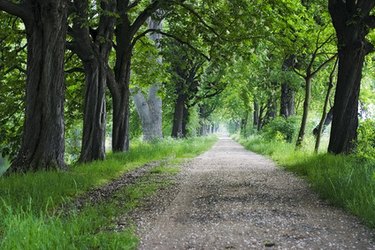 If you have wet, shady areas in your yard, keeping the grass looking healthy and green in those areas may be more difficult than in other areas of your lawn. Luckily, there are different kinds of grass seed for wet areas and for shady areas that will help your yard thrive no matter the conditions of your lawn. You can also use a mix of seeds if you want more uniform coverage for your lawn. The best grass for wet soil will also depend on your USDA zone.
Types of Grass for Shady Areas
Areas of lawn shaded under bushes and trees can produce thin and bare spots among an otherwise healthy lawn. The first thing you should consider is that most types of grass do need a few hours of sunlight daily. You can trim back trees and bushes around shaded areas to provide intermittent sunlight to help establish the grass. However, if the area remains completely shaded, you may want to consider another kind of landscaping. If you can manage to give the lawn a couple hours of sun and if you have the right seed mix, you have a chance at success.
Use a blend of types of fescue (Festuca) grasses for shady areas in the North or USDA plant hardiness zones 3 to 8 and a blend of zoysia (Zoysia) grasses for Southern areas or USDA zones 5 to 10. Fescue is a type of shade-tolerant grass that needs around four to six hours of intermittent or dappled sun to grow. There are a number of ornamental varieties of fescue as well if you're looking for other landscaping options.
Zoysia, on the other hand, is often planted on golf courses or sports fields and looks for three to four hours of direct sunlight daily. You may also choose St. Augustine grass (Stenotaphrum secundatum) in zones 8 to 10, which comes in a number of shade-happy variations and looks for four to five hours of sunlight.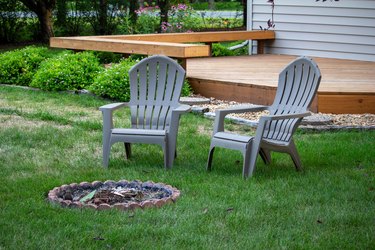 Areas in your lawn that have poor drainage may also prove to be a challenge. Water buildup can lead to weak, rotting roots, preventing grass from establishing itself in the soil. Damp areas of your lawn can be managed by landscaping, such as by building a rain garden in areas likely to flood or retain water after rain or by adjusting the drainage potential of the local soil by mixing in additives, like sand, small gravel or organic matter. However, there are a few kinds of lawn grass that can manage wet areas reasonably well.
Some recommended blends include Kentucky bluegrass (Poa pratensis) in zones 3a to 7b, fescue types and ryegrass (Lolium) in zones 2 to 8. However, the kind of seed you choose will depend on your climate. Kentucky bluegrass is a popular lawn variety and has been bred to handle reasonably damp conditions. It's one of the most popular lawn grasses in the Northern United States. Fescues are more hardy grasses, and a few varieties (tall fescue and fine fescue) appear in seed blends for wet, shady areas.
Conquering Wet, Shaded Areas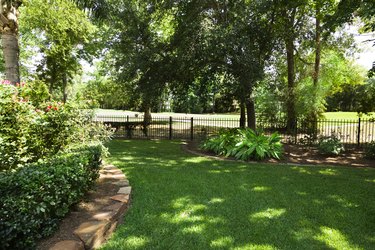 If you live in the North, your best bet is to look for a blend of fescue seeds best suited for your region. Fescue can be planted over your entire lawn and should thrive in sunny areas as well as the more shady or damp portions of your lawn. For Southern yards, zoysia varieties stand up to shade but don't particularly like standing water, so you may need to look at a blend made for your region that can handle both.