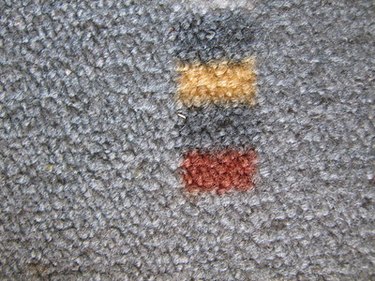 If you've just moved into a home that has gray carpeting, or have been trying to figure out how to make the gray carpet in your bedroom or living room look its best, there are plenty of colors to choose from that will make your space come alive. The color you choose to accent your gray carpet should reflect your personality, as well as the type of feeling that you want guests to experience when they enter the room.
Purple
Gray carpet that is a deep or charcoal variety complements purple walls well. Bold hues of purple, such as eggplant or aubergine, make the gray carpet classy and understated, and you can accent the room with furniture in both gray and purple shades. For instance, a gray couch in a slightly lighter hue than the carpet is ideal, and, if the main wall of the room is painted aubergine, the throw pillows for the couch can feature lighter shades of purple like lavender. A purple armchair or lamp also stands out against a gray carpet to complete the look.
Yellow
Yellow complements gray carpet of a lighter hue and looks attractive in spaces like the baby's nursery. Use pastel yellow to decorate the main wall of the nursery; yellow linen looks whimsical and bright in a room that has gray carpeting. For a more sophisticated gray and yellow design scheme in areas like the living room or den, use a slightly bolder variety of yellow to decorate the main wall or borders of the wall. Yellow is best paired with gray carpet that is slightly darker.
Green
For a room that promotes renewal and relaxation, pair gray carpet with green walls. Dark gray carpet goes well with a kelly green accent wall; lighter shades of gray complement pistachio or sea foam green-colored walls nicely. Gray furniture works well in a room with this decor scheme as well; a dark gray chaise with a green throw blanket or an understated gray reading chair with a green throw pillow makes the gray carpet and green accent wall especially eye-catching.