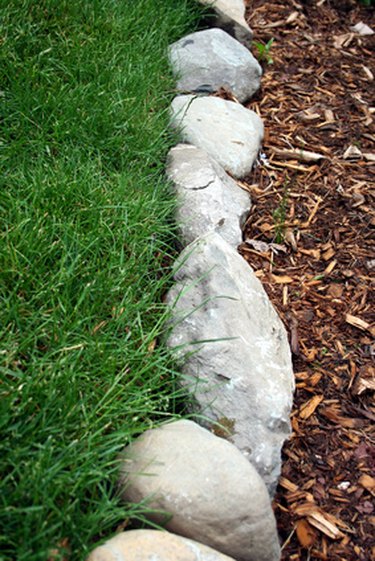 Perfectly manicured raised beds built from prefab kits may look like a million dollars, but they don't increase the value of your vegetables. Save yourself some money, or better yet, put that money into seedlings and garden products that will actually improve your garden. There are plenty of inexpensive, or free, materials you can use to make a raised bed.
Logs
Not only do logs provide the support your raised bed needs, they lend a rustic look as well. Fallen logs, or newly cut wood, can be used to create an attractive bed. Cut the logs to the desired length and secure them in the soil to form the borders of your beds. Fill with soil and you are on your way to raising fresh vegetables without the cost of a raised bed kit.
Rock and Stone
Rock and stone make natural borders for raised beds. If you live in the country, or have a large yard, it isn't hard to find suitable stones. Select rocks that are similar in size and line the perimeter of the bed. To give the appearance your garden has sprung from nature, take the time to seat the bottom of the rocks in the soil, instead of simply placing them on top of the ground. Fill in around the base of the stone with soil first to secure them in place and then fill the remainder of the bed.
Recycled Lumber
Hit the junk pile for old pieces of wood or lumber left over from other construction projects. There is no standard size for a raised bed, other than keeping the width to 4 feet or less for easy access to plants. The University of Florida Extension explains that a bed with a width of 4 feet allows most gardeners to reach the center from both sides with ease. Cut the wood to the dimensions you desire and build a rough box. Place in a sunny location and fill with soil for a quick raised bed for growing vegetables. Remember to line the bottom with landscape fabric or canvas to create a weed barrier.
Wooden Crates
Scour the attic and storage shed for discarded wooden crates. Visit yard sales and flea markets to find an assortment of crates or wooden boxes. Use them as is by placing in a sunny location and filling with soil, or carefully remove the bottoms to expose to the soil underneath. Although crates and boxes may be a bit smaller than you envisioned, try combining several sizes and shapes to create a rustic display of raised beds brimming with fresh vegetables.