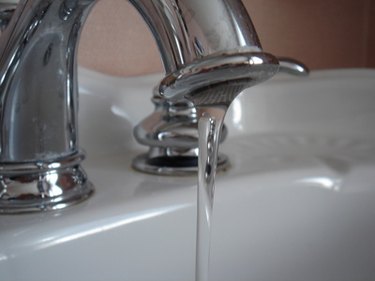 Moan faucets are a nice choice for many homeowners. They are high quality and have unique styling that appeals to many. However, Moen faucets have some problems. You might discover one or more of these problems if you buy a new Moen faucet. They are not major problems, but in some cases they turn into larger problems if left unattended.
Design Features
Moen makes excellent faucets with unique designs. However, some of the designs are too modern for some homes. This means the faucet will look out of place in older bathrooms. If you do not mind the disharmony among fixtures, this is not a huge problem. It may prompt you to just replace all your faucets. This will cost more money and takes more of your time. Most newer Moen faucets are made to blend in well with most appliances and fixtures in the home.
Leaks
Moen faucets are not leakproof. No faucet is. When Moen faucets leak, especially in the pull-out faucet for kitchens, the leak occurs around the cartridge at the base of the fixture. This is because the cartridge is below the base of the faucet. The leak often goes undetected, because water drips down into the cabinets, not onto the counter where it is visible. This leads to premature rot or peeling of lamination in the cabinets.
The fix is a simple one. The faucet is disassembled, and the cartridge is replaced. However, damage to cabinets is permanent. The rotted wood must be replaced.
Parts and Labor
Moen has complicated faucets with many parts. Kitchen faucets with pull-out handles have two cartridges, for instance. This means two parts are required to fix the faucet. Gaskets and O rings usually come with these parts. However, when replacing just O rings, you may find yourself buying a new cartridge just for the O ring.
If you are handy, the replacement is easy to do yourself. Some people prefer to have a plumber replace the faucet, especially if they have never replaced one before. This will run $200 or more.
At times, users have found that parts were not available or that necessary parts changed and did not fit anymore. This complicates the repair process and takes up more of your time. In worst case scenarios, you must purchase a new faucet to replace one that otherwise could be fixed.
Functionality
There are some functionality issues with Moen faucets. These vary by user. They include a lower flow rate and loosening of the handle on single-lever bath and kitchen faucets.
The handle issue is easily corrected by tightening the Allen screw under the handle. Flow rate issues are not easy to fix. Generally speaking, a faucet flow rate is determined by its diameter and design, two things that cannot be changed.