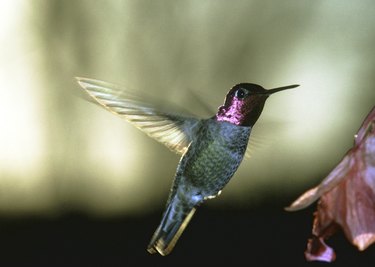 Hummingbirds are a delightful addition to any garden. They weigh between 2 and 20 grams and feed on a variety of insects, tiny spiders and nectar. Adding specific flowers to your landscaping can attract more hummingbirds while providing a natural food source for the birds. Colorful flowers, particularly those ranging in red to orange hues, attract hummingbirds. Entice hummingbirds to visit your garden by planting one or more of the following flower bulbs.
Tuberous Begonia
Tuberous begonias produce a variety of colored blooms including orange, red, salmon, pink, white and yellow with a range of blossom shapes and sizes. These flowers produce good levels of nectar for hummingbirds to enjoy while the colorful blossoms attract hummingbirds while adding beauty to the garden. Preparation is required to "start" begonias prior to planting outdoors. Begonias started in February will bloom in June while begonias started in late March or early April will bloom in July. Plant begonias outdoors in early June or when you are sure that there is no risk of frost. They prefer dappled, indirect light and well drained soil.
Gladiolus
Gladiolus bulbs are relatively easy to grow and will yield tall, spiky stems with varied blossom colors including salmon, pink, orange, red, yellow white and green. When choosing your gladiolus, bear in mind that hummingbirds are most attracted to bright colors. When planting your gladiolus, keep in mind that they are stiff, upright growing flowers and place them in an appropriate area (such as a border or in the back of a flower bed). The flowers prefer full sunlight and well-drained soil.
Iris
Iris are durable, easily maintained perennials which come in a variety of shapes and colors including pink, red, black, purple, orange, yellow and white. These tall blooms will attract and nourish hummingbirds while adding height to your landscaping and bursts of color year after year. When planting your iris bulbs, choose a site which receives a minimum of 6 hours of full sunlight and contains well-drained soil.
Canna Lilies
Canna lilies produce lush, brightly colored flowers with tropical appeal. Good for use in borders or to add bursts of color to garden beds, these spectacular blooms will add beauty with their vibrant color and attract hummingbirds with large, nectar-filled flowers. The flowers prefer well-draining soil and full sunlight. You can plant in the ground or in a container. If you live in a cold climate, either dig the bulbs up after the first frost or bring the container indoors. Allow the bulbs to dry for a few days and store in a paper bag in a cool location. This allows the bulb to rest before you re-plant for the next growing season.