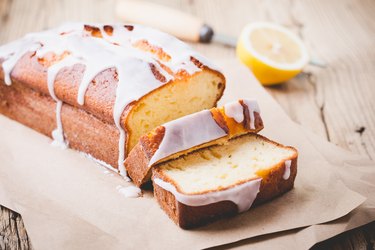 No cake is complete until it has some kind of icing or topping. Cake glazes, which can also be used to liven up cookies, muffins, scones, donuts and other baked goods, are some of the easiest kinds of toppings to make. Most glaze recipes can be easily customized for flavor, texture and color and are great options for Bundt cakes and other pastries that are not easy to frost with a spatula.
One of the quickest and easiest glazes you can make is a classic sugar glaze, which calls for powdered sugar, vanilla extract and either milk or water. A glaze should always be smooth, so it's a good idea to sift the sugar to remove any lumps. The amount of liquid you add will depend on the consistency you are seeking. Use less milk or water for a thicker glaze that you can apply with a spatula and add more milk and water for a runnier glaze.
You can also add other ingredients to your glaze if you are going for a specific flavor. For example, for a lemon or orange glaze, add some lemon or orange juice. You can also incorporate food coloring to change the color of the glaze. Adding some corn syrup to the glaze will make a sugar glaze shiny.
Chocolate Ganache Pastry Glaze
Another simple glaze that works well on cakes is chocolate ganache, which is made of chocolate, cream and corn syrup melted together on a stove top to create a pourable mixture. The ganache can be reheated if it becomes too thick to pour. The amount of chocolate you eat will determine the thickness of the chocolate ganache glaze. You can also add additional flavors to a chocolate ganache using vanilla or orange extract, coffee or a small amount of your favorite liqueur.
If you have a bit of time to spend on making a glaze, you can consider whipping up a mirror glaze, which gets its name from its reflective qualities. This type of ganache owes its shininess to gelatin. Like with other glazes, you can adjust the flavor or color.
A mirror glaze can be poured directly over a cake or over buttercream icing. If you are applying a mirror glaze over buttercream, you'll want to make sure the frosted cake is frozen before glazing. In either case, after applying a mirror glaze, the cake needs to be refrigerated to give the glaze a chance to set.
You can elevate a simple sugar glaze by using fresh fruit, such as strawberries, raspberries or blueberries. To make a fruit glaze, you'll want to mash up the fruit with granulated sugar over heat and then strain the fruit and add the remaining juice to the rest of the ingredients.
You can also make a delectable caramel glaze using heavy cream and brown sugar. Add a pinch of sea salt and you have a salted caramel glaze that will complement many types of pound cakes, pies and cheesecakes, especially those featuring fall flavors, like apple and pumpkin.