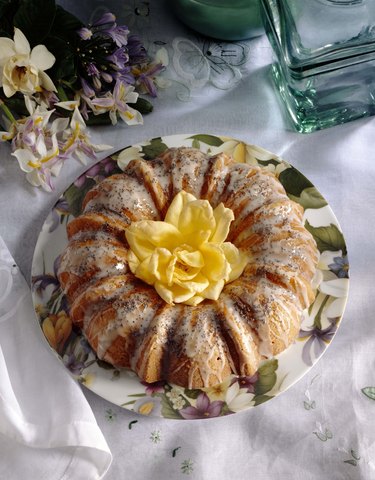 A cake glaze, similar to a watery icing, is used to add flavor, moisture, sweetness or a glossy finish to cakes and pastries. Glazes are made with only a few ingredients and can be made in all colors, flavors and consistencies.
Simple Glaze
All glazes begin with powdered sugar mixed with a liquid. The glaze has more liquid than an icing and should be of a pourable consistency. The most basic glaze is made with water but you can also use milk to make a richer, more opaque glaze. Melted butter is another option, which makes the glaze similar to a thin icing.
Candy Glaze
Sweet candy flavors are easy to incorporate into a glaze. You can make a chocolate glaze by adding cocoa powder to a simple glaze. Substitute milk for water to give the glaze the richness of chocolate. You can use syrups like maple, carob and molasses to add flavor and make a more decadent glaze. A bit of brown sugar and butter simmered on the stove will make a caramel glaze.
Citrus Glaze
Lemon glaze in one of the more popular choices for pound cake and bundt cake. The citrus balances the sweetness of the sugar in the glaze and in the cake. Add lemon extract or lemon juice and lemon zest to infuse the glaze with lemon flavor. The same citrus glaze can be made with orange, grapefruit or lime juice and zest.
Flavored Glaze
You can add just about any flavored extract or spice to a glaze to make a flavored glaze that compliments a cake. Add a few drops of flavor extracts such as mint, almond, rum, banana, amaretto or root beer to make a flavorful glaze. You can also add spices such as cinnamon, nutmeg, all spice or anise. Try mixing savory spices to make interesting combinations, such as a basil glaze on a lemon pound cake. Add jam or jelly to the glaze for a fruit glaze.