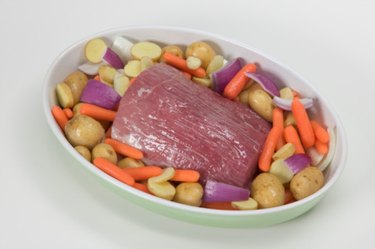 Crock pots have revolutionized the way we cook. They allow for hot meals to be cooked all day with no supervision while a family works and goes to school or about their daily activities. There are various types of crock pots available. Crock pots are either ceramic, stainless steel or aluminum with a non-stick surface. The crock pot you choose depends upon your needs and safety concerns.
Pros of Stone Crock Pots
Stone crock pots are versatile and generally heat food evenly. They can be used to reheat food, as long as the product says it is oven-proof. Most stone crock pots can withstand oven temperatures up to 400 degrees Fahrenheit. However, you should not use them under broilers. Stone crock pots are versatile and can be used to prepare everything from pickled vegetables to pot roast to mulled wine.
Cons of Stone Crock Pots
An obvious con of a stone crock pot is that is can be cracked or broken, and it cannot be used to reheat food on a gas stove. Another less common danger is that some stone crock pots have been found to contain lead, and when heated, they allow the lead to leach into the food. Shop carefully for stone crock pots and check for lead-free labels; stay away from decorated or painted stone crock pots. Generally, white stone crock pots have less of a chance of allowing lead to leach into the food.
Pros and Cons of Metal Crock Pots
Metal crock pots, which can be made of stainless steel or aluminum, sometimes don't heat food as evenly as ceramic crock pots. While metal crock pots cannot be used in the microwave, they can be used to brown food before slow cooking, thus eliminating the need for using another pan. They also can be used in the oven, under a broiler and on the stovetop. Aluminum crock pots with a non-stick surface inside are quite versatile, and can even be used as a pan for cooking on the stove or in the oven. But aluminum crock pots with non-stick surfaces are generally more expensive than ceramic or stainless steel crock pots. Also, aluminum may not be the safest cooking material, due to its links with Alzheimer's disease. If you are choosing a metal crock pot, stainless steel is probably the safest choice.
How to Choose a Crock Pot
There are advantages to both metal and ceramic crock pots. Each also has their limitations. When shopping for a crock pot, consider what you will be cooking most often, and choose a shape according to your tastes. For example, round crock pots work well for soups and casseroles, but oval crock pots work better on larger pieces of meat, such as roasts. Some crock pots have "on" lights and temperature controls that other models lack. Read labels carefully and look for lead-free models if buying a ceramic crock pot. Consider your needs for a crock pot, potential pros and cons of each, and you should come away with a slow cooker that will serve your needs for a long while, with proper care.