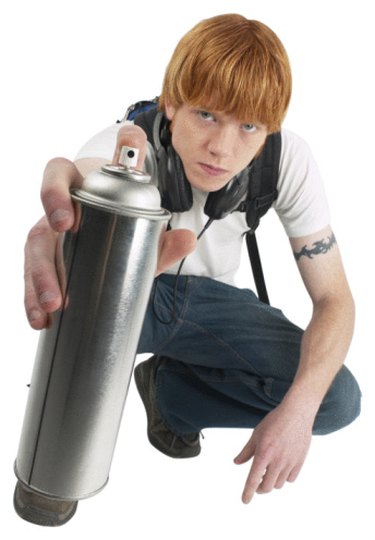 Whether you're creating a trendy, wearable work of art or decorating a plain T-shirt to support your favorite sports team, spray paint is an easy and versatile option for painting clothing. There are virtually endless color options and dozens of different finishes, from matte to metallic. The best option depends on your personal tastes, health concerns and your budget.
Soft Fabric Spray Paint
Spray paint designed specifically for fabric is the natural best choice for decorating a T-shirt. The soft fabric spray paint is designed to blend with the T-shirt's material, so when the shirt is dry, you don't notice a texture to the paint. Several brands of fabric paint are on the market, and many claim to be safer than traditional spray paint. For example; Simply Spray says its product is non-toxic and powered by a kitchen-safe propellant that is safe for children to use. Tulip paints come in non-aerosol, environmentally-sound dispensers. Furthermore, fabric spray paints are safe to use indoors or out. However, get fabric paint that's intended for use on clothing; fabric spray paints for upholstery may not be safe to go through a washing machine.
Stencil Fabric Spray Paint
Stencil or line fabric spray paint is similar to soft fabric spray paint, but it is designed to have a texture. It may raise up off the clothing, or have a texture similar to screen print paints. Metallic and glitter fabric paints are also available.
Multipurpose Spray Paint
Traditional spray paint also may be used to spray paint clothing. Krylon recommends using its indoor/outdoor variety, but other brands and styles work as well. Check that the brand you choose recommends its product for fabrics. A major difference between multipurpose spray paint and fabric paint is that multipurpose paint must be sprayed outdoors or in a well-ventilated area. Wear a mask if you don't want to inhale the fumes and follow the manufacturer's instructions for safety and proper technique.
Metallic
Similar to multipurpose spray paint, this paint must be used with greater care and caution than fabric paint. However; if you take proper precautions, you can easily enhance your fabric art with the shine and shimmer with metallic spray paints.