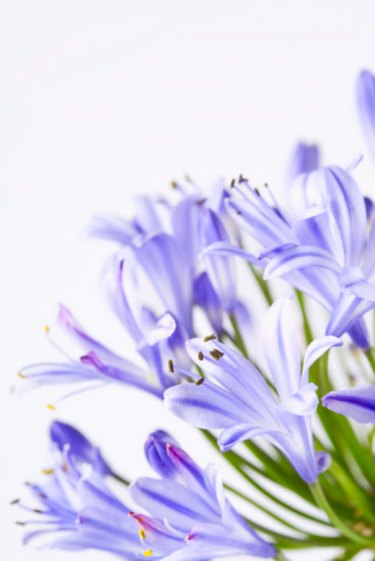 Gardeners, particularly those with children or pets, should be especially picky when it comes time to plant. A large variety of plant species may cause allergic reactions or illness to pets if ingested, while others are toxic to pets. Toxicity may come from leaves, stems and petals, factors which will vary depending on the species. Among the toxic plant types is the Lily of the Nile, a fairly widely used garden plant. Exposure may cause kidney failure, vomiting, respiratory problems and seizures and death if left untreated.
Lily of the Nile
Lily of the Nile, sometimes called the African lily, is a native of southern Africa. The plant is occasionally used around homes and in gardens across the United States. These plants thrive in warm weather with at least moderate humidity and do best throughout USDA plant hardiness zones 8 through 11. The lily will reach a mature height of 12 inches and produce delicate blue-violet blossoms and dark green foliage. All parts of the plant -- leaves, flowers, stems and so on -- are toxic if ingested. Some people may experience skin irritation when handling the plant.
Treatment
If an animal is exposed to a toxic plant, the best response is quick action from the owner. Owners should collect a sample of the plant that has been ingested. This will aid the vet in identifying its toxicity if necessary. It is important for pet owners to remember that symptoms of poisoning may not become noticeable until several days after ingestion. Minor symptoms may include skin rash, loss of appetite, excessive drooling, lethargy and diarrhea, while more serious problems include breathing problems, muscle tremors or rigidity, staggering and seizure. If you suspect a pet has eaten something toxic, even if no symptoms are present, you should consult a veterinarian. The American Society for the Prevention of Cruelty to Animals recommends keeping a pet emergency kit handy, including a bottle of 3 percent hydrogen peroxide to induce vomiting.
Other Problem Plants
There are several hundred plant species that are toxic to animals or people. Of these, the ASPCA lists 17 as common, and at the top of the list is the lily family. Consuming marijuana will affect an animal's central nervous system and can cause vomiting, drooling, seizures and coma. Sago palm (cycas revoluta), tulips, azaleas and oleander are all widespread garden plants that may be hazardous. Find a complete list online through the ASPCA or through People for the Ethical Treatment of Animals.
Non-Poisonous Options
PETA recommends replacing any poisonous plants inside or outside with nontoxic alternatives. Almost all herbs and vegetable varieties will not do harm if ingested by people or animals, and a number of flowering and nonflowering plants are equally innocuous. This list includes cucumber and dandelion as well as almost all herbs; among them are peppermint and rosemary. Daisies, bamboo, butterfly bush and bottlebrush are all widely used garden plants that are harmless to people and animals. Additionally, begonias, most ferns and cactus varieties are ideal garden plantings.