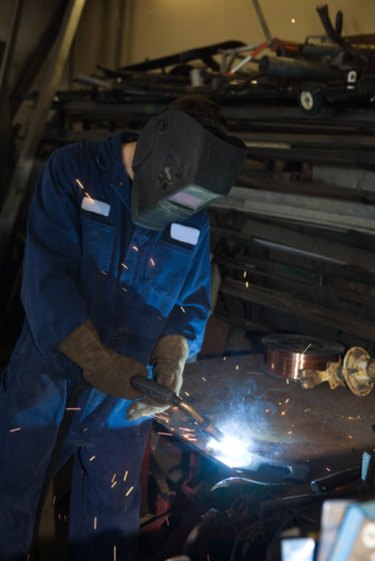 Metal inert gas (MIG) welding uses an electric arc conducted through a wire to create sufficient heat to melt and fuse metal. The MIG process requires the welding site be covered by a cloud of inert gas, to protect against airborne contamination. The Millermatic 135, a self-contained MIG welding machine produced by the Miller Electric Company, is designed for home use on steel and stainless-steel projects.
Amperage and Voltage Specifications
The Millermatic 135 is rated at 115-volt output and current up to 135 amps. The voltage of a MIG welder is correlated to its capacity to generate heat in the arc-welding process. The amperage of the MIG welder is correlated to the speed at which the machine can weld. A high voltage with a low amperage setting allows for a deep penetration weld of a thick sheet of metal. A low voltage with a high amperage setting allows for a quick and shallow weld on a thin sheet of metal.
Wire Feed Speed and Diameter
The wire feed speed on a MIG welder is the rate at which it consumes MIG wire and determines the speed that you can effectively weld. The Millermatic 135 is rated to weld at speeds ranging from 20 inches per minute at the slowest amperage setting to 600 inches per minute at the highest setting. The Millermatic 135 is also capable of welding solid-metal MIG wire, in diameters of 0.06 mm and 0.08 mm, and flux-core MIG wire in diameters of 0.08 mm or 0.09 mm.
Dimensions
The Millermatic 135 is a compact and self-contained welding unit that is 17 1/2 inches long, 10 5/8 inches wide and 15 3/4 inches tall. The welding machine weighs 60 lb. with the welding torch attached.
Duty Cycle Rating
Because a MIG welder operates with high voltage and creates high heat, it can operate continuously only for a limited amount of time before resting. The duty cycle for a Millermatic 135 is 2 minutes of continuous welding and 8 minutes of rest. The duty cycle varies according to the amperage setting used for the welding project. For example, at a 47-amp output setting, the Millermatic 135 operates at a 50-percent duty cycle and can weld only for 1 minute continuously before requiring 9 minutes of rest. At 125 amps, the unit operates at a 10-percent duty cycle and can weld for only 12 seconds; at 40 amps, it reaches a 100-percent duty cycle of 2 minutes of welding.