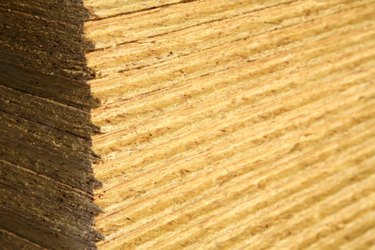 MDF is a composite wood product used in the building industry. The abbreviation stands for "medium density fiberboard." MDF is created by adding glue to wood chips under intense pressure created by hydraulic rams. MDF is a strong building material but cannot be exposed to moisture of any kind. For interior and exterior usage such as in cabinets and ducts, MDF should always be properly sealed.
Paint
Probably the most common of all is the paint seal. MDF is hard, slick and flat and paints easily. MDF is commonly used by cabinetmakers to build raised panel doors. Also known as "European style," the stark-white cabinets can be found in homes and commercial buildings. With the slick surface of MDF, you only need to sand the edges and saw-marks out of it and spray it with one or two coats of enamel paint to seal the MDF from moisture penetration.
Lacquer
More MDF is sealed with standard lacquer than anything else. Lacquer penetrates into the microscopic layers of the MDF where it hardens in the fibers. It quickly forms or "flashes" across the surface of the MDF in minutes to provide an initial covering for the MDF. One coat of lacquer is adequate to seal MDF, but if you lightly sand the first coat, and then add another coat you get an extra glassy-smooth finish that protects almost indefinitely.
Varathane
Varathane should be used for any MDF that will be exposed directly to weather when used outside, and only varathane formulas that contain UV protections should be used for direct exposure to sunlight. Varathane takes longer to properly seal the MDF due to extended drying times of up to 72 hours per coat. Therefore, varathane is typically used only when other products are not sufficient for protection.
Sanding Sealer
Sanding sealer is commonly used by cabinetmakers to seal all kinds of MDF. Sanding sealer is nothing more than extra-thick lacquer. It has a dense particle-load that builds quickly on the surface of the MDF to protect it from moisture. Sanding sealer is routinely sprayed into cabinets before they are installed and on raised panel doors before they are painted to add protection. As with all MDF, all edges should also be sprayed with sanding sealer.