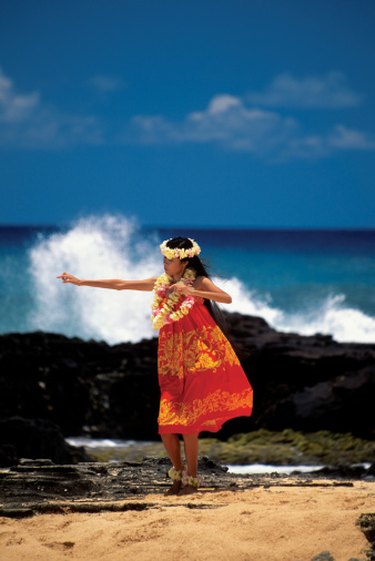 A luau is a traditional Hawaiian feast featuring food, dancing and celebrations. The word luau comes from the taro plant which is used often in Hawaiian food and culture. Luaus are held for birthdays, graduations, weddings and other special occasions. The main feature of a luau is usually one or more pigs slowly roasted in the ground, as well as a variety of seafood, fruit and vegetables. Hula dancing is sometimes included for entertainment at the event.
Poi
Poi is a purple-gray paste made from pounded taro root and water mixed together to form a paste. Taro is a nutritional plant that has many uses in Hawaiian cooking and culture, so it makes sense that this dish is ubiquitous with luau feasts. Poi can be purchased at many international stores in the U.S. in powdered form; it just needs to be mixed with water until it reaches the desired consistency.
Sweet Potatoes
Sweet potatoes grow throughout Hawaii, so they are often included on luau menus. Hawaiian sweet potatoes often have purple centers instead of the usual orange, which gives them visual appeal on a luau buffet. The recipe for Hawaiian sweet potatoes is simple; they are just washed and baked before being brushed with butter and served. Sweet potatoes need to cook for approximately 30 to 40 minutes in a 350-degree Fahrenheit oven.
Pickled Onions
At ancient Hawaiian luaus many years ago, barrels of pickled onions were often served to guests. This tradition continues in the culture today. The onions are sliced and placed into a glass jar with a seeded, green bell pepper, salt, water, vinegar and red pepper flakes. When covered and refrigerated overnight, the onions develop a slightly salty, spicy and pickled flavor that accents rich, fatty meats, such as pork and flank steak.
Other Options
Other vegetable items that are prominent at luaus include potato salad, spinach salad and green salad. Greens are tossed with cherry tomatoes and carrots. Potato salad is sometimes made out of baked, sweet potatoes that have had time to cool down. A carrot and cucumber salad is made out of julienned vegetables mixed with dressing. Salads are often dressed with ranch, thousand island or papaya salad dressing.