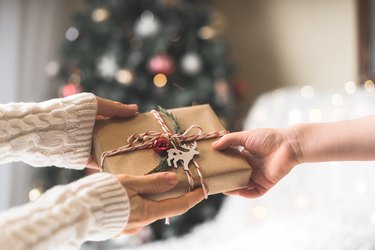 Choosing Christmas gifts for family and friends is all about showing your love, but choosing Christmas gifts for clients is about showing your appreciation for their business over the past year and making sure they continue giving you business in the future. As a hairdresser, you don't have to spend a ton of money to buy gifts for your favorite, most frequent and/or highest-spending clients. Buying things in bulk may help you afford hair stylist gifts that clients love, giving them even more reason to entrust you with their split ends well into the new year.
Hair, Beauty and Spa Gifts
Considering that your frequent and high-paying clients are probably people who care a lot about their grooming, the hair and beauty world is a great place to look for gift ideas. Fill small gift bags with product samples and a few other inexpensive grooming gifts, like tubes of lip balm, travel-size bottles of deep conditioner, nail polish and hair ties. You could also make little spa boxes to give out as Christmas gifts for clients. Put a scented candle, moisturizing face mask and bath bomb in each one along with a note wishing the client a relaxing holiday season.
Giving out gift cards for your services may encourage clients to make some appointments for January. Give out gift cards for a certain dollar amount off or give vouchers for specific services, like a free deep conditioning treatment with any haircut. Maybe there's another local business with which you could make an arrangement so that you each give your clients gift cards to the other's business. Your clients get a $20 gift to spend at a nail salon, the salon's clients get a $20 gift card to spend on your services and you both (hopefully) get some new clients.
Alternatively, just give out gift cards to the local grocery store, gas station chain or another business that nearly everyone uses. As long as you include a personal note about your appreciation of their business, giving very generic gift cards can still be a thoughtful client gift. Your clients will think of you whenever they swipe that card.
Branded Gifts for Clients
If you have a logo for your salon or styling business, have it printed on promotional items to give as hair stylist gifts to all your clients. Gifts like compact mirrors, cosmetic bags, hair brushes, insulated coffee mugs and cozy blankets are all appropriate. Just ask yourself, "Would I use this?" before making any decisions. Don't spend money and effort to give out pens or key chains that people will probably toss right away.
More Christmas gifts for clients
Look around local gift shops or holiday markets for gift ideas that support artists in your community. You might find unexpected handmade items, like carved ornaments, beaded jewelry, small art prints or other items that will appeal to many people. Give warm and cozy gifts, like a pair of fuzzy socks and a box of peppermint tea.
Something that can be challenging about choosing Christmas gifts for clients is that you don't always know them on a personal level. Hair stylists may know a lot about certain clients but don't always know about clients' dietary restrictions, religious/political beliefs and other personal details. So, you probably don't want to choose things like alcohol, food or items with religious themes when you're buying gifts in bulk to give to all your clients.
That said, buying gifts with a personal touch is a great way to make an impression on your very favorite or most important clients. Maybe you know someone well enough to know that she would love a particular bottle of wine or a picture frame with a Bible quote on it. Those personal gifts show your clients just how well you're listening while they're in your chair. Once you settle on a gift idea, run your expected gift budget past your tax adviser. Spending too much on gifts could expose you to some unexpected tax liabilities.