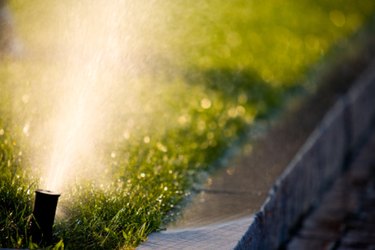 The Rain Bird model ISA 406 sprinkler timer is connected to one or more valves, which are connected to several sprinklers that are installed in your lawn or garden. When the timer is activated, the sprinklers rise up and water your lawn. The timer can be programmed in a variety of ways to best fit the watering requirements of your lawn and garden.
Scheduling Basics
The ISA 406 contains three basic functions, which work in conjunction with each other to form a sprinkling schedule for the connected valves and sprinklers. The watering days are days of the week that you would like the system to activate as specified by you. You can choose specific days, such as Tuesday, Thursday and Saturday; or you can select a watering interval, such as every other day. The scheduled start time marks the time of the designated days at which the sprinkling system starts watering, and the watering duration is the length of time during which the sprinklers run.
Programs
The ISA 406 contains two programs: A and B. Each program can have its own watering schedule, start times and duration times. Two programs are good for when you have sprinklers in different parts of your property that cater to growth with different watering needs. For example, Program A could service the sprinklers in the garden and run on Monday and Thursday while Program B services the lawn and runs on Tuesday, Friday and Sunday. When making adjustments to a schedule, push the "Program" button on the left side of the panel to confirm the correct program.
Presets
The ISA 406 comes with six different preset watering schedules: schedule C and schedules 1 to 5. Schedule 1 waters every day starting at 8:00 a.m. for 10 minutes. Schedule 2 waters every day for five minutes at the following start times: 6:00 a.m., 10:00 a.m. and 2:00 p.m. Schedule 3 waters every other day for 10 minutes starting at 6:00 a.m. Schedule 4 waters ever third day starting at 6:00 a.m. for 10 minutes. Schedule 5 waters every fourth day for 15 minutes starting at 6:00 a.m. Schedule C waters every day beginning at 8:00 a.m. for 10 minutes but can be customized to run on specific days of the week.
Dial
The ISA 406 dial allows you to set the schedule for each program. Before adjusting the schedule, select the desired program by pushing the "Program" button. Twist the dial to "Time & Day" to set the time and the day. Twist the dial to "Preset Schedules" to choose from the six presets. Twist the dial to the "Custom Schedule" area to build your own schedule and start times. Twist the dial to "Rain/Off" if there has been rain and your lawn doesn't need to be watered. And turn the dial to "Auto/Run" to activate the program schedules.