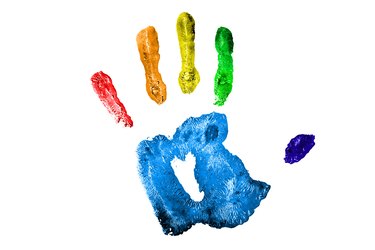 Most mothers will treasure the gifts they receive from their preschoolers. Rather than having all children make identical gifts for Mother's Day, choose a craft project that each child can personalize. The more imperfect his spelling or drawing, the better, since these touches will always remind his mother of how small he once was.
Tote Bag
Mothers on the go can always use some help carting around everything they need. Send home a note a month before Mother's Day asking each child to bring in a blank canvas tote bag. This far before the holiday, mothers shouldn't suspect what the bags are for. Put out fabric paint and fabric pens and let each child decorate a bag for his mother. Add stencils, glitter and sponges so children can add extra detail to their designs.
Hand Prints
A mother will always cherish any gift with her child's tiny hand print on it. Have children form lumps of clay into flat disks, then press their hands into the center of the clay. They can use toothpicks to write in their name, then paint the whole thing once it dries. You might also type up a short Mother's Day poem. Print the poems on white paper and have each child place a painted hand print under the poem. Cut the whole thing out and glue it to a larger piece of construction paper. Mom can frame and hang it.
Candles
Buy tall pillar candles in bulk from a craft store. Put out pieces of ribbon, buttons, string, tissue paper and any other art supplies that can be glued to a candle. Children can wrap ribbon or string around the candle and tie them, or use glue to attach things. Give children white glue to use, but have a hot-glue gun on hand and out of reach of children. If anything is refusing to stay glued to a candle, hot glue should do the trick. Explain to children that they should do most of their decorating on the bottom half of the candle so Mom can light it a few times without any decorations falling off.
Pots
Give children small clay pots. Show them how to cover the pot with a layer of primer. Once the primer is dry, they can paint the entire pot with a base color. Once that has dried, they can decorate with polka dots and stripes or write their names with paint. Have the children plant herbs or flower seeds in the pot, or leave it empty so Mom can store pencils or other useful items in it.