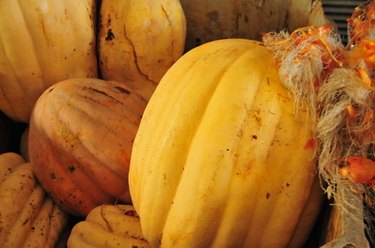 Spaghetti squash provides an alternative spin on a popular Italian dish for those who need more fiber or vegetables in their diets or can't (or won't) eat wheat- or rice-based pastas. The large gourds are grown from seed every summer, and their stringy, hollowed-out insides are sauteed, baked or steamed like regular spaghetti. Successful planting of spaghetti squash seeds helps ensure a fruitful harvest that can whet your appetite for a healthful version of a dinner table classic.
Frost-Free Dates
The National Environmental Satellite, Data & Information Service, or NESDIS, is responsible for collecting data patterns that pertain to when an area will be frost-free, the projected date when the threat of frost — which is extremely harmful to delicate springtime plants — passes and allows for worry-free planting. These dates vary according to geographical location across the United States and can be anywhere from late March to the first of June. The projected frost-free dates are based solely on predictions from previous weather patterns, which is why NESDIS can't provide exact dates.
Atlantic
Generally speaking, folks living in southern Atlantic states like Florida, Georgia and South Carolina have a very early frost-free date range for planting spaghetti squash: the second week of February to the second week of March. Mid-Atlantic States like North Carolina, Virginia, Washington, D.C., Maryland and Delaware have to wait: The last week of March through the first two weeks of April are considered safe for planting the sun-loving squash plants. New Englanders have to wait even longer; from northern Delaware on up to Maine, the last of April to mid-June is the earliest time gardeners can successfully get young seedlings in the ground.
Mid-America
Illinois, Kentucky, Iowa, Indiana, and Idaho's frost-free date falls in mid- to late April. States like Colorado, Missouri and Kansas can start planting around the first week of April, whereas deeper southern states underneath these states, such as Alabama, Arkansas and northern Texas, have to wait another week. Warmer climes like those found in southern Texas and Louisiana can plant as early as mid-March, but gardeners living in New Orleans can plant as early as the last week of February.
The Pacific
California's frost-free dates vary since the large state stretches into different climates. Southern Californians, as well as folks living in bordering states like Nevada, New Mexico and Arizona, can plant worry-free in the middle of February (Los Angeles growers can plant seedlings as soon as January.) Middle Californians have to wait until March, and northern Californians, as well as those in Oregon, Washington State and the Dakotas, should wait until the last week of April to mid-May.