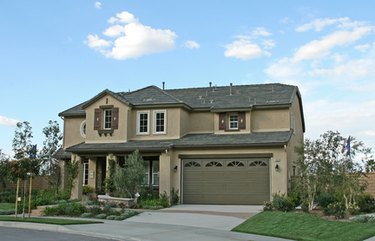 Besides choosing the color for the exterior of your home, you also need to choose a finish for that paint. Satin paint adds a sheen to exterior surfaces, whereas flat paint does not. While some homeowners believe that certain colors are enhanced by glossy sheens, others prefer dull, muted tones provided by flat paint. Before you make a decision, consider a few other important points about these finishes.
Cleaning
The chemicals that provide satin paint with its glossy sheen also make it easier to clean. Flat paints tend to show dirt and are prone to stains. If cleaning is important to you, choose a satin paint that can easily be cleaned, using a hose. If you are painting siding or trim positioned in areas generally not subject to mud or bird droppings, a flat paint may prove appropriate.
Moisture
Satin paint stands up to moisture better than flat paint. If your siding or trim is exposed to high humidity and harsh elements, opt for a satin paint. If you live in a dry, arid climate, a flat paint may provide adequate protection.
Flaws
Satin paint tends to promote more glare than flat paint. This ultimately causes it to reveal minor flaws in wood -- such as cracks, holes or rough patches. If your home's exterior is marred with subtle flaws, choose a flat paint that will help hide these areas.
Durability
Because sheens tend to fade over time, satin finishes sometimes require repainting faster than flat ones. Direct sunlight can hasten this process. While some satin paints are formulated with ultraviolet-resistant chemicals, others are not. Before you choose a flat or satin exterior paint, read the labeling to ensure it is formulated to resist the effects of sun exposure.