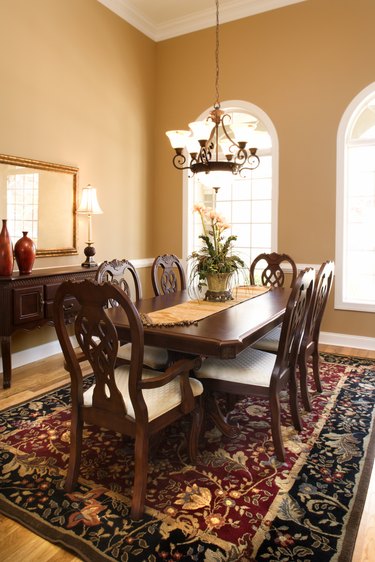 The design used for your dining room depends on whether you prefer a formal or informal area. Some dining rooms are better suited for formal décor, while others lend themselves to a more casual look. The location of the room in conjunction with how you plan to use the space helps determine the best design style.
Location
Formal dining rooms are typically a room of their own, while an informal dining room sometimes shares space with the kitchen or living room. The formal dining area may have a door that closes it off from the kitchen and the rest of the house. Pass-through dining rooms also sit separated from the other rooms, but they have open doorways that allow you to pass through the dining area from one room to the other. A pass-through room is less formal than a separate room, but due to its separateness it can still be used as a formal or informal space.
Furniture
Most formal dining rooms feature traditional-style wood furniture. Chippendale, Queen Anne and Sheraton styled chairs all have a more formal look compared to simple modern designs. Informal furniture styles may feature modern materials instead of wood or glass table tops. Simple, straight legged designs or farmhouse tables also provide a less formal look. Although certain furniture styles lend themselves better to a formal dining area, the accessories used in the room further determine the formality of the space.
Linens
Fine linens provide a formal look, even if the furniture style is more informal. A heavy linen or lace tablecloth covers less formal tables. Quality wood tables may look more formal without a tablecloth. Heavy, lined draperies made from dark-colored fine fabric or silk provide a more formal look than light drapery panels or shears. Table runners and place mats give a room a less formal appearance, regardless of the furniture style. Formal dining room chairs rarely have chair pads, while a chair pad can inject some color and comfort into an informal design.
Accessories
The accessories complete the look of the dining room, whether it's formal or informal. A chandelier or pendant light provides a more formal option when centered above the dining room table. Silver or crystal candlesticks, pitchers and serving dishes are more formal than glass or ceramic materials. Placing a rug beneath the table can also change the feel of the room. Modern designed or light colored rugs look more informal, while dark-colored Persian-style rugs look more formal.